New Zealanders refer to themselves as "Kiwis."  And of course most Americans are aware of the brown, furry fruit of the same name.  But if you're tracing the original source of the term "kiwi," be aware that the chicken-sized bird came before that egg-sized fruit.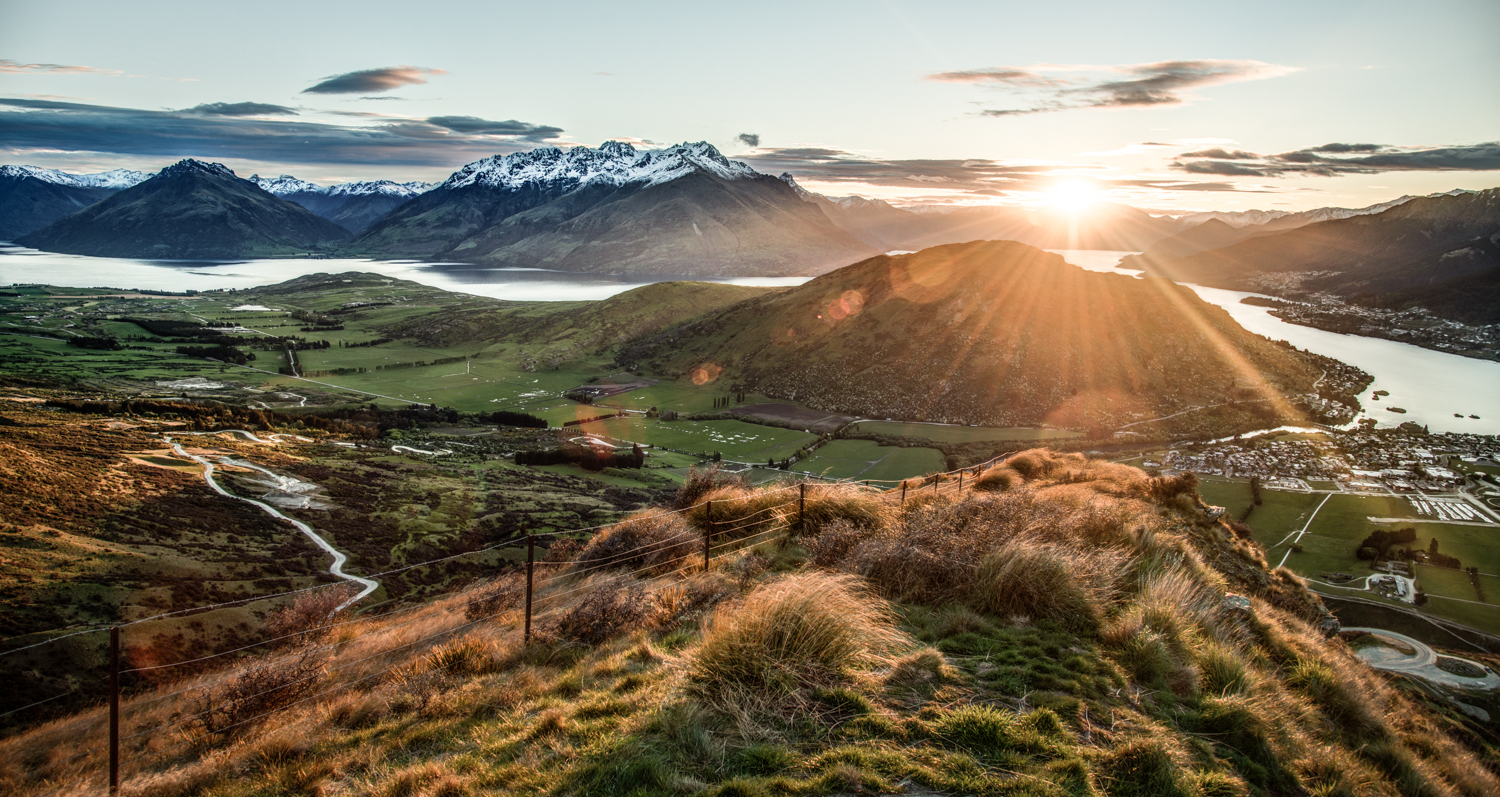 A Polynesian tribe known as the Maori are considered the aboriginal people of New Zealand.  Apparently, they arrived by seagoing canoes (from Tahiti, perhaps) around the year 1300 — about 350 years before Dutchman Abel Tasman first arrived on New Zealand shores.  "Kiwi" is the Maori name for a brown, round, furry-looking chicken-sized flightless bird that's native to the islands and which has become the national symbol and namesake.   The fruit originally known as a Chinese Gooseberry first became a popular agricultural crop in New Zealand in the early 20th century, and was renamed "kiwi fruit" about 50 years ago.
The first leg of my Kiwi adventure has centered around Queenstown — a smallish town on New Zealand's larger, southern island.  The nearby mountains  (the ones beneath those pink sunrises) are aptly named The Remarkables; my late spring (October/November) arrival is too late for skiing.
I know all too well that photographers can use Photoshop or similar tools to make some fairly ordinary scenes look spectacularly wacky.  That's not what's happened here — and not really my 'thing':  the light and the colors really do look this way.  I use some of the same tools to try to get a realistic image that does justice to this spectacular scenery.
Queenstown was my first stop in a country roughly the size of Colorado (if you stretched Colorado out and pulled it into two parts).  Onward.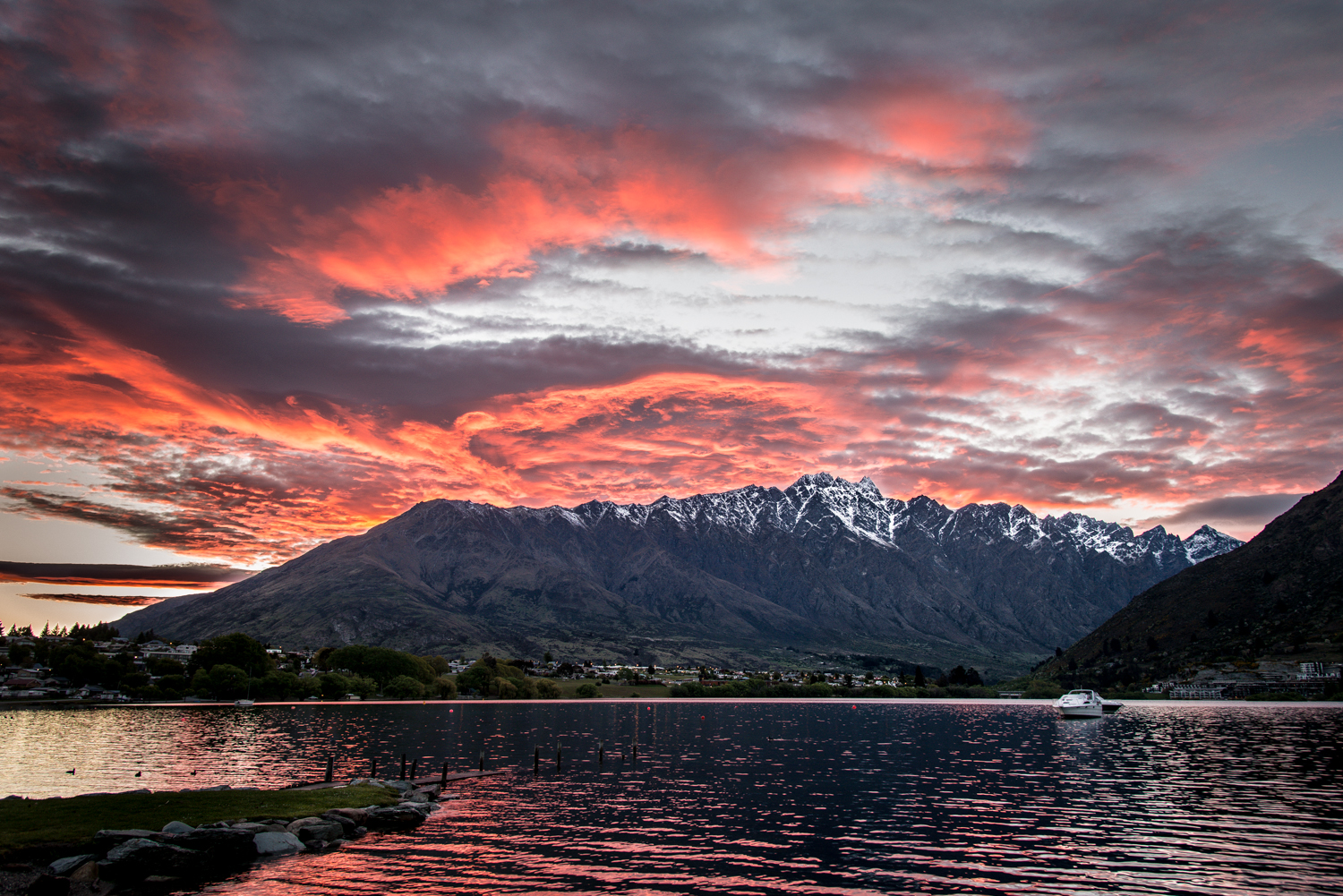 .
.
Most of these shots are around Queenstown and Lake Wakatipu — almost all in the early morning or late evening.  The ones that look like a golf course are a golf course called The Hills — apparently a famous one and one that's covered with modern-ish art sculptures.  The two long skinny horizontal pictures with water in the foreground and the tree-in-water and sailboat pictures are at at Lake Wanaka — about an hour northeast of Queenstown.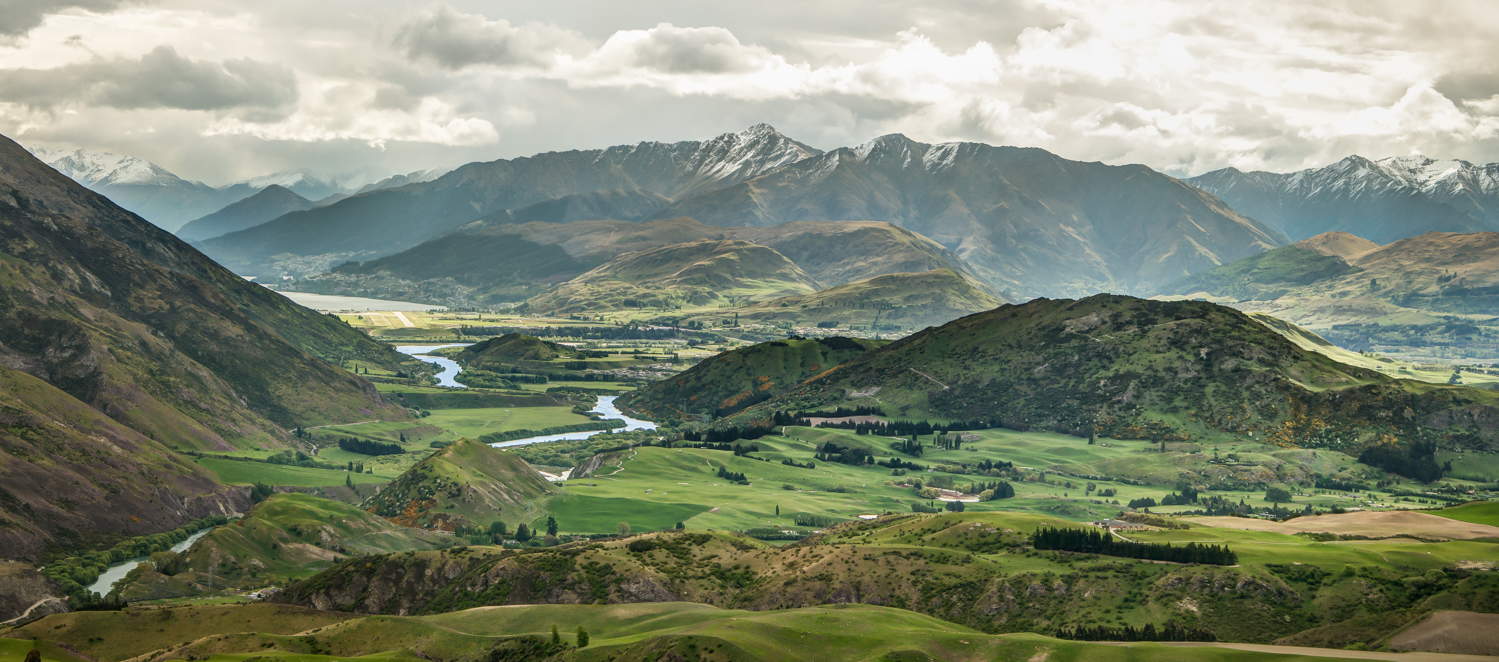 Photographers:  3 or 4 of these pictures are "HDR" shots that use 3-4 different images (same scene, different exposures) and crunch that down so you can see both the deep shadows and the bright skies and sun.  Hopefully you can't tell which ones.   Mostly I get the same results with the D800 + Lightroom.  I tried to force myself to use a tripod, especially on scenes where I'm 'bracketing' multiple images for HDR.  But I hate it — it slows me down and cramps my (literal) style.  It's amazing how well the software can align handheld shots.  I'm putting that damn tripod back in the suitcases.