If you can finish Leadville's 100-mile mountain bike race in less than 12 hours, they award you a belt buckle.  And the faster you finish; the bigger the buckle*  It's a great tradition and a fun souvenir that's a nice reminder of the town's rugged western past.  A half dozen or so great friends and I earned buckles in Leadville last weekend.  Though none of us ordinarily wear big belt buckles, that hard-earned hardware is now among our most cherished possessions.
I just had one of the best weeks of my life.  More than once, I was positively giddy.  More than once, I was misty-eyed.  And more than once, I was in a fair amount of pain.  Starting something like a 100-mile mountain bike race can be overwhelming.  It's a strange mixture of fear and dread, excitement and adventure, camaraderie, competition, and adrenaline.  I was expecting at least 11 hours on the bike, which was longer than I'd ever spent on a tiny cycling saddle.
After several days spent preparing for the race with an amazing group of close friends, we all crossed the starting line of the Leadville Trail 100 last Saturday morning with 100 miles (and several hours) of mountains, trails and rocks in front of us.  By dinner time, we had all finished – mostly-safely and mostly ahead of our self-imposed goals and schedules.  For us, that's victory.
Leadville, Colorado is the highest-elevation city in America, and its annual 100-mile LT100 race is considered one of the toughest in America.  Floyd Landis and Lance Armstrong have come here and lost, though Lance came back in 2009 and won the thing.  Last week, Lance showed up in Leadville on Friday and told us that the Leadville race may be the hardest thing he'd ever done (which is saying a lot).  I can relate.   As I said after it was over, I had seven hours of the most fun I've ever had on a bike (bear in mind, though:  my race lasted eleven hours).
We were TEAM MRE, sponsored and outfitted by MRE Consulting — the company founded by my friends (and fellow riders) Mike Short and Shane Merz.   That's Shane in the first picture below (I grabbed a camera and took this shot just seconds after he crossed the finish line).   Don't worry; he recovered just fine.  Mike is pictured a little further down with his teenage daughter Emily.  I'd never seen Emily smile as big as she did when her Dad came across the finish line.  Somehow Mike had lost his helmet out there somewhere.  Some MRE executives (including COO Bjorn Hagelmann, pictured in the safari hat) were even on hand as a support crew, selflessly delivering Gatorade and food to us at key spots on the race course.  Spouses, friends and kids were on hand to help, clap and cheer.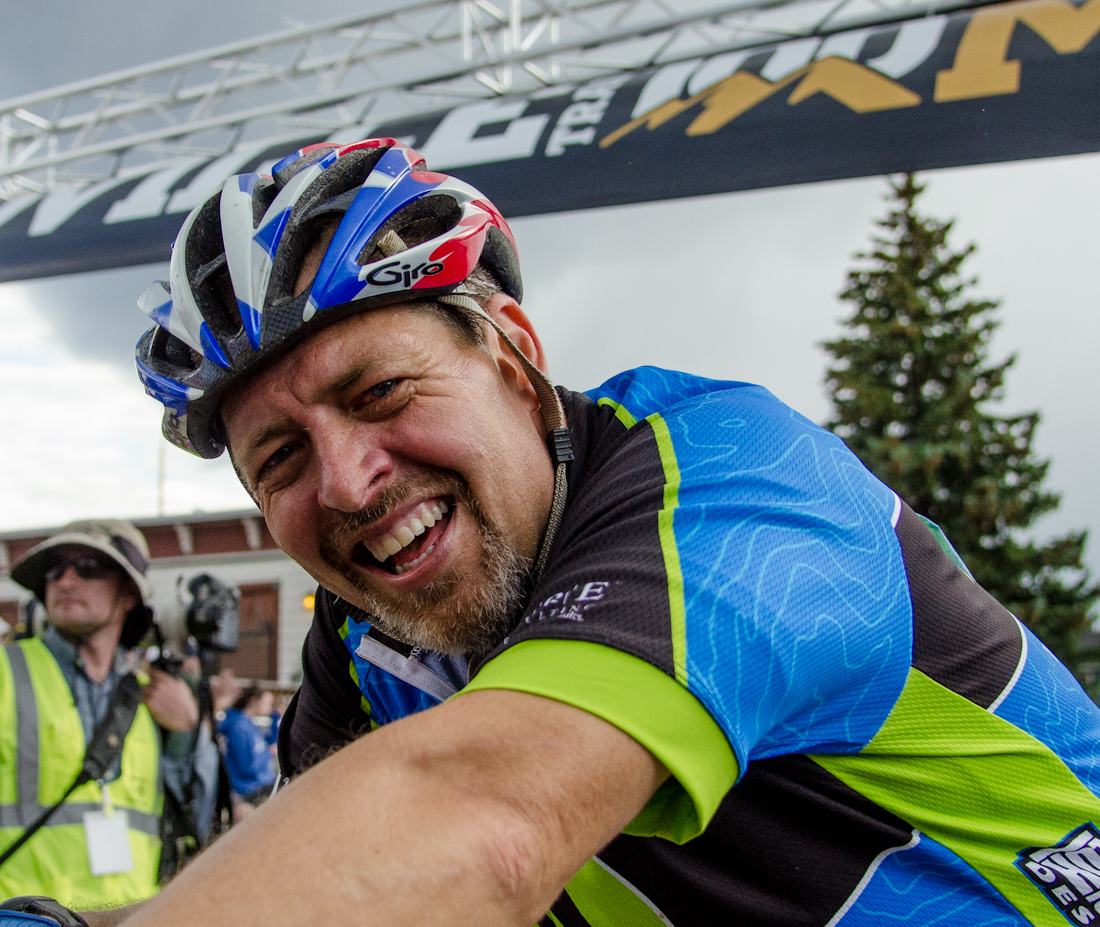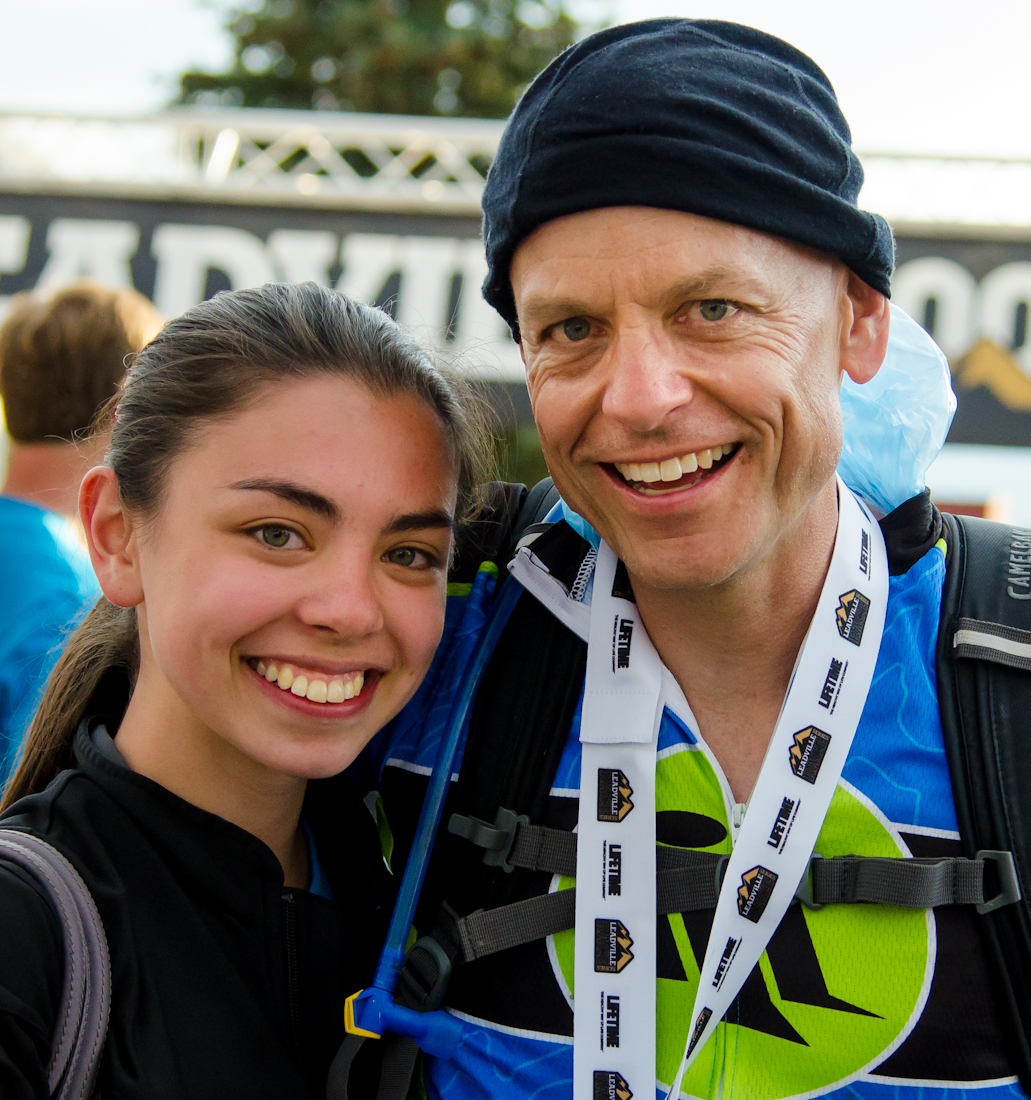 As with most of the crazier things I get into, longtime friend Scott Humphries was on hand.  He usually beats me in races, but this time the acclimation from my high-altitude summer gave me a tiny 65-second advantage at the end of an 11+ hour day.  Since that's about the time that it takes to stop and pee, or drink a Gatorade, or hug your kids (him) or parents (me) on the roadside, I think we'll call this one a dead heat.  Ned Barnett led all Houstonians (me, Scott, Shane, Mike, Caj Boatright and Greg Binion) on our team, improving his 2011 performance by more than an hour.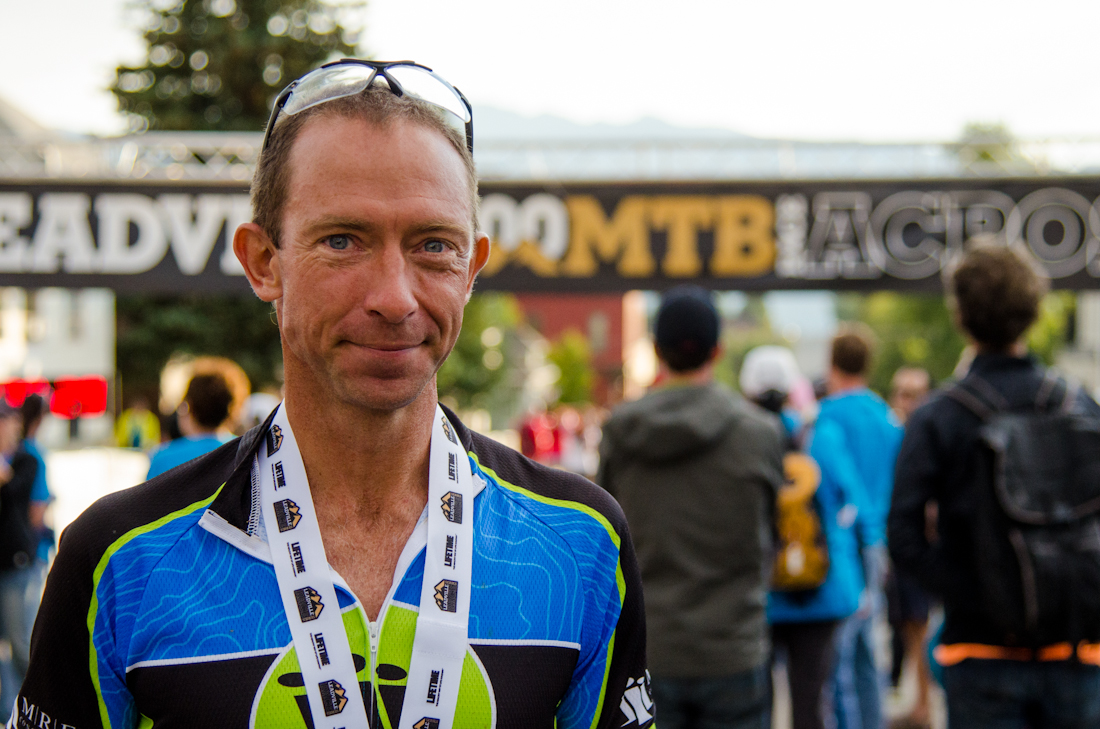 We had a couple of ringers:  last winter in Costa Rica, I'd met and hung out with Peter Thomsen and his wife, Jana, both of Santa Cruz, California.  It turns out that Peter is a stellar mountainbiker.  Crazy good — something I didn't even fully appreciate when I invited him to join us in Leadville.  Then when a last-minute opening came up on our Team, we called Peter's Santa Cruz buddy Zach Brown.  Zach bought a new bike, flew out, couch-surfed, saddled up, and turned in an impressive bike performance — all while adding plenty of fun and class to the mix.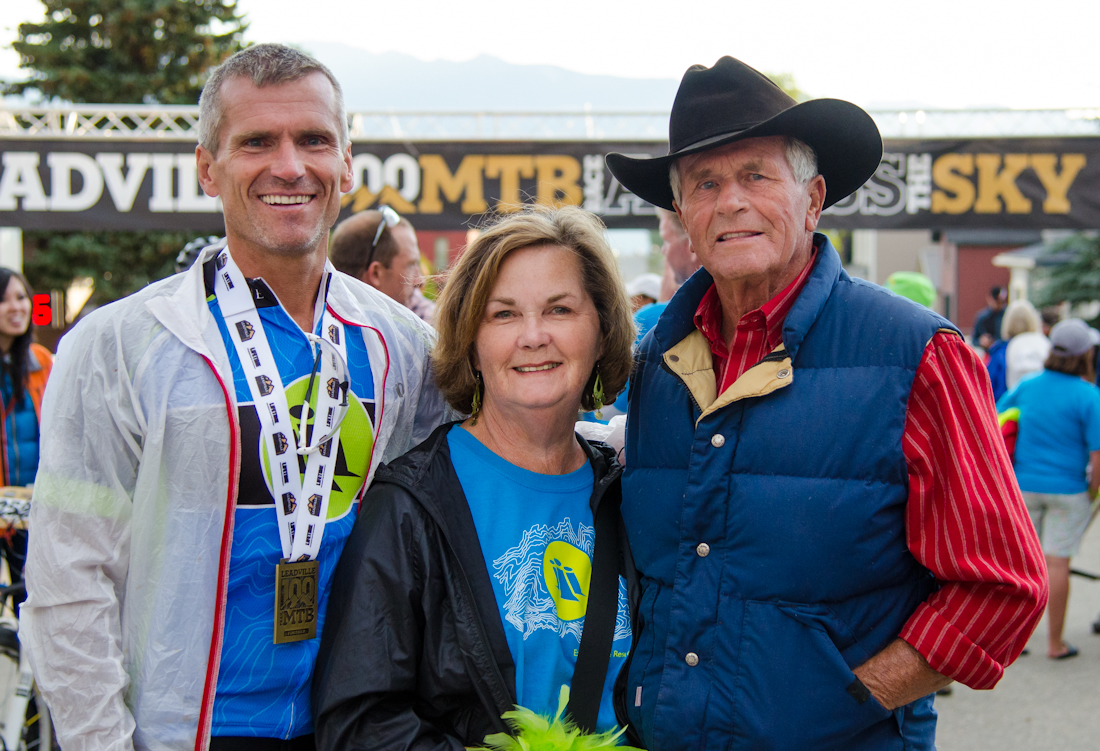 Once again, my loving Mom and Dad were my heroes.  Remember what I said above about getting misty-eyed?  They had their truck and ATV lined up to chase and cheer me every hour or two along the course.  To help me spot her quickly, Mom sported a feather boa in MRE Team colors.  It'd be impossible to quit trying when you know your Mom and Dad travelled 1000 miles to watch you cross the finish line.
Truth is, a little more than a year ago, neither Scott, Shane, Mike, Ned or I even owned a mountain bike, or had much of an idea how to ride one in real mountains.  We were road bikers and triathletes.  In a celebratory mood the day after the race, Scott announced:  "Jeffry, I believe we are now 'mountain bikers.'"  I had to agree, but then asked the critical question:  "Yup, but what are we gonna be next year?"
Photo Credits:  Obviously I was mostly biking, not photographing.  I regret that I don't have more pictures of Ned, Caj, Peter, Zach and Greg — they finished before I did and had already changed out of their jerseys before I got 'hold of my camera.   Fortunately, Jana Thomsen, Stacy Humphries, and the on-course photo service "Zazoosh" got several good pictures.  Lots of the shots in the grid above are by those guys, and I think all the cameras got passed around after the finish — even pro-photographer Peter took a few after his finish.  Forgive me for not sorting out exactly who took which picture.  And forgive me for including more pictures of myself than I'm usually comfortable with. 
* Full disclosure:  The faster you finish, the bigger the belt buckle you're awarded.  The very-big buckle in the close-up picture above belongs to friend/teammate/Californian Peter Thomsen, who is a mountainbiking badass — a whole order of magnitude above me.  The rest of the team earned buckles a bit smaller and with less gold.  Of course ours are waaaay more tasteful….but his made a better picture.