I've been without a WIFI connection for a couple of weeks!  Forgive the delayed posts.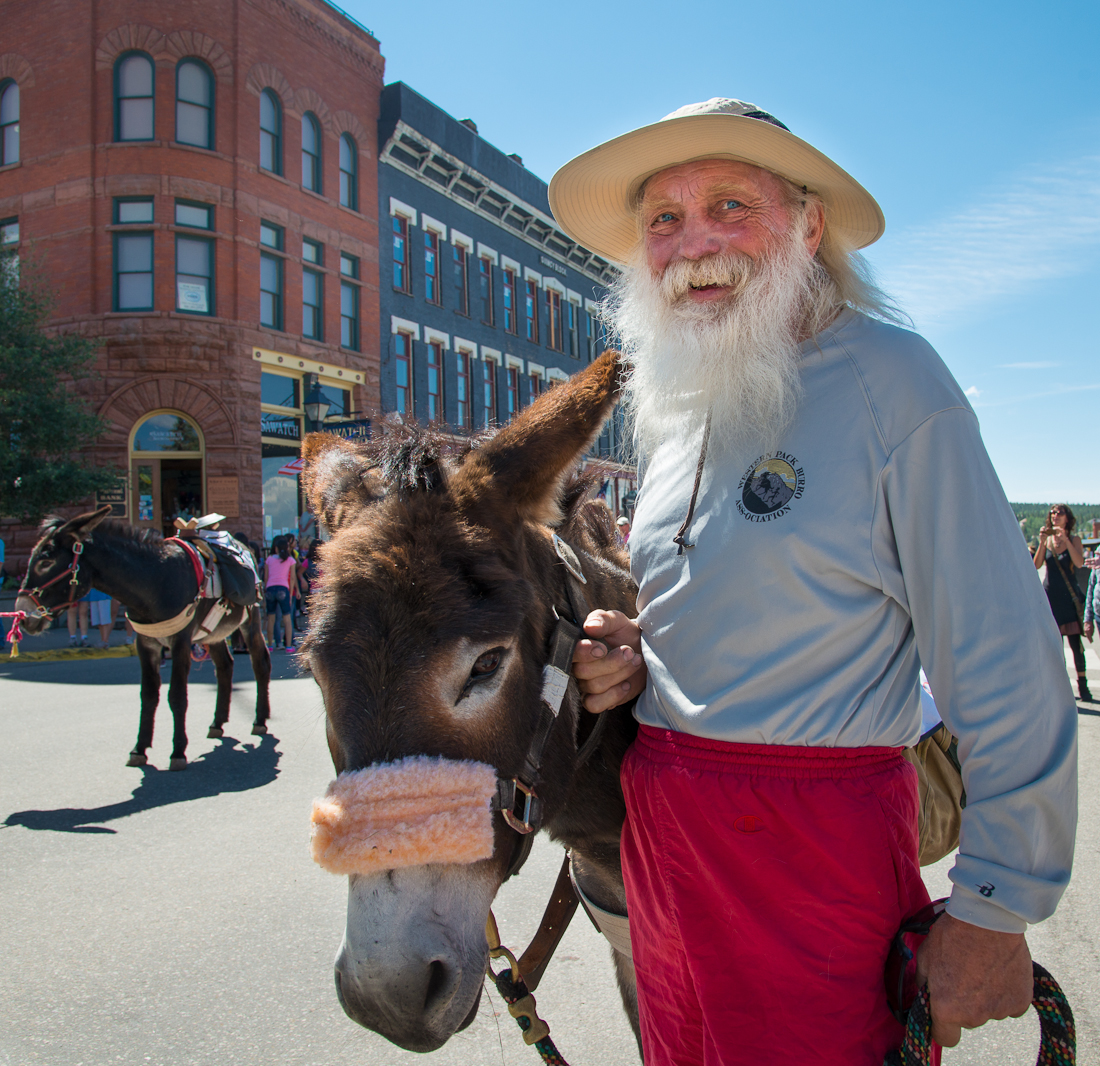 If you're looking for America's highest post office, head for Leadville, Colorado —  America's highest town.  Depending on just what and where you measure, it's around 10,200 feet in elevation.  The town also boasts (literally) the country's highest airport.  Mt. Elbert, the highest peak in Colorado (14,440 ft), looms over the south side of town; Mt. Massive (the second highest at just 14,428) is just west of town.  Around here, thin air and isolation are selling points and badges of honor.
There's plenty of evidence in Leadville of a past that was both grander and rougher.  The town started in the 1800s as a mining "boom" town.  It's just got 3,000 or so people now, but it allegedly had 10 times that population (and 100 saloons!?!) in the 1880s.  Back then Oscar Wilde lectured in the city's Tabor Opera House (probably with Leadville residents (unsinkable) Molly Brown and maybe Doc Holiday in the audience).  At the same time, thousands of men braved sub-zero temperatures, using mule and muscle to drag tons of silver-laden ore out of the mines that surround the city.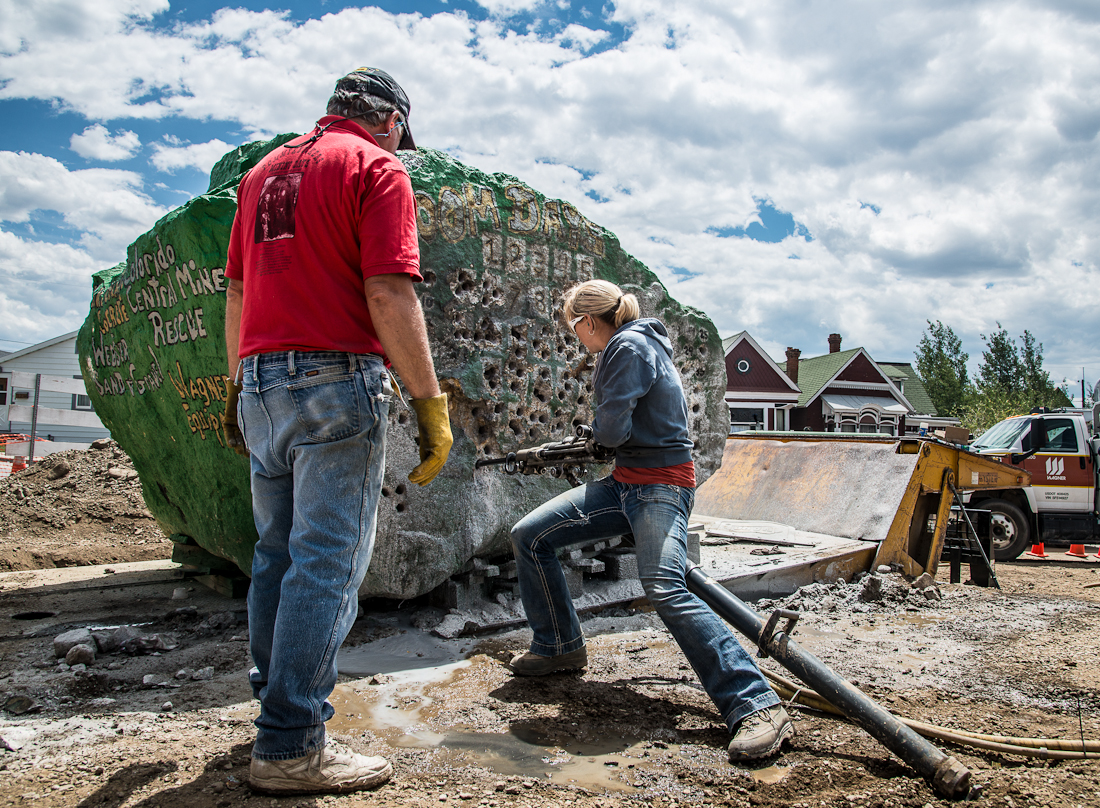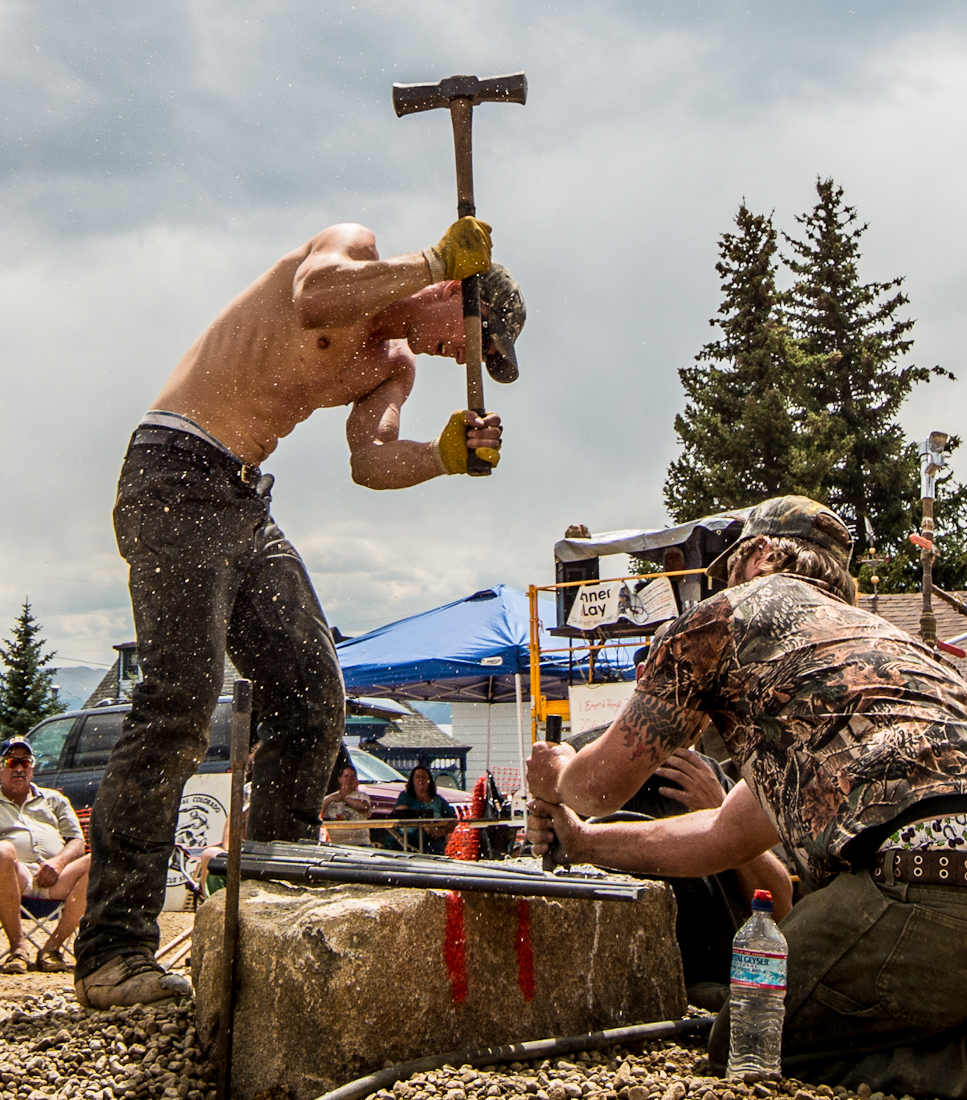 130 years later, there's still a lot going on in now-tiny Leadville.  The first weekend in August was "Boom Days," celebrating Leadville's past with gritty mining competitions (see the jackhammer and sledgehammer pictures) on one end of downtown and a lacy Victorian costume contest on the other.  These are two very different crowds.  Meanwhile, a 22-mile pack burro race shut down Highway 24 through the middle of town.  This being Colorado — there's always a laid-back "hippie" crowd around town, too, and on most summer days there are a dozen or so leather-shrouded Harley riders cruising the streets.  Talk about diversity.
Yet another crowd (this one with spandex shorts, carbon fiber bikes, and Gatorade) swarms the town in the summer, gearing up for  arguably the biggest mountain bike race in the country – the Leadville MTB 100 "Race Across the Sky".  Like the Leadville Marathon I did a couple of months back, it starts at 10,200 feet and generally just goes higher and higher from there.  That's why I was in town, along with a half dozen or so good friends.  More news on the bike race in a day or so when the pictures get compiled.
Topping it all off, camped out west of town were none other than Joyce and J.B. Cotner (my mom and dad!).  One day when we were doing a practice ride of the toughest climb on the bike race course (climbing up to Columbine Pass at 12,400 ft), there sat Mom and Dad at the summit on a red ATV, waiting for us.  To say that my Mom and Dad are troopers would be a terrible understatement.  I'd convinced my Dad to come to Leadville by telling him we needed to come up with a strategy to win next year's burro race (me as runner, him a burro trainer).   Crazier things do happen — especially in Leadville.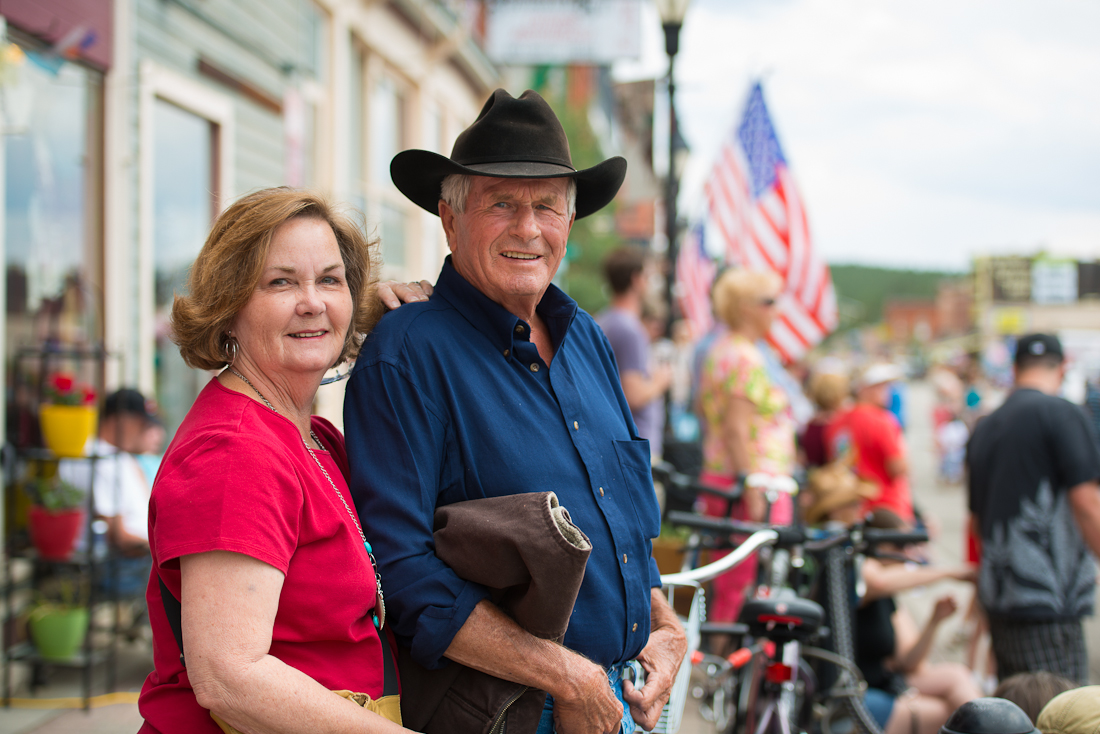 In the photo grid above:  The big green rock is part of the mining competition.  Yes, that's an attractive young woman operating the 120 lb. jackhammer.  Do not mess with her.  The two-man sledgehammer ("double jack") competition requires more trust in one's teammate than I have for any of my friends — no offense guys.  The two men in the sledgehammer pictures apparently set an unofficial state record — chiseling a 27-inch hole in 10 minutes.  You don't ride the burros in the burro race — you lead/push/drive/drag them 22 miles.  The winner makes it back to town in about four hours.  Apparently Leadville is the second leg of Colorado's "Triple Crown" of pack burro racing.  That's my Mom and Dad above (in red and blue) downtown watching the burro race and parade.  And that's also them with me (bottom) behind their ATV at the top of Columbine; they're showing off their preferred means of high-mountain transport and I'm showing mine.  If you pay attention to such things: I do have a fabulous bike (Specialized Epic S-Works 26; full suspension and weighs less than many road bikes) — because I need all the help I can get. 
I threw in some shots of the mountains around Leadville.  I didn't really dedicate the time it takes to get really good mountain photos (scouting locations then waiting on perfect weather and light), so these do not do Leadville justice in the "majestic views" category.  Hopefully you can still get a sense of the landscape.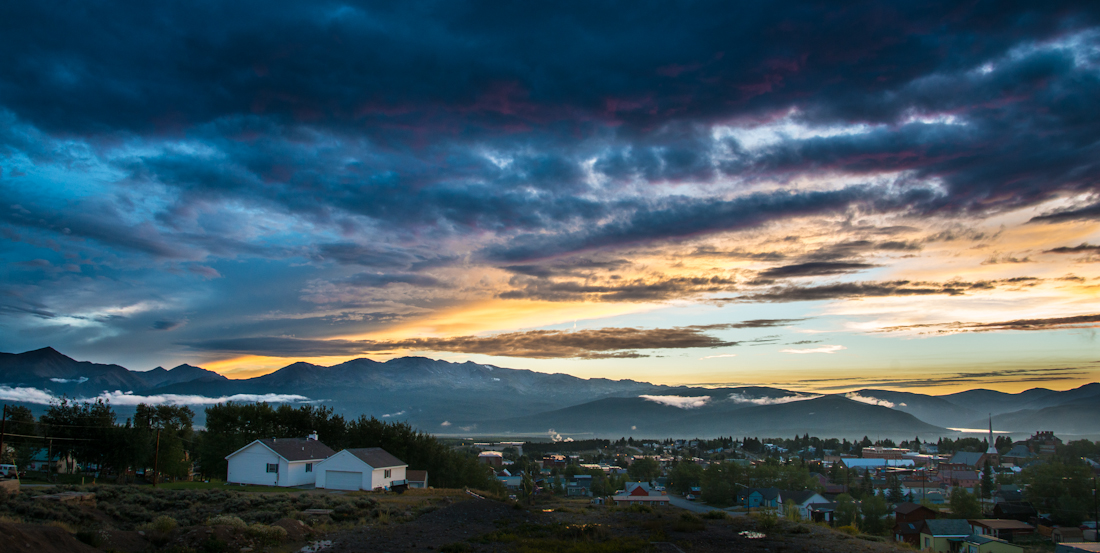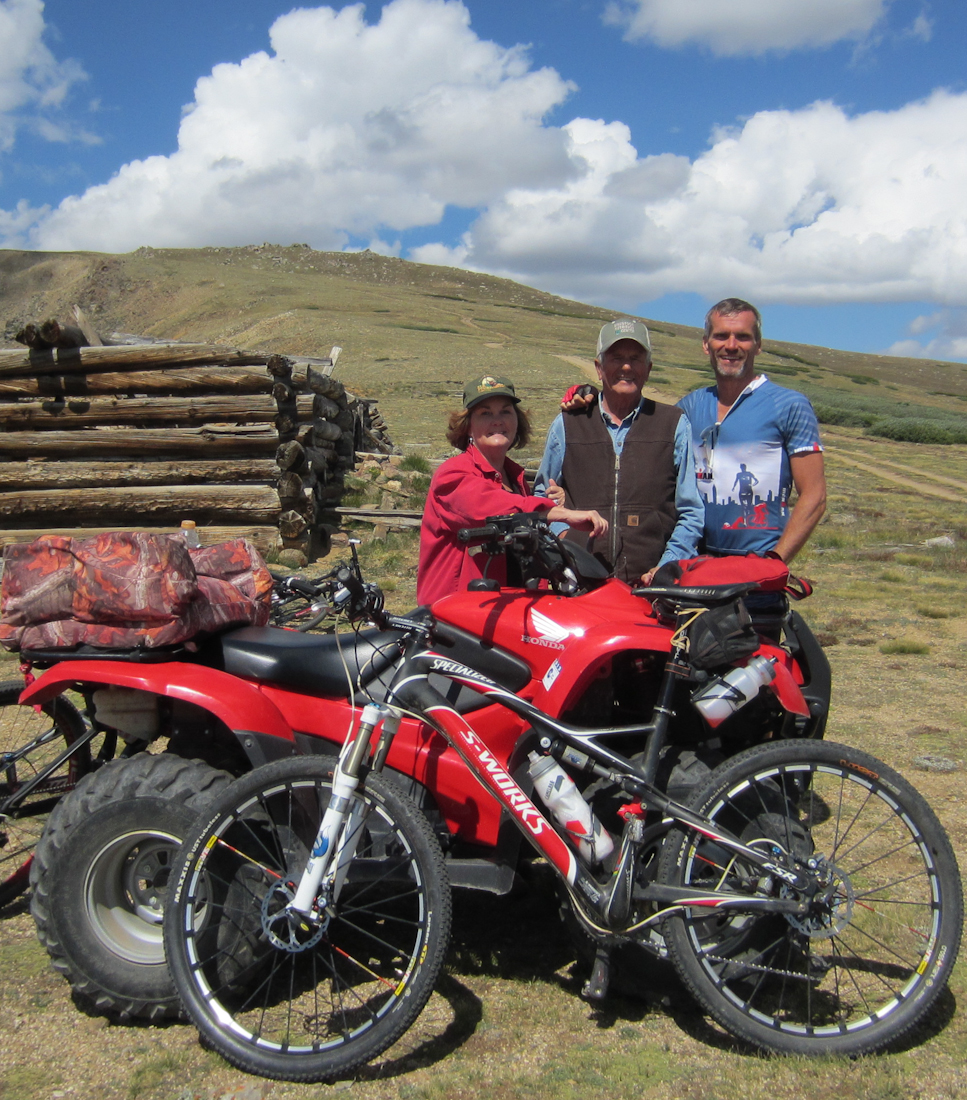 (Bottom photo by Peter Thomsen, using whatever little camera he'd stuffed into his bike jersey).