A preliminary shout-out and photo credit to MIKE SHORT, photographer for all these pictures.  Also: For the record, I've limited myself to just one "ass" pun per paragraph.
You've probably heard the phrase about a "rented mule." Well, my new buddy Beethoven was actually a rented burro (a.k.a. donkey; a.k.a. "ass"). They don't allow any of those half-ass mules in the Leadville Boom Days Pack Burro Race.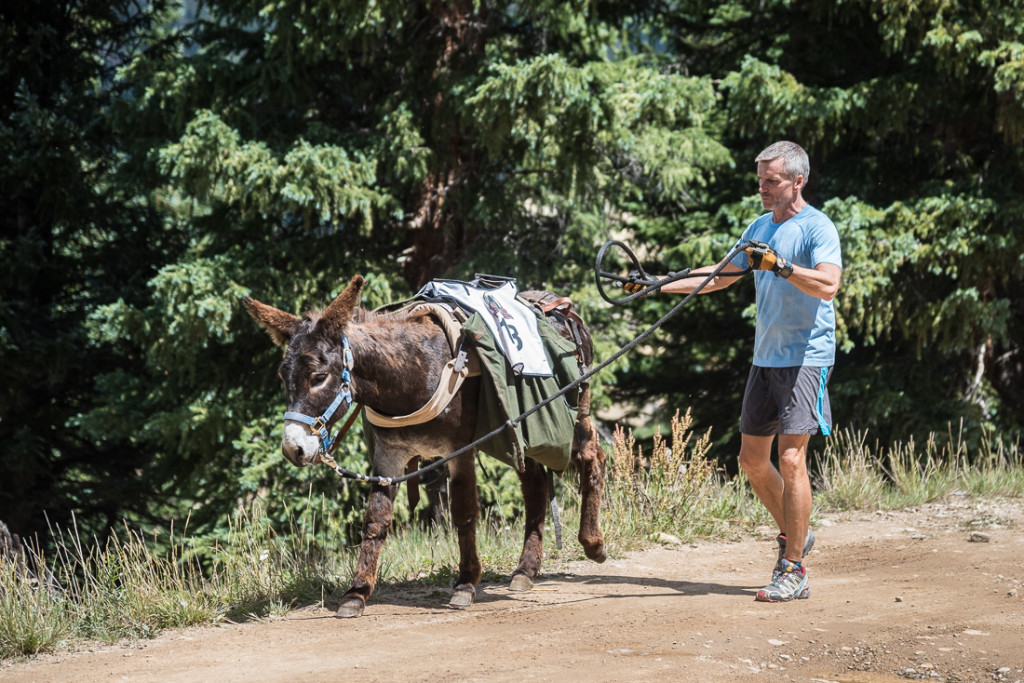 I was a rookie to the event, so I didn't exactly get first pick of available teammates. The ass I got handed to me was named Beethoven. He was once a wild burro running free on federal land, and his track record as a racing burro wasn't good: last place in Leadville a year ago; second-to-last in a similar event just week ago (each time in a field of a few dozen racers). His 2015 Leadville results got him the dubious Last Ass Over the Pass award, and resulted in a 2016 rule change limiting the time allowed. Pessimistic, I opted for the shorter course and steeled myself for a long day. Even the "short" course is 15 miles, and it climbs up to 12,000 feet elevation. It didn't surprise me a bit that our assigned race number was 13.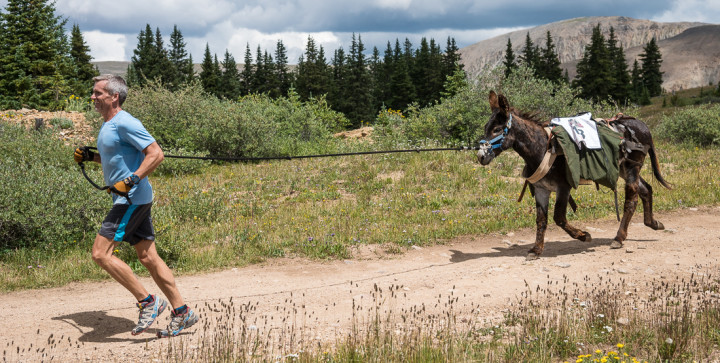 I'd done some homework – even a couple of hours of donkey-whisperer lessons from Bill Lee (the Santa Claus looking guy in one of the pictures). The trick to burro racing with an ass like Beethoven is to remember that donkeys are herd animals. Try to head off by yourself and things will go poorly. Group up with a handful of other burro teams going at a decent pace and you might – might – have some success.   So I put my ass on the line for a fast start, and tried to coax him into the thick of the action.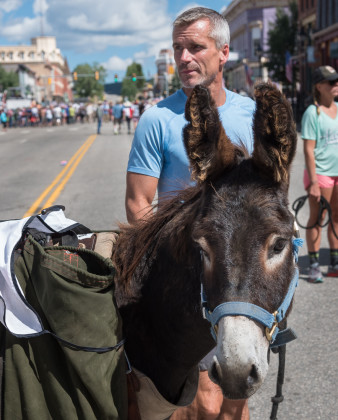 The rules say you can lead, push, pull or even carry your burro – but he can't carry you. As the pictures reflect, the humans run along on their own power. Sometimes you lead the burro from the front, sometimes you "drive" from behind, and sometimes you just find yourself in a tug-of-war battle-of-wills. I covered my ass (as the rules require) with a 33-pound packsaddle equipped with a shovel, pick and prospector's pan as a fun tribute to the traditional roots of the sport and the Colorado mining region.
An amusing part of the rental agreement was that I would have to split any prize money with Beethoven's owners. Unsurprisingly, that provision was of no relevance, but Beethoven and I actually did okay. The little ass only kicked me once; we had a prompt come-to-donkey-Jesus discussion about that and seemed to get along mostly fine for the rest of the day.  There was a lot of slow trudging, but occasionally I'd get my ass in gear and we'd run like a well-oiled machine. Brad Wann (Beethoven's owner) has an email tagline that says that once you've tried burro racing, it's "hard to walk away." Several of the other racers I spoke to actually talked about being "hooked" on the sport. I guess it's a little like golf – hours of frustration punctuated by a few brief moments when everything comes together perfectly.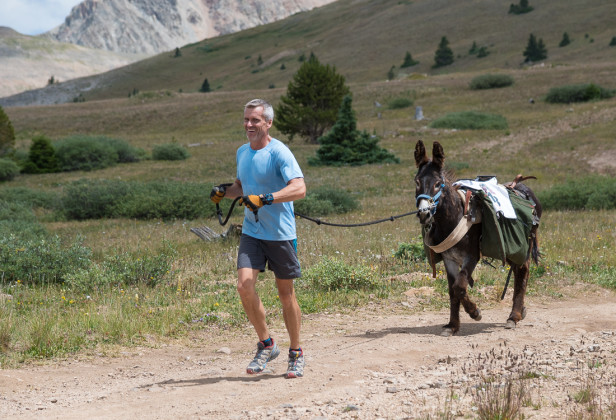 The race starts and ends in downtown Leadville, and loops up into the mountains east of town.  There were 30 human/burro teams at the start for the 15-mile short-course race, though a couple of them apparently never got past the first couple of blocks. Beethoven and I spent most of the day running and herding alongside a guy (in sandals) named Pat Sweeney and his burro Mr. Ziffer. (It turns out that Pat is sort of famous in the ultra trail running world).  After helping one another all day, we had a final, awkward "drag race" up Leadville's main street, Harrison Avenue. Beethoven and I finished about # 16 out 30 teams.  Next year we'll do better.