It must be true that the Swiss eat a lot of chocolate.  You can go in a tiny food market with only a handful of aisles, and one of those aisles will be wholly dedicated to offering up 100 kinds of chocolate.   Conversely, a supermarket in Zurich had just one option (i.e., one brand, small size, chunky) for peanut butter.  It was near the shelves-full of Nutella — which is like peanut butter, except that it's chocolate.
They're also pretty serious about tunnels, white cheeses, multi-function pocket knives, and cowbells.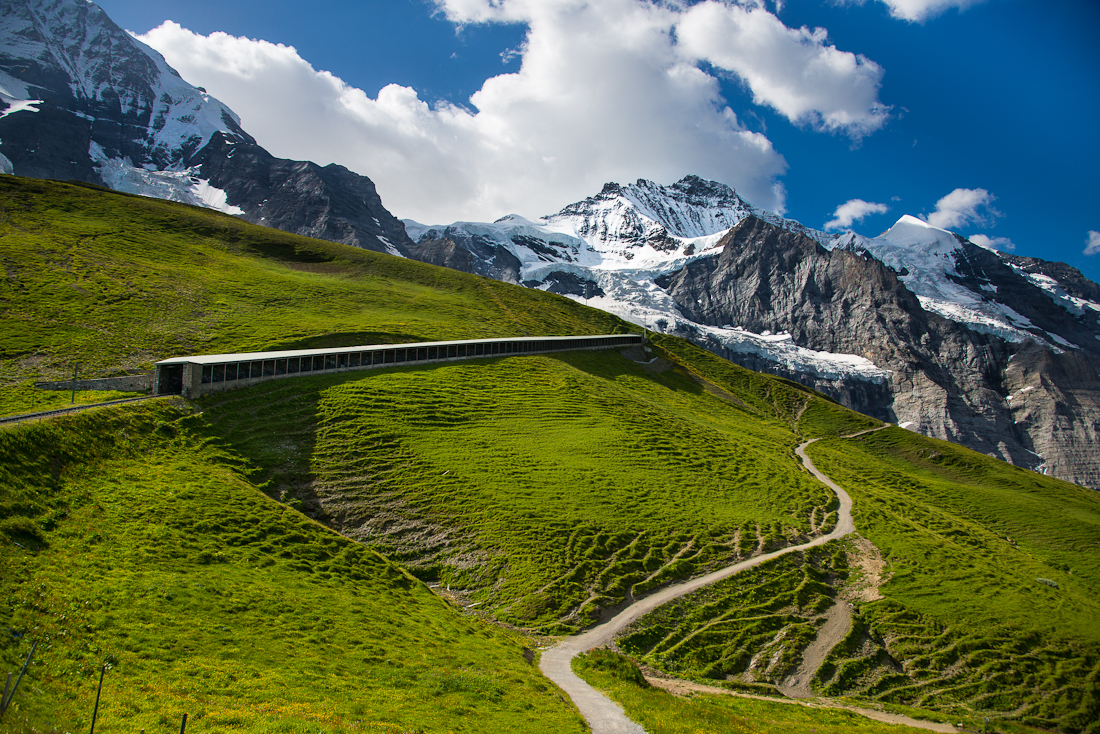 Following last Sunday's big event in Zurich, I had a rented SUV, a plane ticket out of Rome (about 500 miles to the south) a week later, and no other specific plans.  There are pros and cons to going sans-reservations and sans-gameplan, but you'll never have to rush if you don't want to rush, and you'll never be stuck somewhere that you don't want to be.  Happily, the car had a built-in GPS, which proves invaluable when randomly navigating one's self off of beaten paths.
A smart and well-travelled friend had suggested I visit a small Swiss town called Grindelwald, which, unlike Zurich, is truly in the Alps.  Big, steep, rocky, beautiful mountain Alps.  My first day there I rented a mountain bike and headed way uphill.  It was glorious.  At the top of one climb, about 3,500 feet above town, there was a restaurant (normally accessible by gondola).  I could see hikers and bikers below me, gondola riders and zip-liners, para-sailers and the occasional helicopter tour overhead, and passenger trains in the valley below – all while being served a chocolate (of course) croissant and diet coke in sunny 70-degree weather.  I decided then and there that I'd spend the next five days in Grindelwald.  Unfortunately, a quick check of a rainy weather forecast a few hours later squelched that plan, so I spent only another half-day in Grindelwald after all.
There's a train near Grindelwald that leaves from about 7,500 feet, almost immediately enters a tunnel, and emerges after several miles and another 4,000 feet of ascent to Jungfraujoch.  At the top are snow, ice caverns, and more views of rocky jagged peaks.   On the way back down, the train conductor announced that the train would stop in tiny Alpenglen only upon request (and then you'd have to walk the rest of the way down), which was sufficient to pique my interest.  What do you do in Alpenglen? You eat a cheese-and-cheese sandwich (see the picture with the yellow tablecloths) and look down the hill toward Grindelwald.  Then start walking.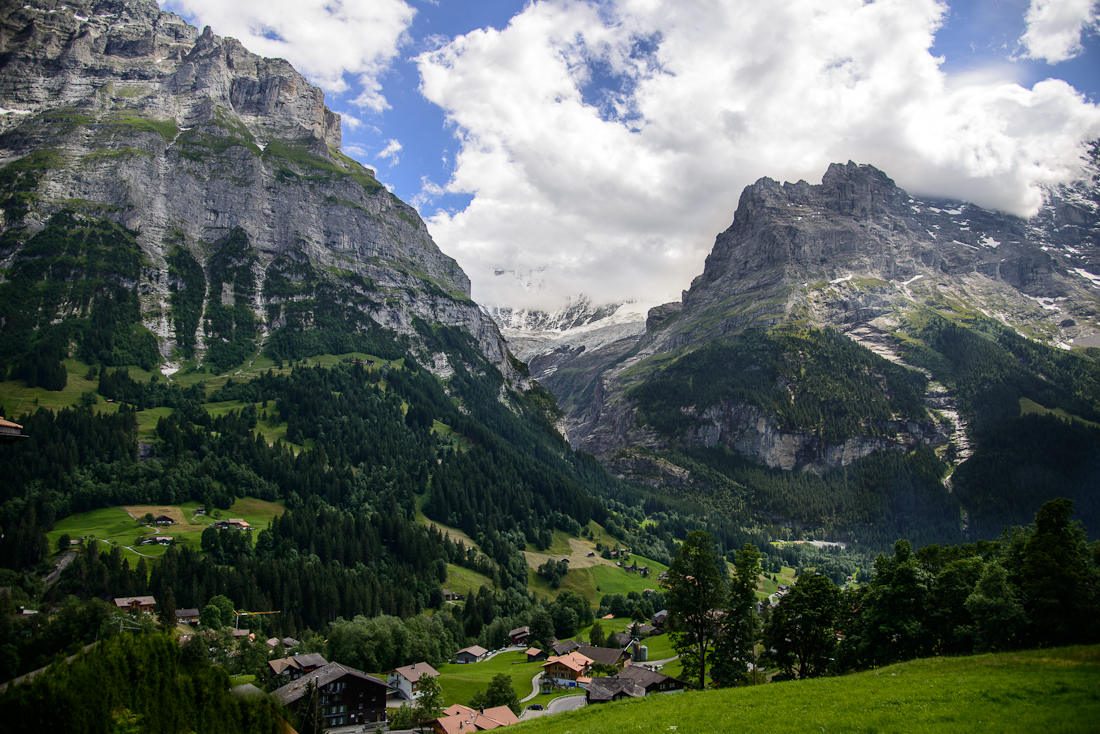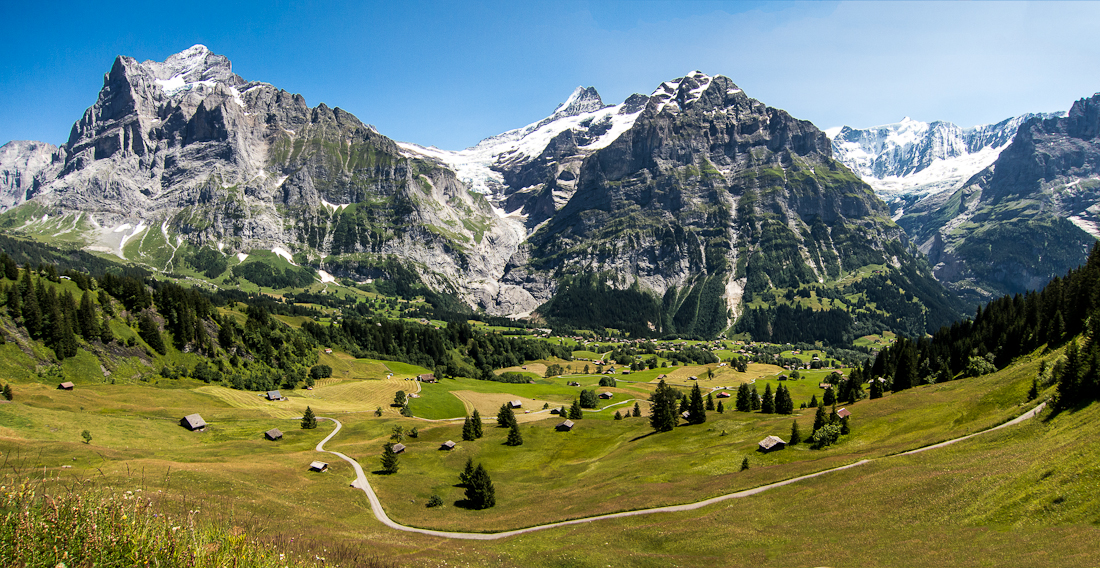 The drive from Zurich to Grindelwald involves skirting and circling a series of big lakes, from the south end of Lake Zurich, over to Lucerne and down to Interlaken.  There are hundreds of wild swan living in Lake Zurich.  A dozen or so were hanging out, getting fed by tourists, at Rapperswil — which is where the castle-looking church on the lake is located.  To get the long shots of that church, I walked the bridge that crosses Lake Zurich – twice.  To get the swan pictures, I (inadvertently) stepped in the lake, and (also inadvertently) sat in swan poop.  Swan poop on the pants is a sure sign of a dedicated photographer.  The outdoor musicians and the city streets are Lucerne.
After Grindelwald, I headed south.  As you head south from the Lucerne area toward Italy on the A9 Autobahn, you go through a ten-mile tunnel.  When you emerge, suddenly the highway signs are no longer in German – they're in Italian.  Highway exits are no longer "ausfahrts"; they're "uscitas."  The towns and places no longer have names like Lauderhorneschulter and Gross Scheidigg —  they have names like Giornico and Biasca.  But, as I figured out eventually when the convenience store clerk demanded francs (not euros), it's still Switzerland.  About a fifth of Switzerland (in the south) is officially Italian-speaking (another fifth is French-speaking).  An interesting sidenote on this:  Most Swiss know English as their second language, so when a German-speaking Swiss needs to communicate with an Italian-speaking Swiss, they'll likely be speaking in English.