A few days back, I found myself on a short bus tour through Indiana and Michigan with my friends in the country band, Ricochet. (Prior stories about them are here, here, and here).  My high school buddies Greg Cook (pictured just below, after a show, in the decidedly unglamorous dressing room of the "8 Seconds" honky-tonk in Indianapolis), and Heath Wright (pictured onstage below and previously pictured here) let me tag along, take a few pictures and get another little glimpse of their music-biz life.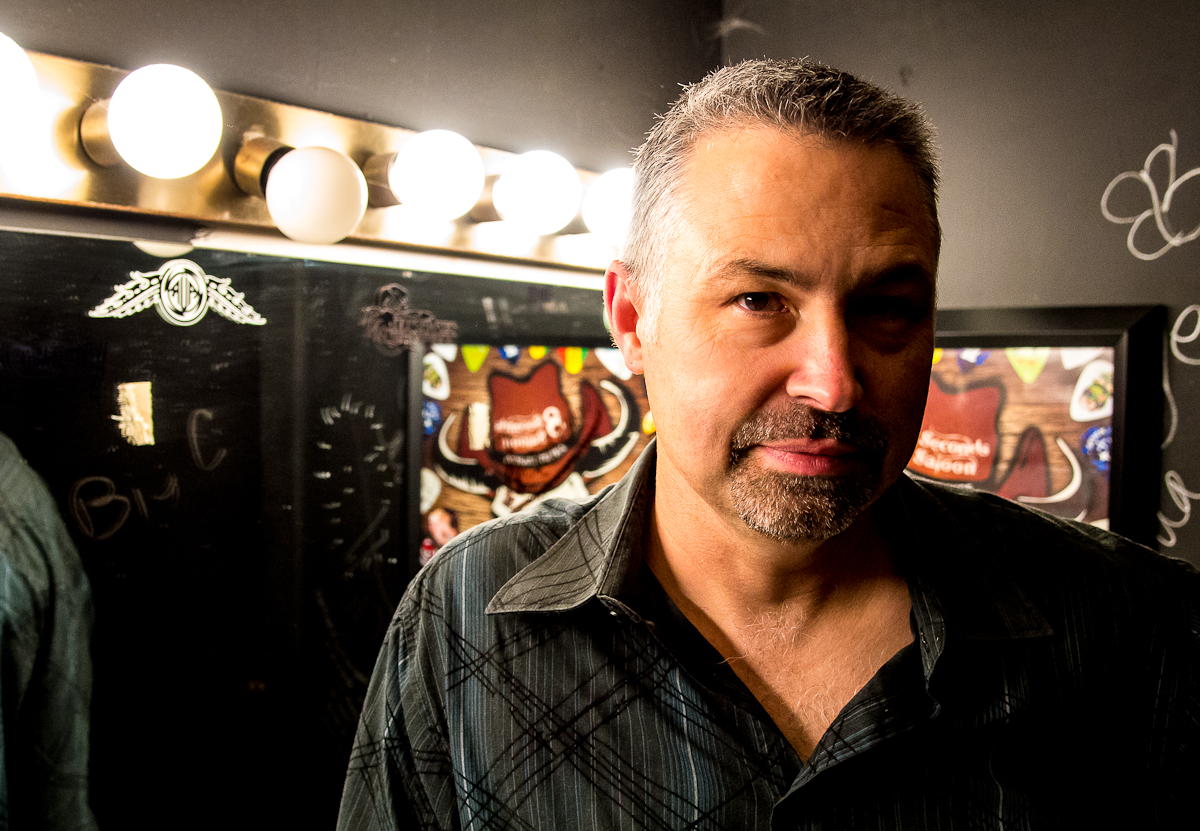 Late Friday night – after a show in Indianapolis and after a 3am stop at an Indiana Waffle House – the Ricochet tour bus was rolling north and Justin Spears had his guitar out, playing and singing whatever came to mind.  As we all settled in to debrief on the Waffle House antics, Justin started to play Bob Seger's "Turn the Page" –a song about musicians on the road in a tour bus in the Midwest.  ("Here I am, on the road again.  Here I am, up on the stage….").   And of course, everyone (singers, technicians, bus driver and one visiting lawyer) joined in.  If you've ever watched that scene in the movie "Almost Famous" where they all sing "Tiny Dancer"on the band's tour bus — this was one of those moments.  Or a least it looked that way to an outsider.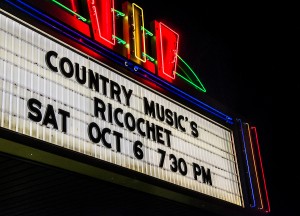 Being on the road with Ricochet brings no shortage of such sights.  There's always an afternoon "sound check" — a low-key mini-concert to an empty room (see the picture below of Heath), done to check and fine tune the zillion knobs and settings on all the monitors and speakers and amps.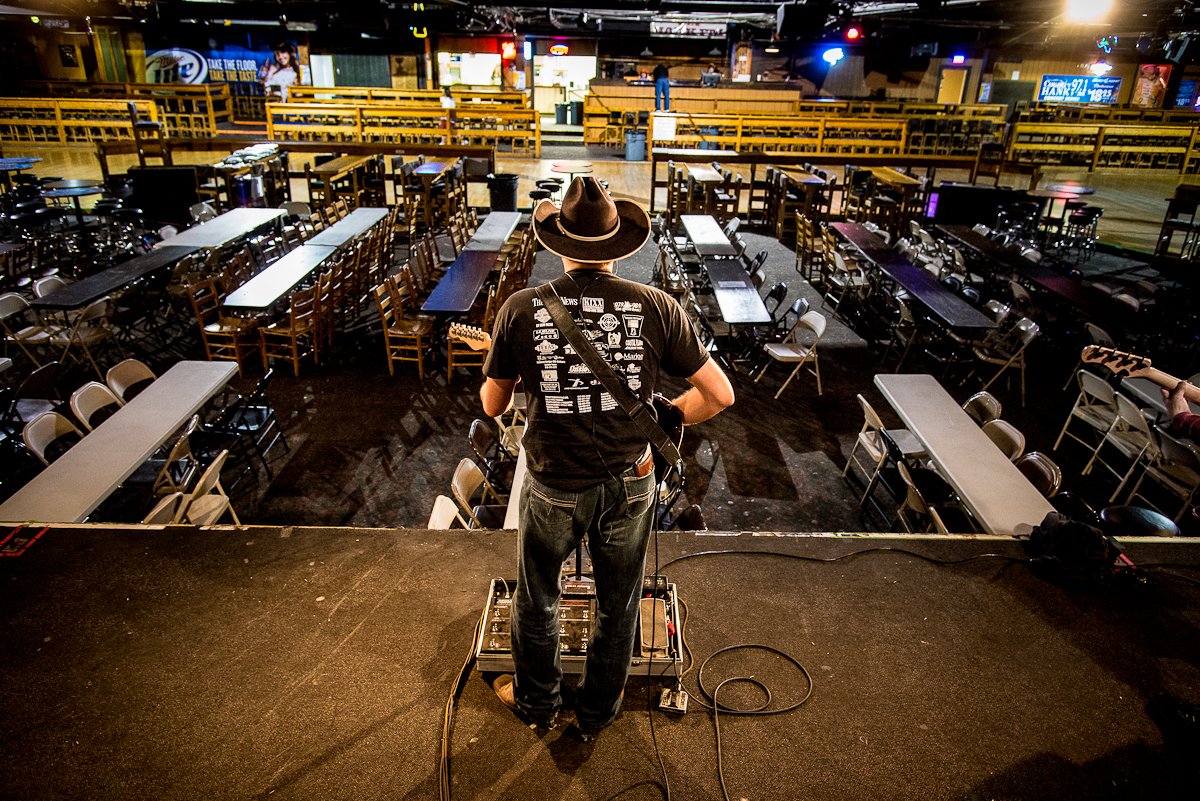 There's often a pre-show "meet and greet" with fans.  On Friday night, for example, the parents of a 14-yr-old girl had driven her 2 hours to see the show, not realizing it was in a no-kids-allowed country nightclub.  So the whole band gave the girl and her parents a short private concert on the band bus before the show (see the first two pictures below).
There always seems to be a tattered, run-down dressing room, usually with bright lights around a mirror, and with graffiti and stickers and posters from the bands who have been there before.  That's where I took those close-up pictures of Greg.  They barely use the dressing rooms — this group doesn't do much pre-show primping.  Fifteen minutes before showtime, they're probably still in shorts and tennis shoes (except for Heath, who goes full-time in full-cowboy).
After the show there's usually an autograph signing session, where sweet, proper grandmothers and local good ol' boys line up with drunken barflies (and everything in between), all patiently waiting their turns for an autograph or a picture, and a couple of seconds' brush with the evening's visiting C&W celebrities.  The young ladies in the big picture below had lined up for a picture, apparently after purchasing some Ricochet merchandise; "Sweet Tea" is the name of Ricochet's newest song.  Notice the Ricochet (temporary?!) tatoo on the woman's left arm.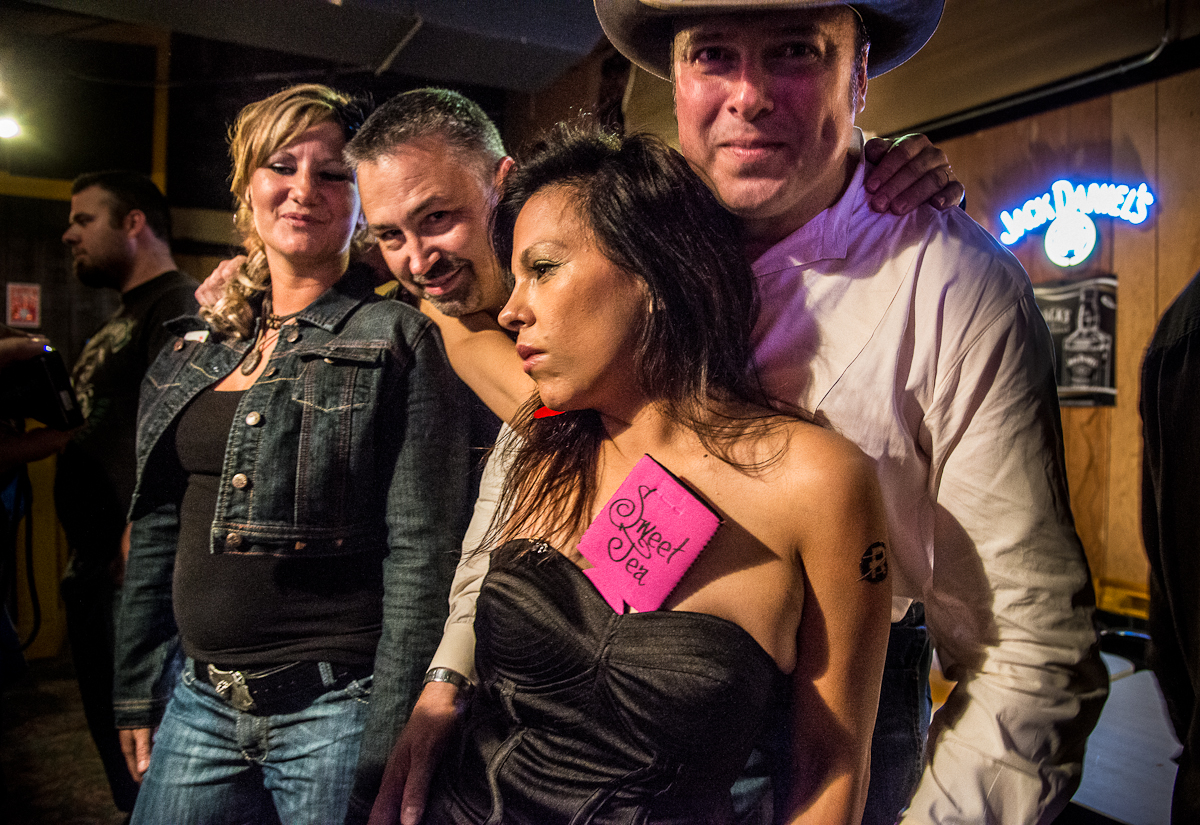 Saturday's show in Tecumseh, Michigan was completely different – a very civilized "Center for the Arts" theater and a room full of mostly gray-haired fans (who, curiously, gave a standing ovation only for the Ricochet drummer's hiphop/rap medley).
I should thank all the members of Ricochet for tolerating me again.  Some of them exited the bus in the middle of the night to head for Oklahoma, so I didn't get to say a proper "goodbye" and "thank you."
For the second year in a row, I got to have a simultaneous mini-reunion with my two college roomates – Ricochet member Greg Cook, and Dondi Cupp (now a Michigander, living in Ann Arbor – not too far from Tecumseh).  That's Dondi in the white shirt with blue print, obviously posing with the band (and above in another picture with Greg and me).