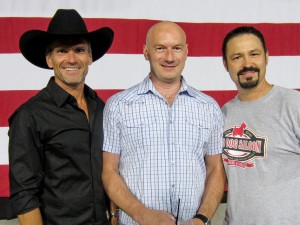 We had a fun little reunion in Seattle.  Greg Cook (a friend since second grade or so) was my college roomate all three years.   My last year of college, another good friend, Dondi Cupp, lived with us in an apartment in Norman.  Dondi's (incessant) claim to fame is that he was the drum major of the Pride of Oklahoma back when Greg and I were in band at OU.  In fairness, he may have been the best ever in that role, but I'd never acknowledge that in his presence.  (And yes, that's his real Mom-given name.)
Greg and Dondi hadn't seen each other since Dondi moved to the Seattle area in 1992. I learned recently that Greg's band, Ricochet (more on them elsewhere) was performing at the Puyallup Fair (which is quite a big event: www.thefair.com ), just outside Seattle.  So Greg and I both converged on Seattle and spent a few days with Dondi and his family.  Within minutes, we were all happily making off-color jokes and insulting each other, just like old times.  Great to catch up.  And of course we went to the Puyallop Fair and Rodeo.
Dondi's the guy with no hair.  He promptly gave Greg the new nickname "Blackbeard" (thus the weekend was full of pirate jokes) for reasons the pictures will make obvious.  His old nickname was "Fatty," so…  That's me in the ridiculously-large black Stetson — feel free to laugh (I did).  The guy in the straw hat is Heath, Greg's and my childhood Vian buddy who is the lead singer/guitarist for Ricochet.  Heath didn't join us for most of the festivities — he was travelling instead in an RV with the rodeo clown from the Puyallop Rodeo (I swear I am not making this up).
Seattle was the furthest I'd ever flown myself.  Greg hopped in N3738R and flew back with me.  Icky weather spoiled our plans for an aerial sightseeing tour of the Pacific Northwest, but the silver lining was that it diverted us to an impromptu landing and overnight stay in Reno.