The first of (probably) two batches of pictures from a couple of great weeks spent in and around Grindelwald, Switzerland.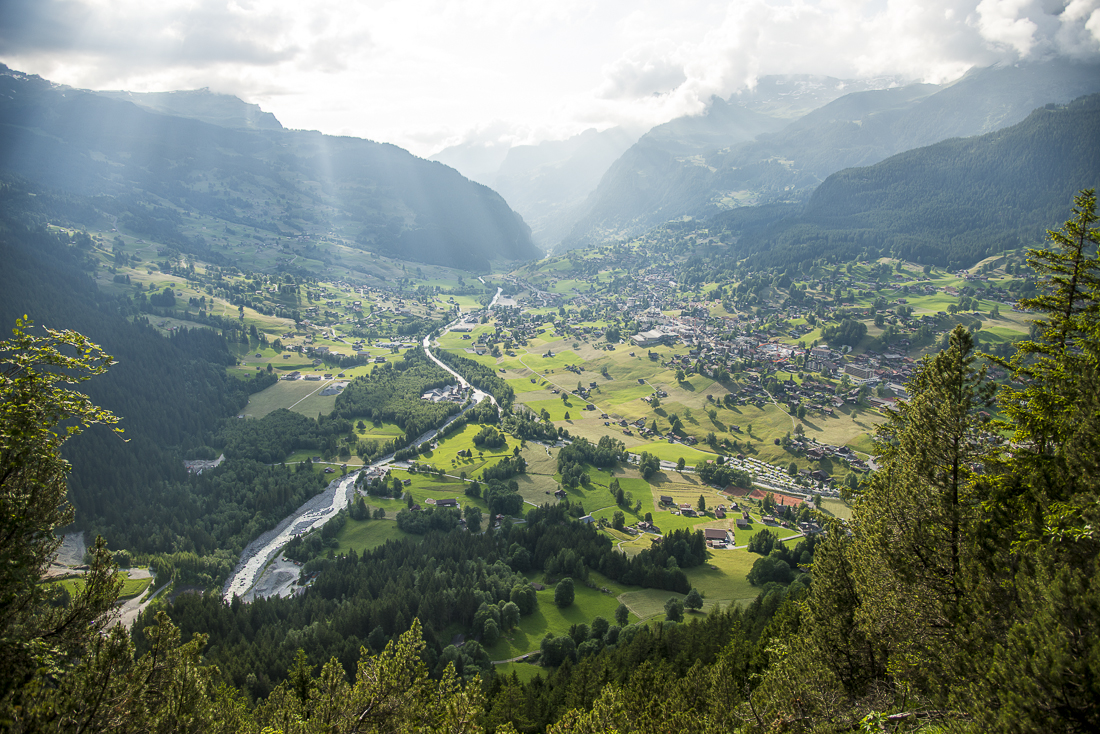 Last year I visited Grindelwald, Switzerland for just a couple of days.  I promised myself I'd come back this year when I could stay longer, so for the last couple of weeks I've been holed up in an apartment on the ground floor of a hillside "chalet."  (If "chalet" sounds especiallyglamorous, you should know that almost every home here is built "chalet" style).  All the pictures on this page were taken with a camera pointed toward the town of Grindelwald – from a dozen different angles as I biked and hiked and rode trains and gondolas in every conceivable direction to and from town.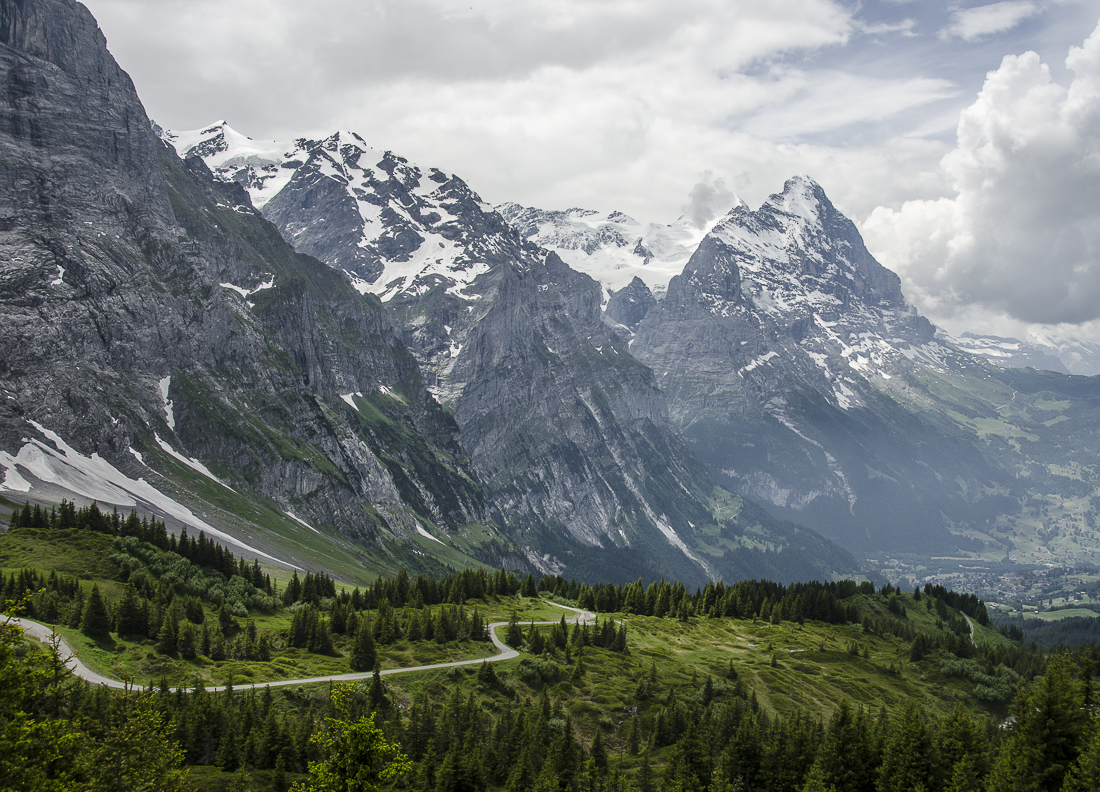 The best part?  I've had two friends come (separately) to visit and join me in what would seem like an exhausting series of hikes and bike rides.  Each of them are former law partners of mine at my old law firm (Gibbs & Bruns).  Scott Humphries (shown in bike gear here) tagged in shortly after Jeff Kubin (in the blue jacket) left.  Fortunately, they're both easy to get along with, and energetic enough to keep me pretty busy 'hosting' them here in Grindelwald.  My rough tally is that in the last two weeks, I've biked or hiked a total of at least 35,000 feet of vertical climbs.
Three big peaks tower over the south side of Grindelwald, Switzerland – Wetterhorn, Shreckhorn, and Eiger.  Most of the town sits on the southern slopes of a mountain called Reeti, so practically everybody has a view (from their "chalets"!) of Mt. Eiger and the other rocky peaks.  As you look through the gaps between the three, you see even-higher even-snowier peaks.  In the gaps and high valleys, there are are several glaciers, most of which have apparently been retreating for hundreds (or thousands) of years – and certainly since the 1880s when they started keeping records.  This may be a good thing — many of the towns are built where big Ice Age glaciers used to be.
One downside of this part of Switzerland is that some things (especially restaurants) are astoundingly expensive.  Pick a seemingly-casual restaurant at random and they'll probably have at least a few entrée options topping $35US or more (and very few under $20).  It's not unusual to have to pay $5 for a Diet Coke.  I got some insight as to why things are so expensive here when I saw what had to be done to repair the roof on a condo building next door to the apartment I rented:  They had to use a helicopter to lift the lumber onto the high hillside chalet-style roof.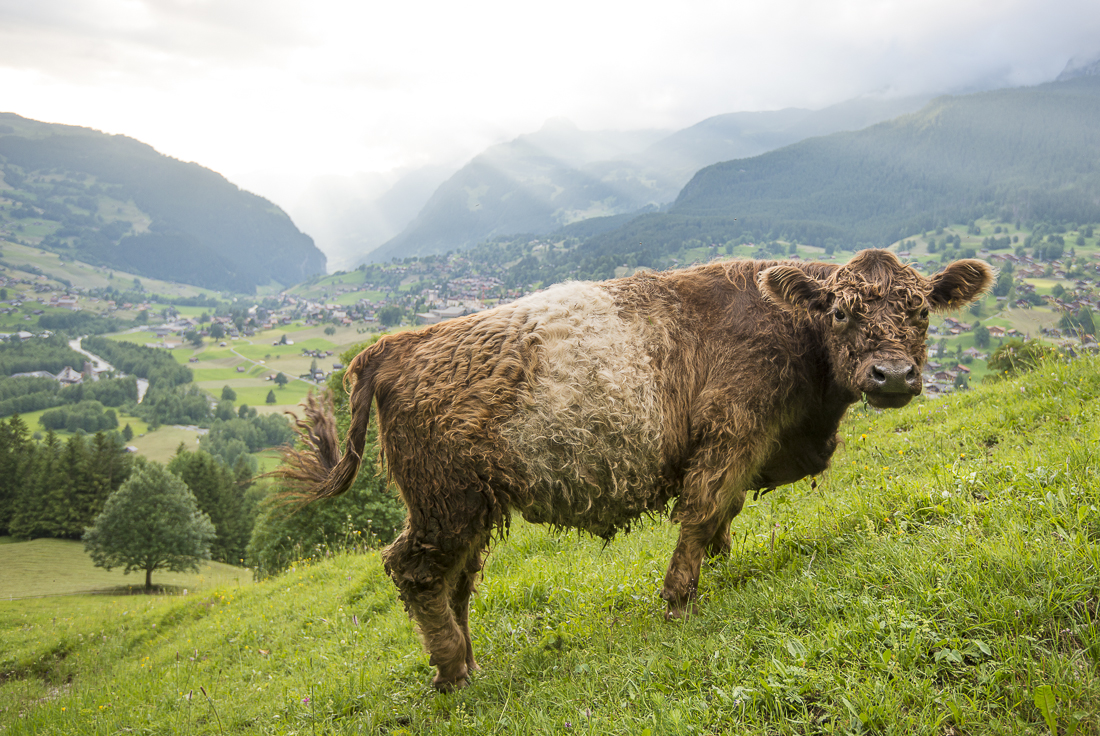 As a couple of the pictures reflect, there are cows all over the grassy hillsides.  Their grazing is usually restrained by one-strand temporary electric fences that are moved regularly.  There's no barbed wire here.  Most of the adult cows (mostly milk cows) have bells, so you hear the clanging constantly.  I assume they need the bells to find the cows that they lose because their fences are so flimsy.  Supposedly the best milk-producing cows get the biggest, nicest bells.  It seems pretty funny to give a cow a (heavy, awkward) trophy as a reward for producing milk.
Several bike rides went right through the cows' very-aromatic gathering places.  A dozen or so flies would start following me and essentially orbit my head for miles up the hill – until the road leveled so I could go fast enough to lose them.  I felt like Pigpen from the Peanuts cartoons.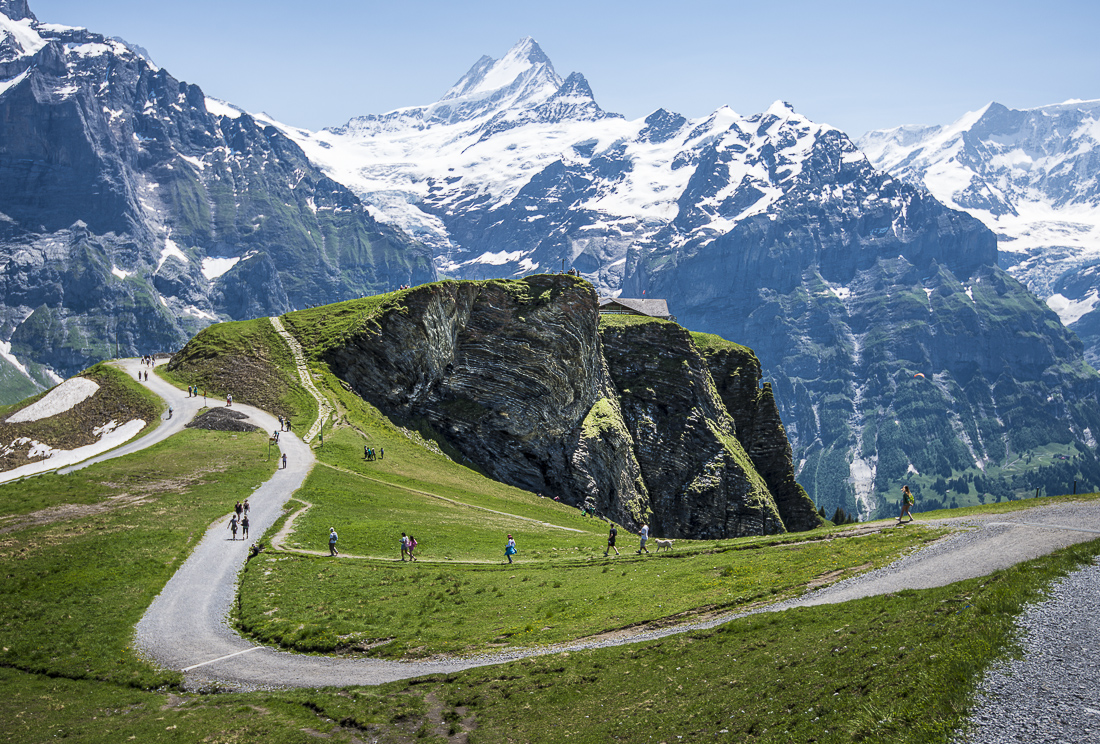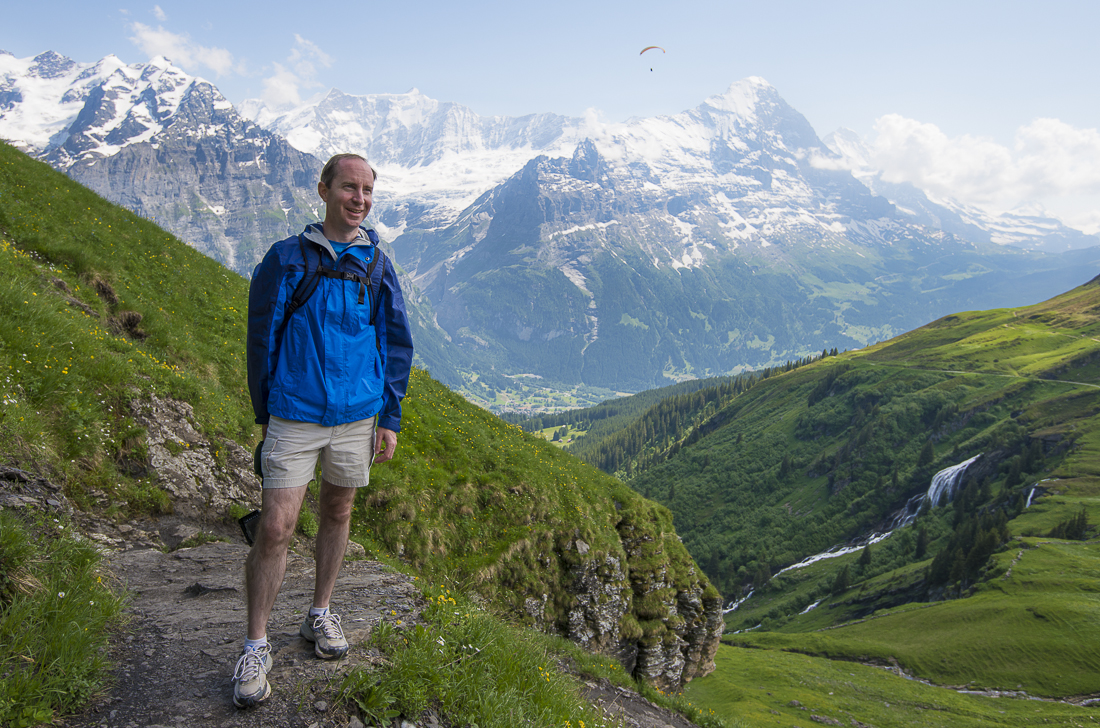 My favorite shot (at the top of this post) is from a hike near Pflingstegg, looking back down toward town; a nearby sign said there was (somehow?!) a restaurant somewhere up near the glacier if we'd just keep hiking another couple of hours, but it was already late evening and, besides, I wasn't fully convinced how there could be a functioning restaurant that far back in the wilderness.  The waterfall you see in a few shots (one of hundreds in the area) is near a hilltop area called First (prounounced "feerst").  The shots (below) with the musicians are from a weekly street festival here — the pictures aren't much good, but, hey, if you're interested in Swiss folk music….
The next post will have pictures from the area a little further outside Grindelwald.