Part 2 of a series that started here:  Argentina's Mt. Fitz Roy ("El Chalten") wasn't actually the first stop on my Patagonian adventure, but these are some of my favorite pictures, and (unlike the others) I've sorted through them and they're ready to go.  Much more later.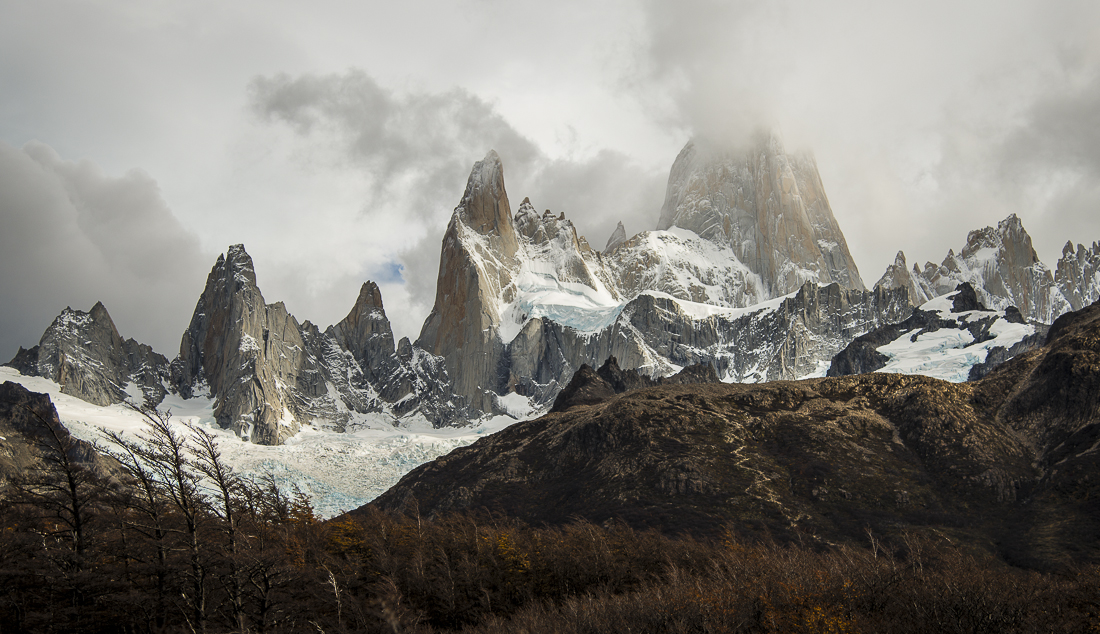 My weeks in Chile and Argentina's Patagonia region are almost over.  Lots of good pictures – though as always, the perfect image eludes me.  It's fall here, so the weather is unpredictable and there were lots of gray skies.  The tradeoff is that the leaves are changing, giving us a view of Patagonia most of the 'summer' (November – February) tourists never see.  It's very quiet – the restaurants and the trails are mostly empty.
To get north out of far-southern Chile, you've got to go into southwestern Argentina.  Chile is so mountainous there are no Chilean roads that connect its southernmost section with the rest of the country.  Thus as we headed north, we crossed into Argentina for a few days.
The real highlight of the Argentinian section was Mount Fitz Roy (known locally as El Chalten).  Amazingly, you could see El Chalten for over 100 miles as we drove towards it.  All the pictures on this post are of (or around) Mt. Fitz Roy).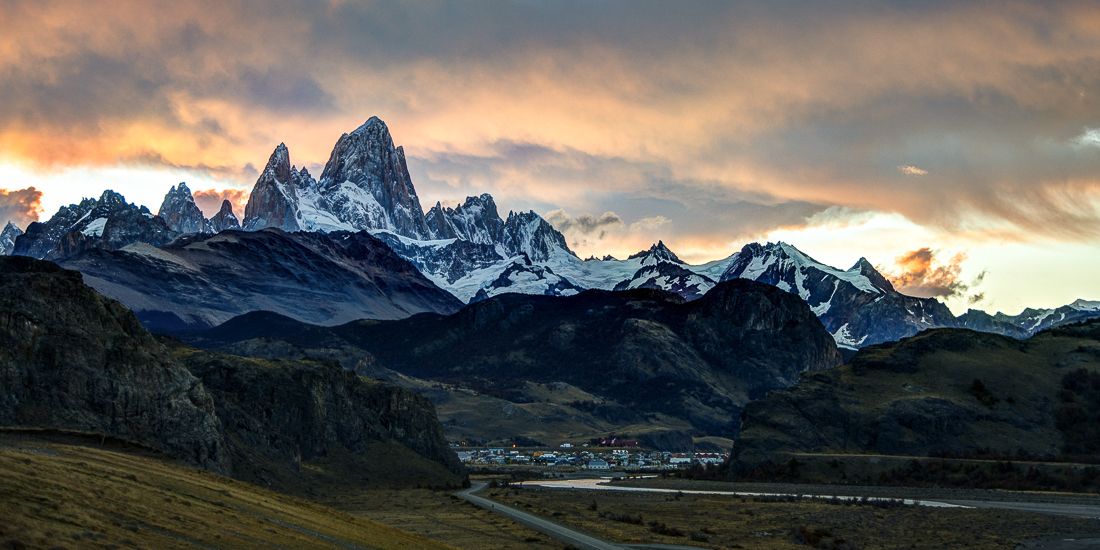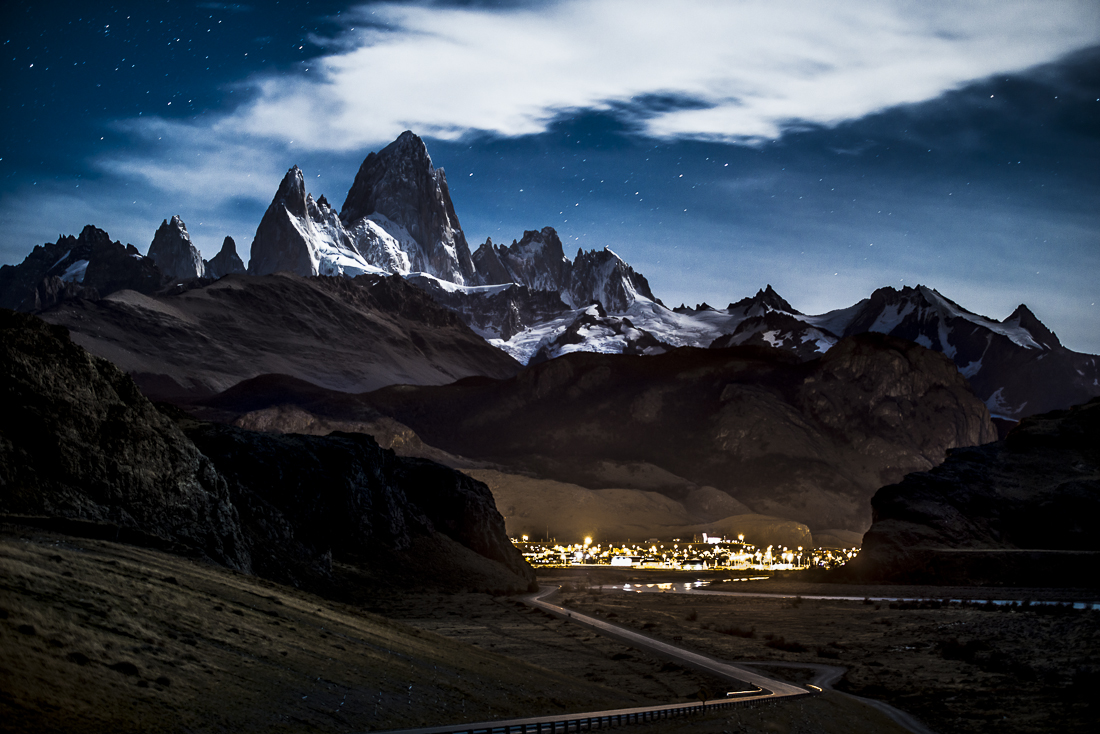 The trip into Argentina had other highlights:  A great steak.  Some Argentine wine.  Up-close views of a glacier or two.  Me teaching my friend Mike Short to play craps in a small-town Argentinian casino.   Going 575km between functioning gas stations in a car with a range of 580km (apparently).
Our introduction to Argentina was driving through immigration and customs at a rural border crossing.  Picture a tiny isolated home, with nothing for miles around, and with half-finished concrete construction work on the front porch and sidewalk.  You just park somewhere out front and walk through the yard to go in.  Inside you're "welcomed" by Sgt Lopez and by a portrait of Argentine President  Cristina Fernandez.  President Fernandez is literally sitting on a throne, holding a scepter and wearing a sash and a lace dress.  She looks like a sixty-year-old prom queen, shot with a her mom's cheap cameraphone.  Still, the sign says she welcomes us to Argentina – which is nice.
Lopez is more discriminating about who he welcomes and who he doesn't.  He's dressed in full military drab – a green wool uniform probably left over from the 40s, complete with a perfectly round but perfectly flat hat that looks like a green tambourine with a black bill.  Makes me want to call him "Generalissimo" and chat him up about the Falklands War.  The hat sits on the desk as he grumbles his way through our paperwork, including a few disgusted "Aye aye ayes."  He rummages through a desk drawer to find the proper forms for two Americanos crossing the Chile/Argentine border in a rented SUV.  He finds one – just one – and rips apart the duplicating pages so each of us can fill one out.  He seems to want some sort of "carta" ("letter, card, or document"?) that we clearly do not have.  He shakes his head ("AYE aye aye") and gets over it.
On the other side of the room is the much friendlier customs guy.  His job, apparently, is to write down in big old-fashioned manual ledger books the license number of our car and the passport number of the driver.  There are stacks of these log books; I'm sure they will never be opened again for any purpose whatsoever.  Behind him is the biggest (and perhaps most important) section of the facility:  the ping pong table.  There are probably some very long lonely stretches between cars out here.
Never are we even asked if we had weapons, drugs, passengers, diseased fruits and vegetables, or anything else. (We did not, fyi).
We make it through.  Critically:  At no time during this process did I bust out laughing.  But I wanted to.