I live in Houston, America's fourth largest city.  Only New York, L.A., and Chicago are bigger, and if I had to choose among those three for a next-choice favorite city to live in, I think I'd choose Chicago every time.  Unless you asked me during the winter.  Let's face it – the Midwest isn't a beautiful place in February.  Fortunately, Chicago has more than its fair share of great museums – largely vestiges of two "World's Fairs" held there (1893 & 1933) – so it's possible to do lots of sightseeing indoors.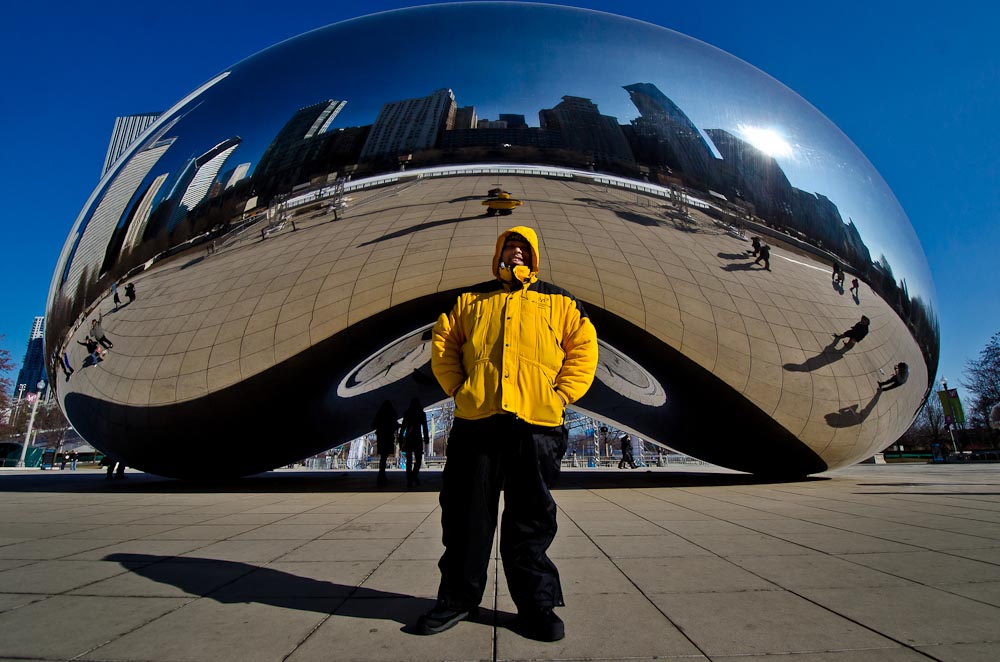 My sister, my mom and I were recently in Chicago to see my nephew in the opening of a play.  It was cold, but I did have one day of nice weather.  I wandered down to Millenium Park, home of the big chrome "Bean" (a.k.a. the Cloud Gate statue).  I met David, the security guard (that's him under the yellow hood).  I asked if his job was to keep people from stealing the 110-ton steel sculpture; he said it was mostly to keep people from hurting themselves.  I had trouble getting his picture because he kept darting away to scold people for climbing on nearby railings.
I also stumbled across a new (temporary) downtown icon – a 30-foot-tall Marilyn Monroe.  Cheesy, but a fun photo-op.  The blown-up-skirt Chicago statue is racy for a public sidewalk, but the boringly conservative alternative (i.e., Dallas's version) isn't worth the plaster.
The blue, high-tech-looking scene is the Museum of Science and Industry — that's my sister, Jana, controlling the big orange thing.  The dinosaurs are in the Field Museum.  I didn't get any pictures of the Art Institute that could possibly do it justice.  My mother (Joyce) made me ensure that the snowy street scene photo was dark and gloomy enough to portray her bravery in facing the Midwest cold.  Of course my sister, Jana, gets the photo credit for the group shot of me, Tyler and my mom.