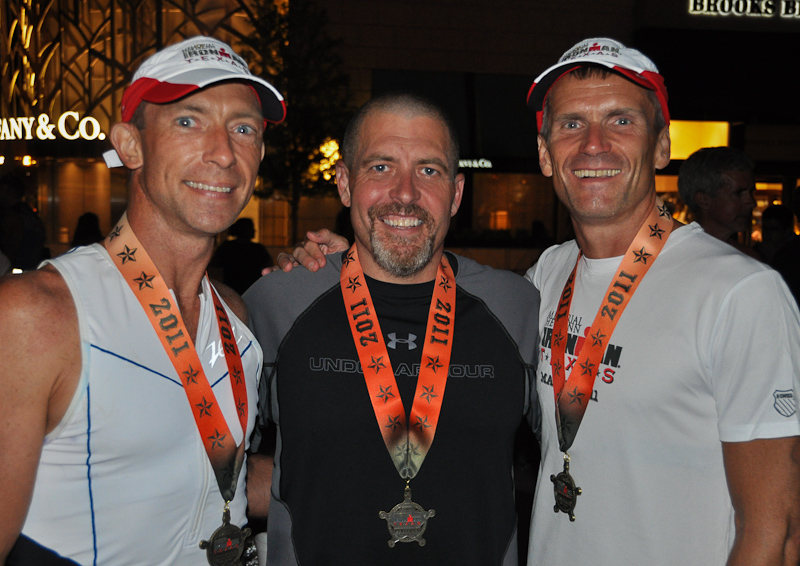 In a moment of weakness and/or bravado a couple of years back, I claimed that I would do an Ironman on every continent.  So, Brazil 2008 (South America: done); Germany 2010 (Europe: done).   Last year they announced, for the first time ever, that there would be an Ironman event in Texas — right here in the Houston area.  I was bummed — on one hand, if they're having one in your hometown, you can't NOT do it, but I'd loved doing them as "destination events"  in cool distant places.  Worse, they scheduled it in late May — in south Texas where, you may already know, it gets really hot in late May.
And so we did it.  My friends / training partners all did great.  Scott exorcised his IronMan demons (his last attempt – in Germany – landed him in the ICU rather than the finish line).  Shane logged his fourth Ironman (his third within a 12-month span).  The one female in our group, Angie, kicked all our butts (in our defense, she's a fitness "professional" and she's about three age-groups younger than the Shane and me).  All good.  Me?  I had some unmentionable problems during the bike section, which set me back nearly an hour and gave me my worst Ironman time ever.  But hey, I finished, so who cares, right?  North America: done.
And my Mom and Dad even came down to watch.
That's me in the black tank top (#2079).  [Update: I added some pics of Scott, too].  I'll try to gather and add some pics of the others.  Here are a few for now.
(Obviously, I didn't TAKE any of these pictures).