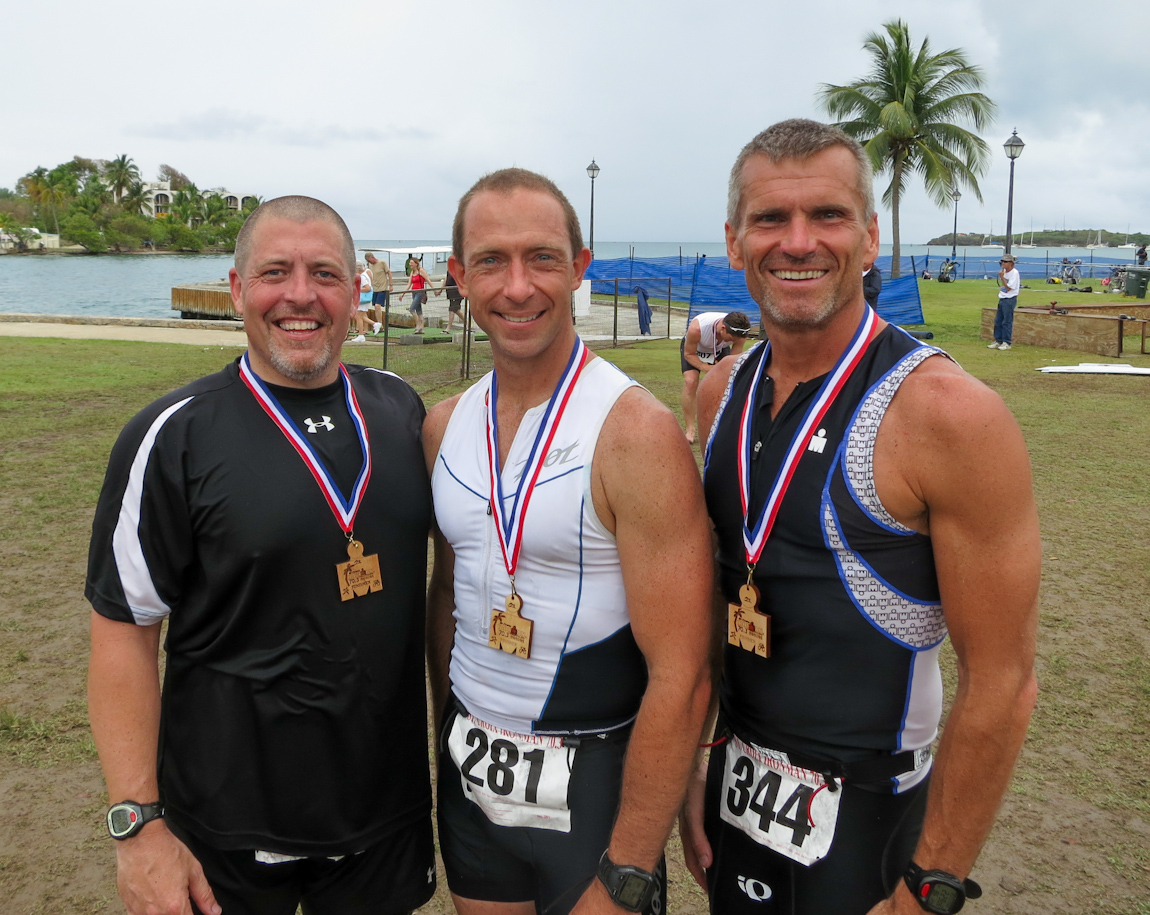 These are just pocket camera shots.  Obviously I'm not the photographer in several of them.
————-
About twenty miles into the bike course of the St. Croix Ironman 70.3, there's a hill called the "Beast."  It lasts less than a mile, but the average grade is about 15%.  That means you climb the equivalent of a 50-story building (on a bicycle) in the nine-or-so minutes it takes someone like me to ride up.  The Beast gets a lot of attention, but that's just nine minutes out of your six-hour day, and just a small fraction of the hills you have to scale on bike and on foot.  Thankfully, they haven't figured out how to inject nasty hills into the swim course.
The 70.3 in the race name means it's a "half" Ironman – which is a 1.2 mile swim, a 56 mile bike ride, and a 13.1 mile run.  Scott Humphries, Shane Merz and I just finished the race Sunday.  The three of us have done "full" Ironman events (twice as long), so a little laziness and arrogance may have slipped into our training for this shorter race.  These are not good training strategies, so we were appropriately punished by the otherwise-lovely St. Croix terrain.  In a six-plus-hour event, Scott wound up beating me by 36 seconds!  I should've spent less time in the Porta-potties (or maybe more time training in the pool last month), I guess.  Shane was not too far back (he later confessed that he'd accidentally done the entire bike ride with his bike shorts on backward!?! Ouch.).  We all finished and had a fine time doing so.
It rained much of the early morning, so the twisty bike descents were wet and scary and a few places had six inches or more of running water on the road.  Triathlon bikes were not designed for any of that, so there was some nervous riding.  The consolation was that the sun was not beating down on us as we'd expected.
The event is centered in Christensted in St. Croix – the southernmost of the Virgin Islands.  The swim start is unique here:  it starts on the beach of a tiny island (pictured above in daylight) in the bay – and you have to swim out to that island (just at sunrise) before the race even starts.  It sounds odd, but as the race director said, "If you have a problem with that, you're in the wrong race."
Lance Armstrong was competing in the pro division.  He'd started his career as a triathlete and did this very race 24 years ago.  This time, all eyes were on #7 in the yellow swim cap.  Standing on the beach at the swim start was the last time we saw him, of course.  Obviously he finished miles (hours) ahead of us, though he came in third behind Andy Potts of the USA and Frenchman Stephan Poulat.  After they finished but while the race continued for hundreds of us mere mortals, Lance's police-escorted SUV came right down the middle of the otherwise-closed-to-traffic run course, whisking him back to his hotel.  Meanwhile winner Andy Potts was hanging out in the finish area taking pictures and shaking hands.  That's him in red giving me the "thumbs up" after the race.  Unlike Lance, Andy schlepped his own gear like the rest of us.  Lance no-showed the awards ceremony.  I think I became an Andy Potts fan yesterday.
Earlier in the week, we'd met Lance's two pilots (he travels in a Gulfstream 4, yellow stripes, tail # N7LA) and spent a couple of days hanging out with them.  Super-nice guys.  To Scott and I (both small-plane pilots ourselves), Lance's pilots may be bigger celebrities than Lance himself.  What a fine gig if you're a commercial pilot:  St. Croix this month, Hawaii the next, France the next, maybe Aspen after that . . . .  Apparently, though, they were bored enough to hang out with us – and nice enough to email us after the race (from 41,000 feet in the air) to see how we did.
Special thanks to Scott's and Shane's understanding wives for tolerating this "guys' trip" to the Caribbean.  Given the constant rains (it's still raining now), you should be glad you didn't come this time.  Scott's next athletic stop is Ironman Switzerland in July.  Then he, Shane and I do the Leadville 100 (Colorado mountain bike race) in August.  Each will be twice as hard as yesterday's outing, so we've all got some work to do.