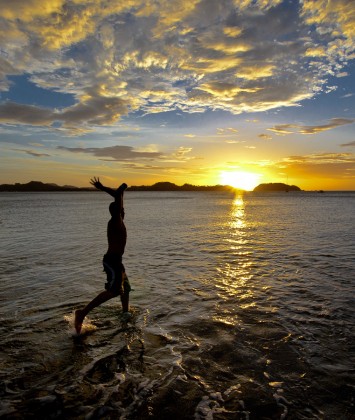 December through May is "summer" in Costa Rica.  Though the country is in the northern hemisphere and any good astronomer will point to the solstices and equinoxes to tell you it's clearly winter, December is when the rain stops and the sun comes out.  So it's "summer."  One drawback of being here in summer is that the typically cloudless skies actually make for less-lovely sunsets, so when there were at least a few good clouds in the sky, I set out for nearby Playa Portrero with camera in hand in the late afternoon.  The western sky delivered – right on cue.
I soon found myself knee-deep in the surf, annoying a couple of young fishermen as I tried to get the perfect picture of them casting their lines with the sunset as a backdrop.  Most of the local pescadores here don't use a pole – they wrap the line around something like a coffee can and throw the lure lasso style (swinging, then flinging).  The "flinging" gets pretty animated, as some of the pictures suggest.  The perfect photo of all this is still "the one that got away," but I got a few decent shots.
At the end of Playa Portrero is a local restaurant/bar/pool hall/honky tonk named "Las Brisas" (the breezes), so I ducked in there for a beachside twilight snack.  Las Brisas is the kind of restaurant built with concrete blocks, open air on the sea-facing side, and a floor that's part concrete and part dirt.  A friendly cross between a pitbull and a bloodhound wandered in and out of the kitchen and seemed to be the in-house "mascota."  At one table sat a gray-haired man with a green parrot on his shoulder; both man and bird seemed oblivious to the other.   A threesome nearby had a cute beagle pup sleeping on their table.
We've all made the wisecrack during a long wait at a restaurant that "they must have had to go kill the cow," or pick the corn, or the like.  I think that really happened to me at Las Brisas.  I ordered ceviche (a fish dish that usually involves an overnight soak in lime or lemon juice).  As I waited, some fishermen walked up from the beach to the kitchen door with fresh catch in hand.  Minutes later my dish arrived, but it clearly hadn't soaked overnight (or at all) and was nothing but very-fresh sushi with a little lime juice on it.  It wasn't ceviche, but it was pretty darn good.
I'd been to Las Brisas once before – Wednesday night is "Ladies' Night," which really just means everybody (gringo and tico alike) goes to Las Brisas for a loud, live latin DJ and a packed house.  But this visit was on a Sunday, and the place was muy tranquilo.  As I sat down, the sound system was playing Willie Nelson ("Georgia"), which prompted me to think of (and send an "I'm-still-alive" email to) my mother.  Then came some Dave Matthews Band and some old George Michael.  Then a long concert video from the "Whiffenpoofs" (a men's a capella singing group from Yale University).  Not what I was expecting to hear.  As I left, they were doing that now-famous Hawaiian/reggae-style medley of "Somewhere Over the Rainbow" and "What a Wonderful World."  Perfect.