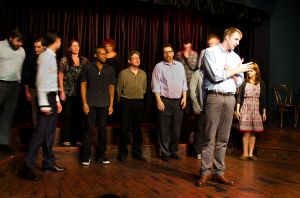 If you've been around me much in the last 22 years or so, you've likely heard of my baby nephew, Tyler.   If you've been around me in the last one year or so, you've likely heard that little Tyler is about 6'5," that he was the captain of his collegiate basketball team (OBU), and that his team won the NAIA National Championship in 2010.
After graduation, Tyler headed to Chicago to try his luck at the Second City comedy/improv "institute" there.  Transitioning from the sheltering arms of OBU in Shawnee and moving to the Windy City to take a run at show biz shows a level of bravery and spirit that his uncle never mustered at that age.  Everybody asks, "What's he gonna do?", but of course neither he nor I knows the answer to that.  But I'm proud he's willing to take the adventure.
Last week I flew up to Chicago to hang out with him a bit, and to see him at a short 'showcase' at Second City.  It was dark and my pictures are no good, but at least you can recognize him in his debut on a Chicago stage.  Remember this day.