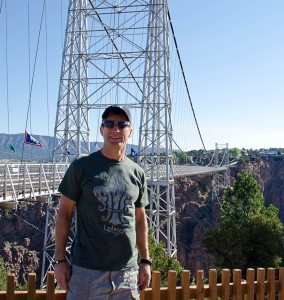 Ned's spending a couple of weeks in Colorado — mostly riding bikes and training for the Leadville race in August.  I joined him for about five days.  Day 1 we hiked Bear Mountain near Boulder (and saw a mother bear with 2 cubs at a distance of about 40-50 yards).  Seeing a mother bear up that close sure is thought-provoking; it made me think:  "I wonder if I can outrun Ned in an all-out short sprint?"  Day 2 we rafted the Arkansas River near Royal Gorge.  The rest of the days we mostly scouted and mountain-biked part of the course of the Leadville 100, and even did a kayak tour of Lake Dillon on the way back to the airport.
Royal Gorge is a suspension bridge about 1000 ft above the Colorado River.  Ned was dubious as we approached — scoffing a bit that so much touristy enterprise had sprung up around something that, he said, "frankly doesn't seem like it's all that impressive."  Ha.  About five minutes later, as we actually drove onto the bridge, he stopped the car dead in its tracks — voice nervously giddy and spewing expletives.  Suffice it to say that he was impressed.  This was the funniest moment of the trip.
Forgive some of the mediocre photography — this is mostly pocket camera stuff.