This is where my Burma experience really started to get interesting. The core of the trip was 11 days spent on the remote Chindwin River, traveling village-to-village on a temporarily converted rice barge. This is NOT a tourist destination (and it surely wasn't a cruise ship we were on).  Several of the villages had never had foreign visitors – many of the people had never seen a white person. Lots of interesting experiences.
First stop: The Naga tribe's mid-January New Year's celebration.
January 15 is New Year's Day for the Naga Tribe. So in far-northwest Myanmar (and adjacent parts of eastern India) mid-January was the time to see a traditional celebration ringing in the Naga New Year. We got to the Naga village of New Somra a day early, so we met a few people in advance and saw them rehearsing their songs and dance. They'd never had any outsiders at their ceremonies, so when we came back the next day, we were the guests of honor!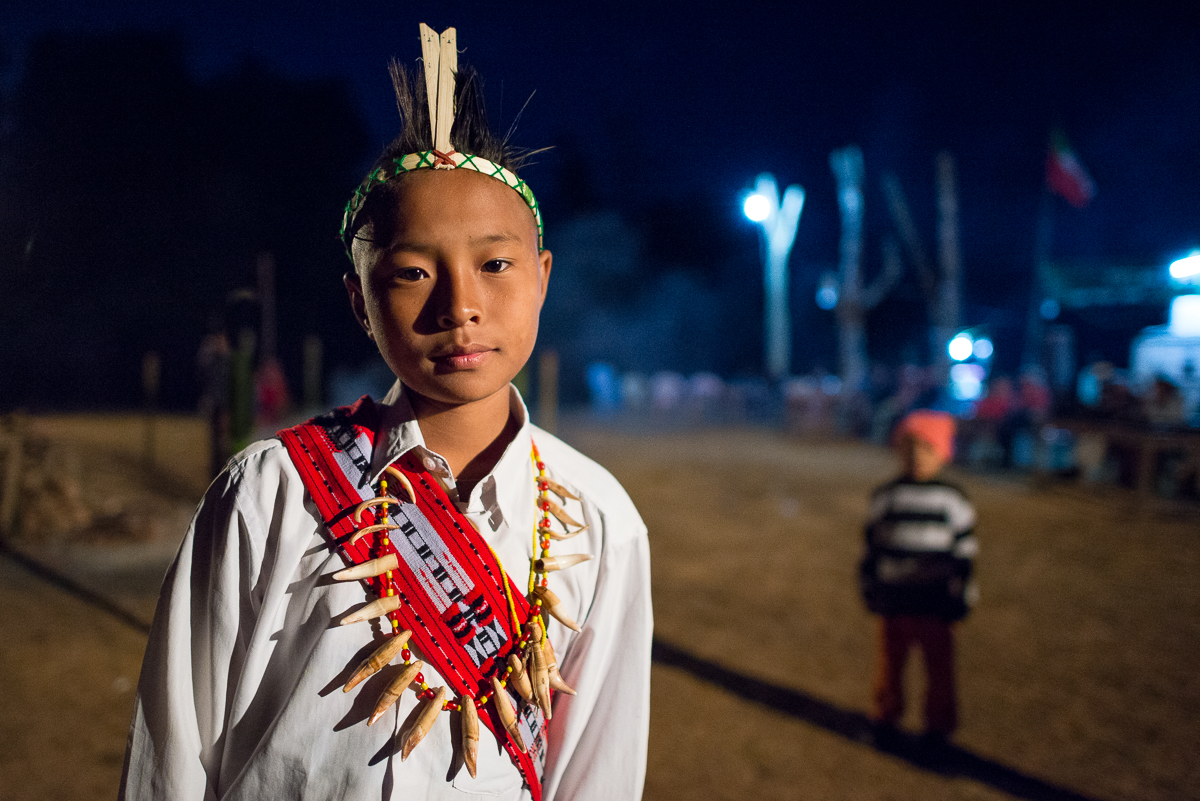 In the village during the day, we were ushered to the ceremonial grounds and offered food. Even though we revealed that we had literally just finished eating on the boat, they nonetheless started putting food on the table in front of us. In one of the more awkward moments of the trip, they told us it was an important tradition that they feed us each a chunk of pork – by hand, directly into our mouths. We suggested small pieces, but somehow that was lost in the translation. I'm pretty sure the skin was still on my piece, but I got it down and kept it down.
The nighttime ceremony consisted mostly of a series of group dances, each with singing and chanting by the dancers. First the women; then a co-ed group of teenagers; then the men. There was something of a fashion show, too, with the younger adults showing off traditional tribal attire. I've got fewer pictures of the men because we were promptly pulled into the circle to do the "dance" ourselves. What I remember being chanted most sounded like "Hopie Bee – Lay Haw Lay" over and over. They were speaking Naga (not Burmese) so even our Burmese translator didn't know what we were all singing and dancing to. The locals seemed to think it was hilarious to see us out there.
The event reminded me of a Cherokee "stomp dance" I went to in Oklahoma a long time ago.  I guess that makes perfect sense: these are traditional, ancient, tribal ceremonies, so it shouldn't be surprising that they primarily consist of folks in a circle around a fire.
They were as welcoming as one could ever imagine, but I still worried that we spoiling their traditional (even sacred?) event — often standing right in the middle of the circle with cameras clicking. I was relieved when some of village elders came to our boat the next morning to emphasize how honored they were to have outside people care enough to come so far to see them and how much they enjoyed sharing and showing off their traditions.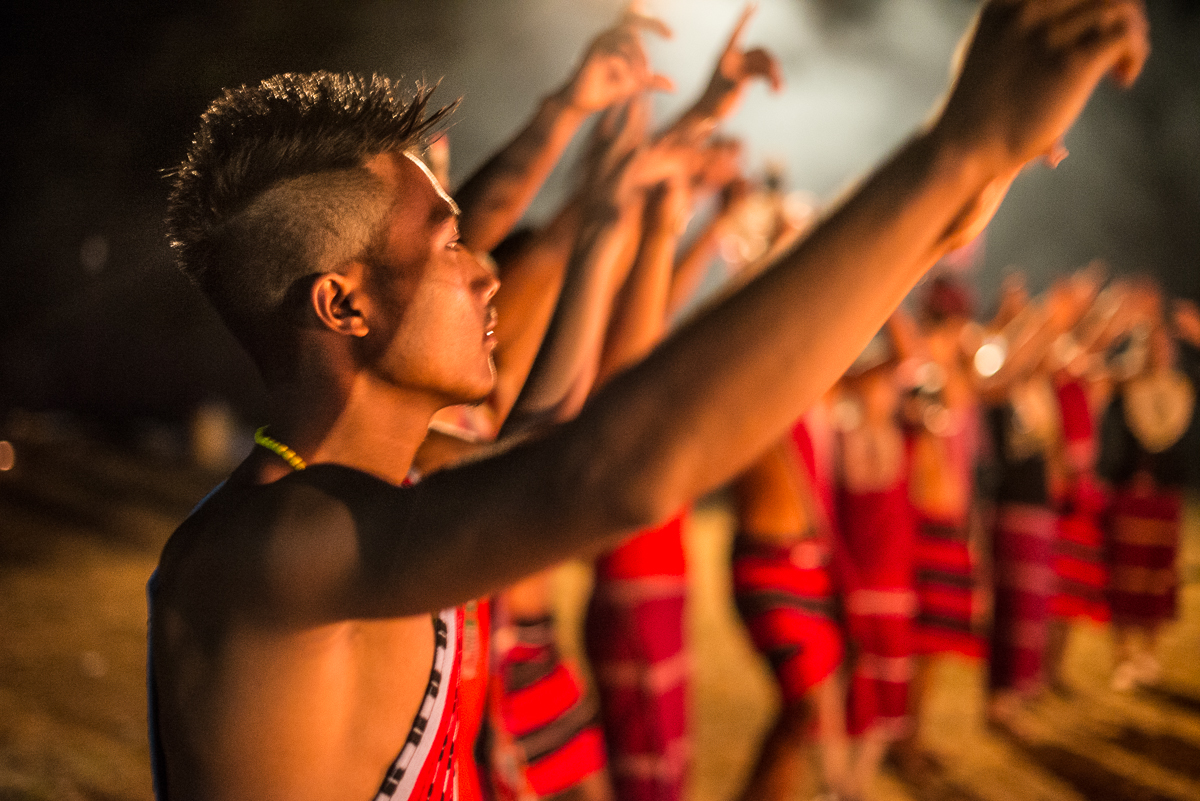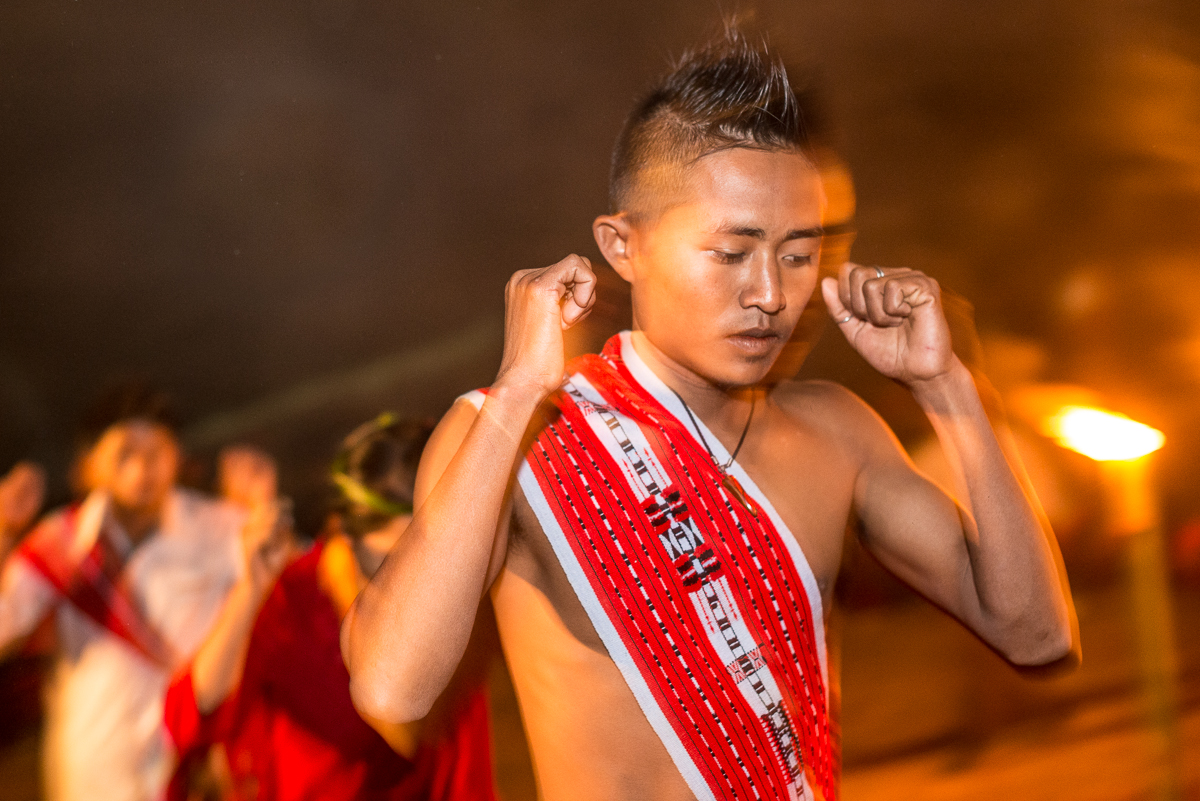 Unlike most of Burma, the Nagas aren't Buddhists.  During the British colonial period in Burma and India, American Baptist missionaries converted Nagas to Christianity.  The loudspeaker you can see on that "totem"-looking pole says N.S.B.C. – New Somra Baptist Church.  Curiously, the church building we went to had paintings of Jesus and photos of the (Muslim) Blue Mosque in Istanbul.
We had asked if someone would sell us any of those red-and-black blankets/skirts/scarves everyone wore — that's the traditional weaving pattern of the Nagas.  Because they've never really had "tourists" or visitors like us, they weren't really set up for that, but a couple of ladies gathered up a handful and brought them out to our boat.  They were offering them way too cheap to start with, and then they unfolded one that they said was very old — a much finer weave and prettier pattern than the 'modern' ones they'd weaved themselves.  It was 100 years old.  And because it was so "old," they said it was about half price!   They had no concept that a rare, irreplaceable antique might be especially valuable.  I felt a little guilty, but just paid them what they were asking and gladly brought it home.  They were thrilled with the cash, of course.  Now I just have to figure out what to do with it.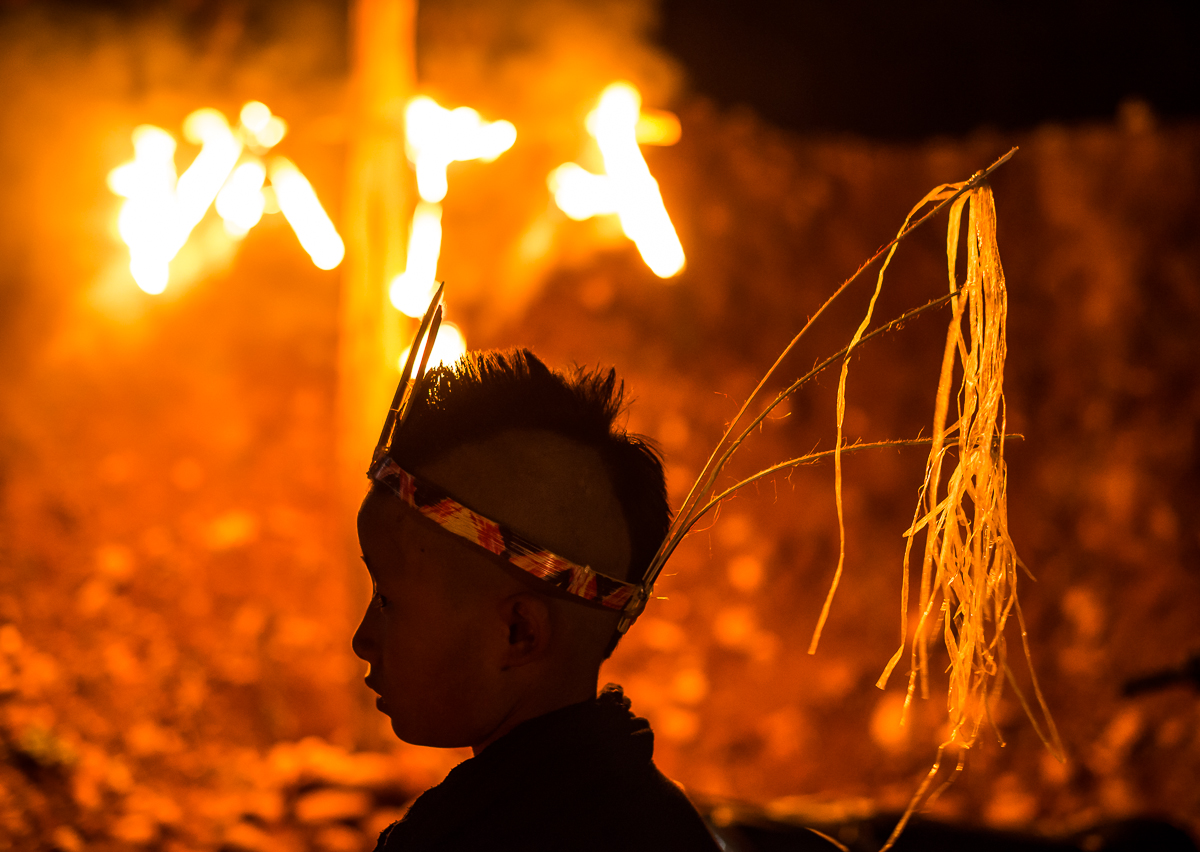 What you see in these images are traditional rituals and costumes — not what the Naga folks in New Somra wear or do day to day.  As you can see, they had some electric lights (powered by generator) and a loudspeaker — technology at a level you might have seen in the U.S. nearly 100 years ago.  Some aspects of their life looked like they would have looked 500 years ago, and a handful of things were relatively modern.
As later posts will show, we covered about 500 miles of the Chindwin river.  Ringing in the Naga New Year in New Somra was just the first stop.  More fascinations to come from remote northwestern Burma.