#3 of several posts (starting here, with more to come) about the tiny Bolivian village of Capayque.  I traveled there with a Methodist mission team from Stillwater Oklahoma that was providing much-needed healthcare and setting up a medical clinic in the town.  
Capayque, Bolivia is a small village in the Andes, sitting at about 11,500 feet above sea level, about two-thirds of the way up from the valley way below and the mountaintops looming above.  On the rare day when the place isn't mostly in or above the clouds, you'll be staring at a snow-peaked 22,000 foot mountain just to the east.  From Capayque, you can see a half-dozen other (even-smaller) communities on other ridges and across the valley.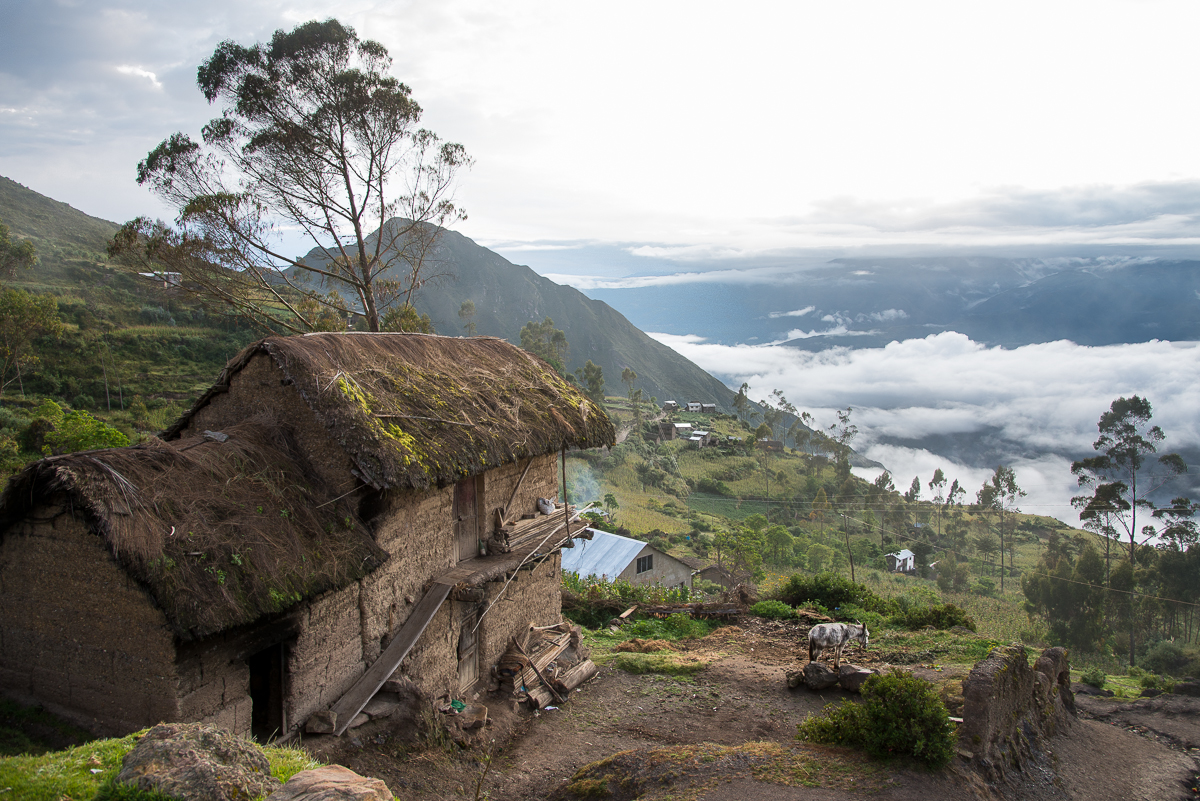 The air is very thin at 11,500, so it can be tough to get around — especially for lowlander Gringos unaccustomed to high altitudes.  The temperatures generally stay between 30 and 60 year-round, though it feels much warmer if the high-mountain sun breaks through.  More often than not, you can look down into the valley and see clouds below you.
As described in a related post, day to day life here isn't radically different than it probably was 1000 years ago on these same mountains.
Like most of the hillsides anywhere near Lake Titicaca, the surrounding mountains are striped with horizontal terraces – creating flatter step-like areas better for farming.  Many are in current use, but many (perhaps most) look like they were built long ago and haven't been used in centuries.
The region around Lake Titicaca was part of the ancient empire of Tiwanaku.  The area has been populated and farmed for 3,000 years.  The Tiwanku empire reached its peak around the 8th Century A.D., when the city of Tiwanaku (on the flatter "altiplano" 50 miles south from Capayque) had an as many as 100,000 residents.*  Estimates of the population in the surrounding countryside are varied and controversial, but the startling scope and span of those ancient terraces hints at the existence huge populations – to build and cultivate the terraces themselves, and to create such great demand for food as to make it necessary to farm so much of the hill country.
The Tiwanaku society mostly disappeared around the 12th century — long before Europeans arrived.  It's likely that whatever was left of it became part of the Inca civilization.
The shots below are from the road to/from Capayque.