Just a few pocket camera shots here, but I couldn't pass up the chance to gloat a little about my Sooners.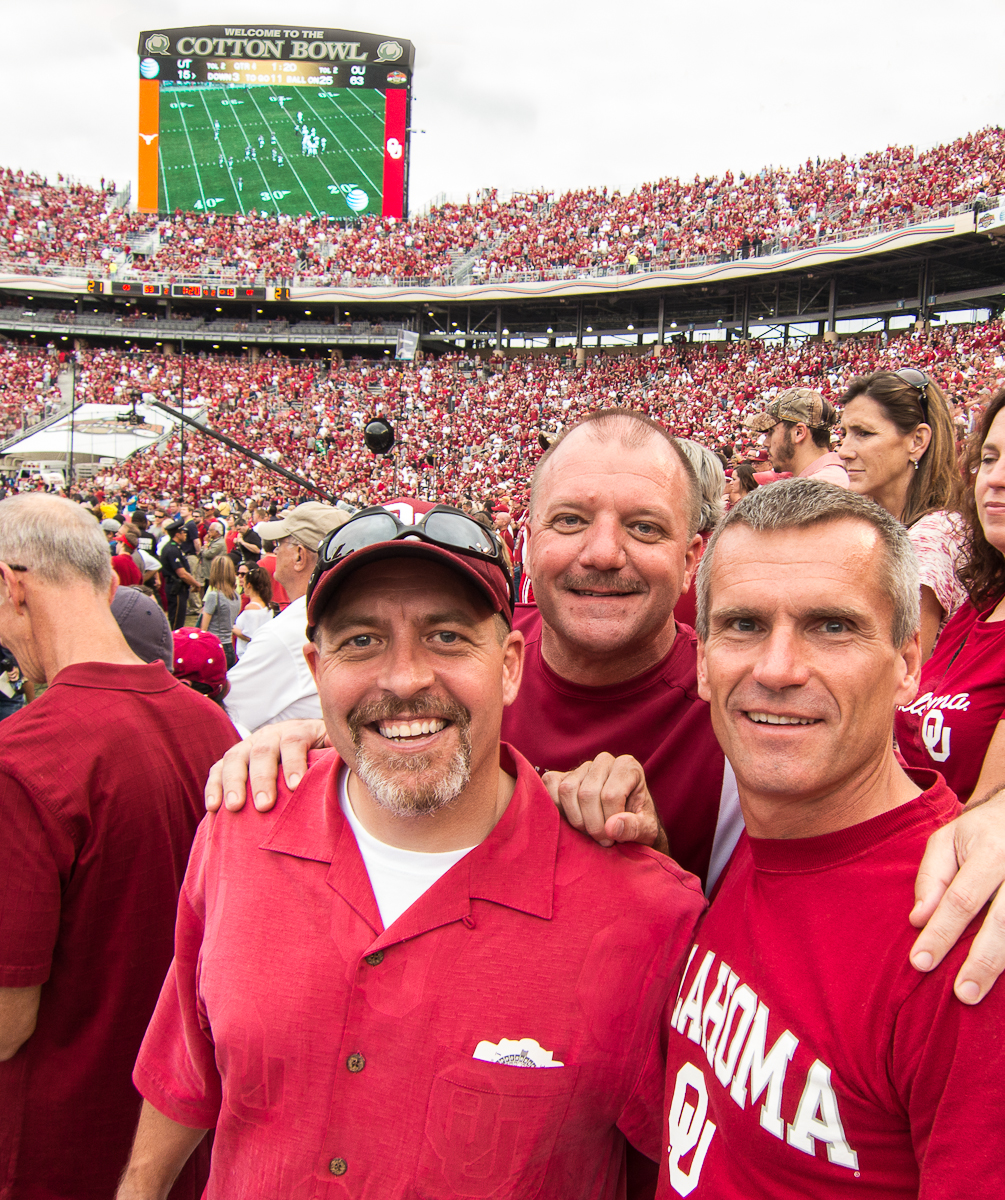 The first time I ever saw an OU-Texas football game was in 1983 – as a member of the OU band (the "Pride of Oklahoma").  During college, I saw a win, a loss and a legendary #1-vs-#2 last-second tie in 1984.  I've lost count of how many times I've been to Dallas in early October for the OU-Texas game since then, but "win, lose or draw" (literally), it's always a great spectacle.
The key to the game's tradition is the neutral site at the Cotton Bowl in Dallas.  The crowd is split 50/50, with 45,000 or so Sooner faithful on the east end and 45,000 Longhorns fittingly in the west.  Even better, the pre-game and post-game festivities outside the stadium are smack in the middle of the annual State Fair of Texas.  No tailgate party in the country can compare with the State Fair's midway, carnival games, corny-dog vendors and fried ice cream.
I've seen almost every game in the "Stoops" era, which has been happily lopsided in the Sooners' favor.  I live in Houston – land of the Longhorn – where the annual event in Dallas is backwardly and erroneously referred to as the "Texas-OU Game" – so each Sooner win offers opportunities to carefully balance smugness and graciousness with my many orange-laden Lone Star State friends.
This year was (another!) beatdown of the Longhorns by the Sooners.  The 63-21 final score actually makes it sound closer than it really was (it was 36-2 at the half).
One new amusement this year was the location of our seats.  On about the 40 yard line, on Row 1.  Our feet were just a foot or so above the turf, and we were just a few feet from the Sooners bench.  Of course we usually couldn't actually see the GAME (except on the big screens), but we got a unique peek at the Sooner sidelines.  One fascinating moment occurred when the defense came off the field after a big interception.  The Sooner crowd was ecstatic, but the Sooner defensive coaches were furious – screaming at the players because the secondary had varied from their assignments.  The fact that the result of the play nonetheless turned out to be a Longhorn-crushing interception did not dampen the scolding one iota.
Thanks to Shane Merz, who let me bum a spare ticket this year.  That's Shane in the hat with his college buddy Johnny George.  The pretty young girl with the funnel cake is Peyton Brougher, daughter of Aaron Brougher (another friend and Sooner alum from the 1980s).