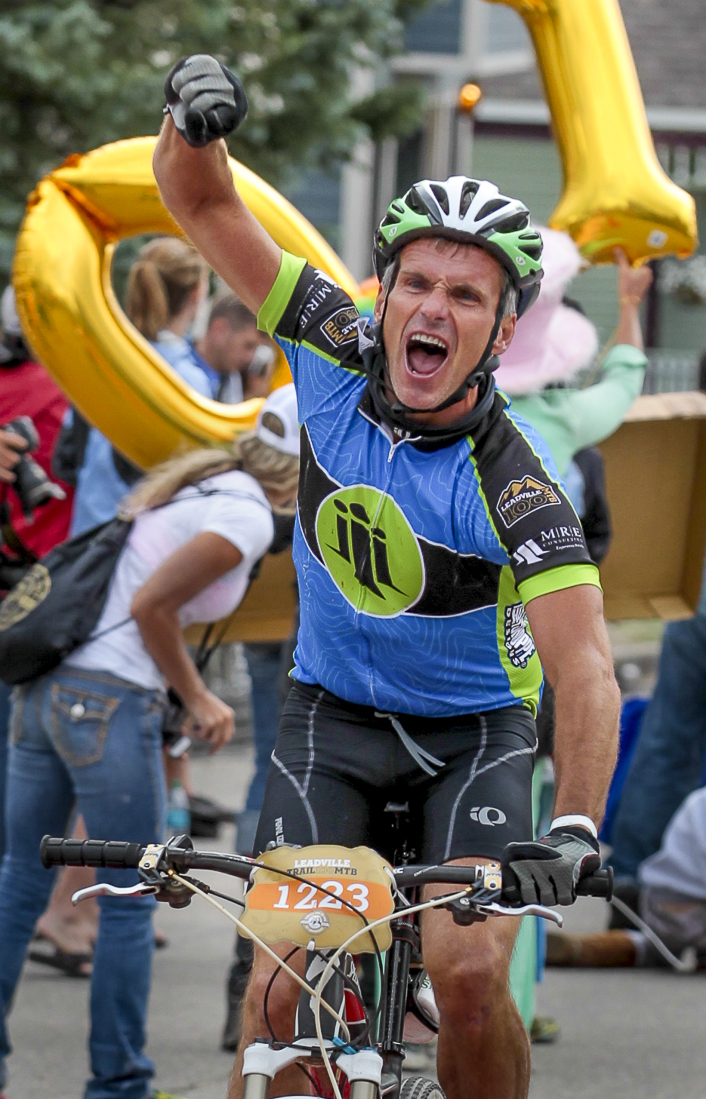 Our seven-man Leadville 100 MTB team had one rider who crashed early on a tough descent and couldn't continue the race.  Another rider finished, but needed an overnight stay in the local E.R. as a result.  Somehow we view this as fun – and as a successful outcome!   A more obviously happy aspect:  you can make good friends fast in situations like this.  I met one new MRE teammate from San Diego on Thursday evening.  By Saturday night, I was the guy sitting with him in the E.R. at 1 a.m. after we'd finished.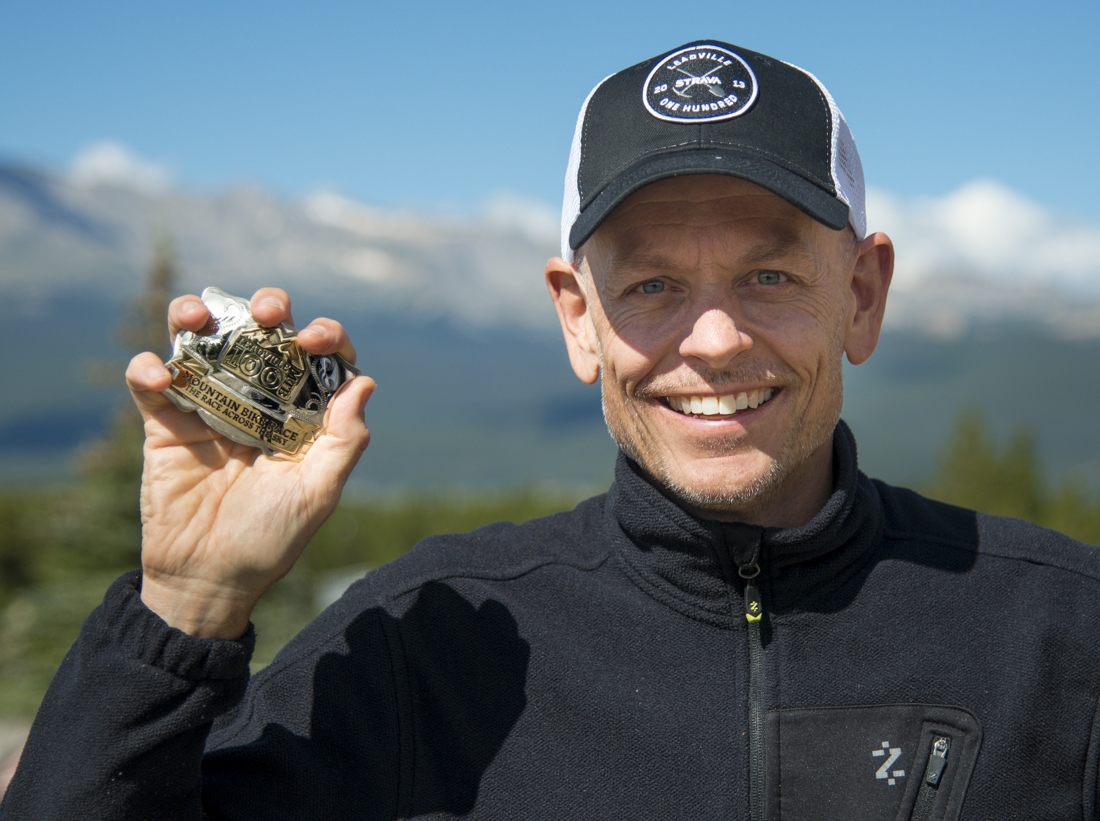 (Just above:  Mike Short with his newest fashion accessory.)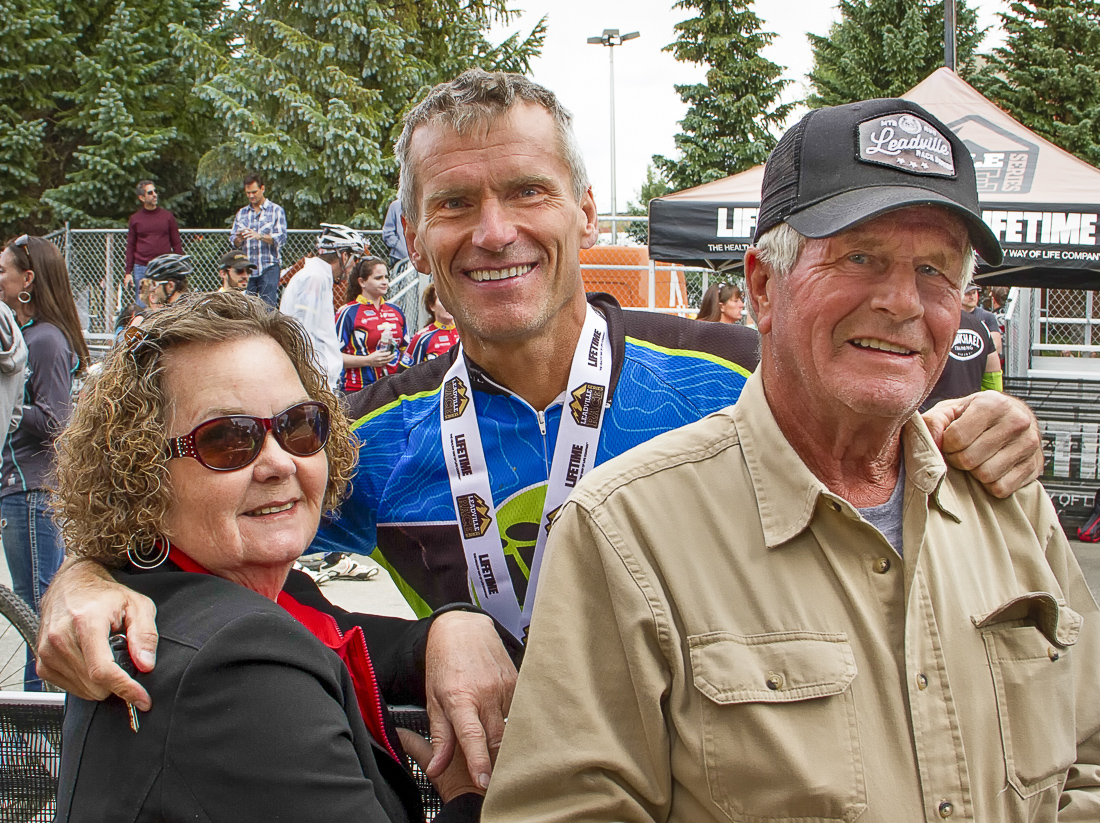 This was my second summer in a row spent mostly in Colorado.  The focus – again – was the Leadville Race.   The summer began with a three-week stint roaming Colorado and New Mexico with a Chevy Tahoe, an Airstream trailer, and a mountain bike.  After a detour through central Europe in July, it was back to Colorado for hard-core bike training.  Again, a great group of friends and families (around 20 of 'us' in all!) converged on Leadville in August for the race and the Leadville festivities.  My mom and dad were again on hand – reappearing here and there along the course all day long, and standing ready to give me a big hug at the finish.
My race day pretty much repeated the great time I had in 2012 – almost down to the minute.  Others had much-improved times and/or much-improved experiences.  Mike Short, who struggled the most last year and came home without a 2012 buckle, shaved nearly 2 hours off his prior time and finished waaaaay ahead of me this time!  Shane Merz, who struggled for hours last year and finished with just 5 minutes to spare (on a 12-hour cutoff) got to experience the much happier situation of an "easy" never-in-doubt ride.   Team MRE again had two Californians – one of whom (Peter Thomsen) scored a sub-nine-hour extra-large buckle, while the other (Jason Zimmerman) scored a regular buckle and a trip to the hospital.  Scott Humphries had a snafu that delayed his start and put him 10 minutes behind the huge pack and – worse — without any water (or Gatorade) on his bike.  A serious problem.  He confessed to scavenging the race course for some mostly-full water bottles that had been dropped by other riders.  Desperate times.  Despite that craziness, he still beat me this year by several minutes!
–  –  –  –  –
 I was on the bike, not behind the camera, so I didn't take most of these pictures.  Big thanks to those who did!  I did take the one above, of Mike Short, who scored his first finisher's buckle this year.  Mike Short's mom, Dorothy ("Dot") took the picture of me with my own mom and dad.  That was about 2 minutes after I finished an 11-hour bike ride:  I really look like hell, don't I!?  At least Mom and Dad look good. 
More pics by Dot Short:
A few by Michele Merz:
Some shots (of me!) by the photo service, "Zazoosh":
And some race week shots by Peter Thomsen, and race day shots by his wife, Jana: 
Finally:  A few more — including a few from the prior weekend's Boom Days festivities (which were much better documented last year, thus the sparse coverage here).