(Photo credits here: Mike Short, Scott Humphries, me, and Athlinks!)
The outstanding feature of this year's Leadville marathon was the snow.  In Central Colorado the week before the event, I was snowed on once and hailed on a number of times.  The marathon itself had to be re-routed from its traditional course because one section had 8 feet of snow on the trail — in late June!!  Part of the "problem," of course, is that Leadville is at 10,200 feet in elevation, and the marathon takes you above 13,000 feet (as the picture above hints).  And it was a big year for snow in the area.  Marathon organizers dug out a path up the Mosquito Pass (the signature summit of the event) that sometimes consisted of a narrow (muddy, rocky) passage with 4-5 feet of snow on each side.  Another long stretch of "trail" was more like running a riverbed, given the amount of water coming downhill at the runners' feet.
This was my second Leadville marathon — a 26-mile, 6-hour effort with 6,000 feet of climbs on rugged paths in ridiculously thin air.   Even so (and believe it or not), it's about the shortest, quickest, easiest event they do in Leadville (as prior years' posts here, here, here, and here reflect).  My prior Leadville marathon in 2012 had a MUCH more interesting and amusing finish, but at least my time this year (5:53) was one minute faster– despite the water and snow in the trail.  Even better, my inveterate biking and triathlon buddy Scott Humphries got his first taste of Colorado trail running.  I needed him to get his feet wet (literally and figuratively) so I could lobby him to join me on even-crazier Leadville quests that may be all but inevitable in years to come.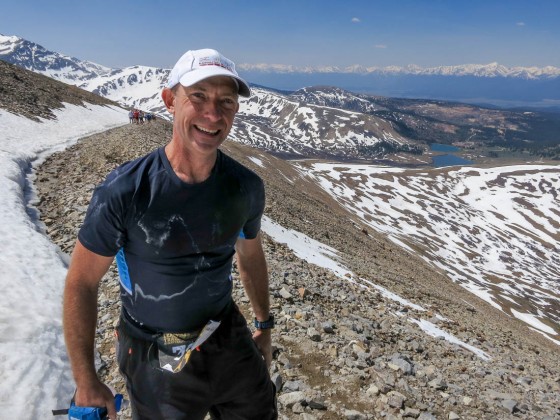 As in past events, I had the benefit of a handful of Superfans who rushed from point to point with a backpack full of Gatorade and snacks for Scott and I.   Their heroics required quite a bit of athleticism and Leadville knowledge — just to be active spectators!  Big thanks to Shane Merz and to Mike and Christopher Short!