(Forgive me: I can't resist the appeal of the bizarre/bazaar pun.)
They do have a few shopping malls and supermarkets in Iran, but mostly people buy their "stuff" in bazaars and small shops. Different sections tend to specialize in certain types of goods – one area will have vegetables or fish, another spices or hardware, and others focus on textiles or clothing. If you want to see and interact with real people in Iran, you'll probably head for the local bazaar.
But the bazaars aren't just retail shops; behind the scenes is wholesaling, warehousing, and even some of the manufacturing or cooking. The Grand Bazaar in Tehran is said to be the hub for a huge percentage of commerce in the whole country.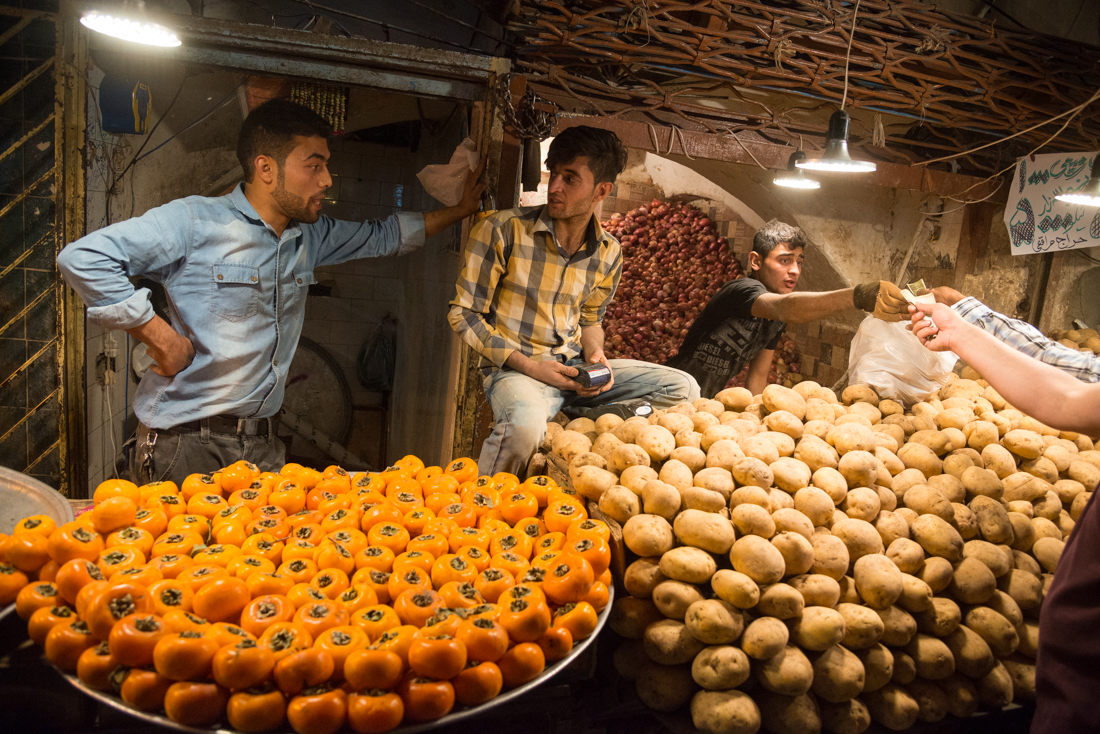 Many bazaars are historical sites. If you can see past the bright lights, the brightly colored fabrics and the vegetables, you sometimes see, you can see the old facades and ceilings that are hundreds of years old. Often, just around a quieter corner you'll see a rug warehouse or an ancient "caravanserai," where camel caravans once paused for he night or arrived with goods to sell at the bazaar.
One consistently striking feature of the bazaars is the women's clothing on display. Modern tight jeans, lavish colorful and sequined gowns, stilettos, racy lingerie – all being browsed (and presumably purchased) by ladies who only go out in public wearing head-to-toe black chadors. There's a lot going on behind closed doors (and under those robes and scarves) that doesn't meet the outsider's eye.
It's the law in Iran that when women go out in public, they have to wear at least a headscarf and something that's not form-fitting that covers them down to the thighs or so. Since women can only show their faces and bangs, they sometimes go to way too much trouble to optimize the parts that show. Nose-jobs are very common, and women with fresh ones wear the bandages in public as a status symbol. Many women wear LOTS of makeup, too, or coif their exposed bangs to the point of absurdity. And those black chadors may look generic, but stroll through the bazaar and you'll see hundreds of different styles and types of black fabrics on display with patterns and sequins.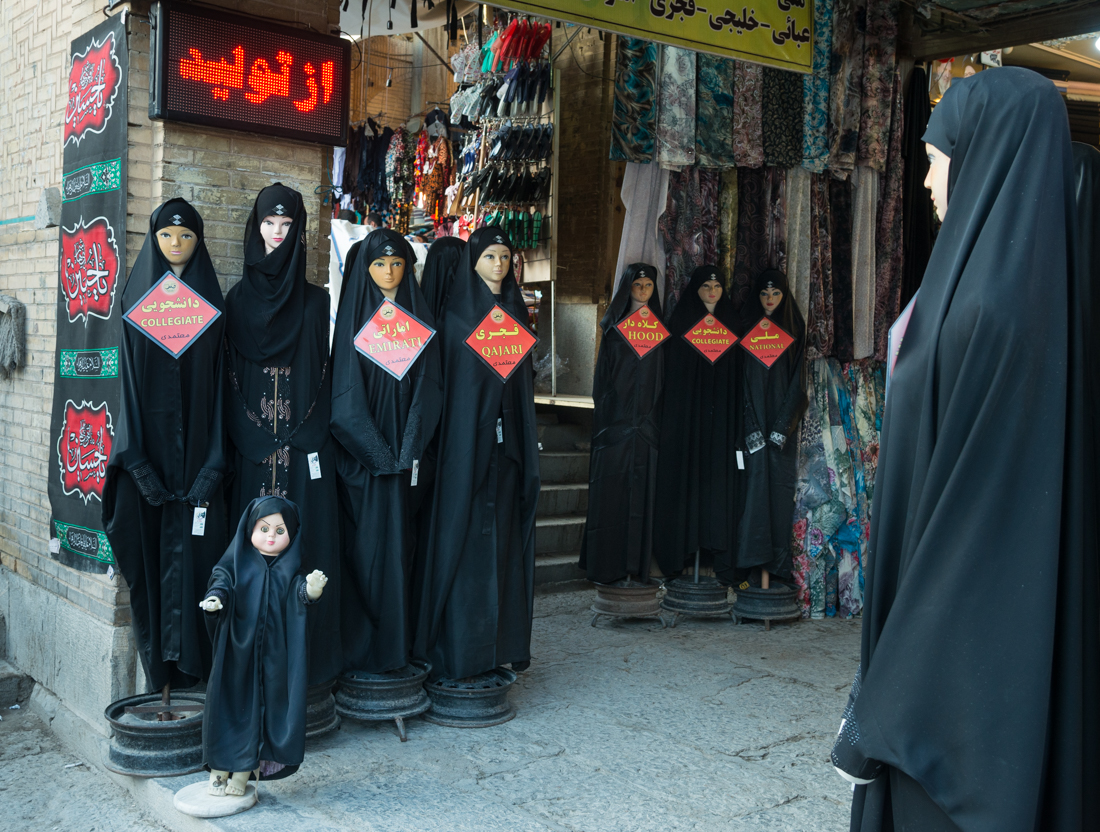 I asked several people: If they put the head-scarf law up to a public vote, how would it come out? Most guessed that it'd be close to 50/50 or 60/40 overall, with women somewhat more likely to vote anti-scarf than men. It was interesting that they thought it was this close. And the reality was that in most areas, the women were going well beyond what any law actually required – wearing the full head-to-toe, mostly-black chadors rather than simple scarves and thigh-length coverups. Whether that's their real preference or the product of family or cultural pressure is hard to know.
I also asked: What happens if you violate the rule? Apparently the police take you in and give you a ticket, and require you to sign something pledging not to do it again. So I asked: What happens if you do it again? Nobody seemed to know.
If it makes you ladies feel any better, there are restrictions on men, too. We can't wear shorts. With some exceptions for organized team sports, shorts in public are not an option for men or women, even if you're going for a jog (which hardly anyone seemed to do, maybe for this reason). Remember, Iran is mostly a desert and summer temperatures reach well over 100 every day, so a no-shorts rule is a pretty big deal. Whatever you think of Iran's clothing rules, it would not be accurate to presume they're all about oppressing women.
Decades ago, before the Islamic Revolution in 1979, the Shah (king) wanted Iran to be (or seem) more mainstream and Western. He actually prohibited the chador head covering. That prohibition was even more unpopular than the current chador mandate. People wanted the scarves, and the Shah's efforts to "modernize" are said to be some part of what fueled support for the Islamic Revolution – which ousted him and put a Muslim Ayatollah in charge of the country's dress codes. It's too bad nobody thought to choose a middle path where everyone could do whatever they want with their headgear! (Admittedly, though, our own country has a tough time choosing libertarian middle paths these days, too.)
One last, goofy thought: In America, we also have rules about which body parts must remain covered and which are okay to reveal in public. There are cultures elsewhere on earth that have different and more-revealing rules (exposing women's breasts, for example). Those people probably think our rules are horribly restrictive, oppressive and silly – just what we tend to think about Iran's. Our defense of our own dress-code choices would probably sound a little like Iran's defense of theirs.