I've been terribly delinquent at organizing my pictures from last fall's trip to the Ladakh region of India. The trip was originally intended to include Kashmir, but last summer's rioting and stonings convinced my group to stay east of there in Ladakh. The upside was a more in-depth tour of Ladakh.
Compared with the U.S., India has 4 times as many people on 1/3 as many square miles.  But Ladakh — the very mountainous far-north region near the Pakistan border — is mostly isolated small towns and villages.  The mountains were bare and stark — not simply like mountains above a tree line, but like a mostly barren desert that happened to have 23,000 foot peaks.  I spent a few nights in tent camps at 13,000 to 15,000 feet.
The sparse villages of the various areas within Ladakh have very distinctive and varied tribal cultures and ethnicities.  One of the more interesting stops visited a nomad camp near the remote village of Korzok on Lake Tsomoriri, a long day's drive southeast of Leh. These nomadic people move a couple of times a year – taking their herds of sheep, goats, and yaks to better grazing   Their tent homes are made of yak-wool, and when it's time to move, the yaks themselves carry the tents (and everything else).
We camped just one night at the lake; it's at 15,000 feet elevation and chilly even in the fancy tents they had set up for us. One of our drivers was from the area, so he knew their dialect and convinced them to let us into their tents to really see how they lived. They were surprisingly roomy and full of rugs. My brief curiosity about where the rugs came from was immediately satisfied when I saw one of the women patiently weaving a yak wool rug.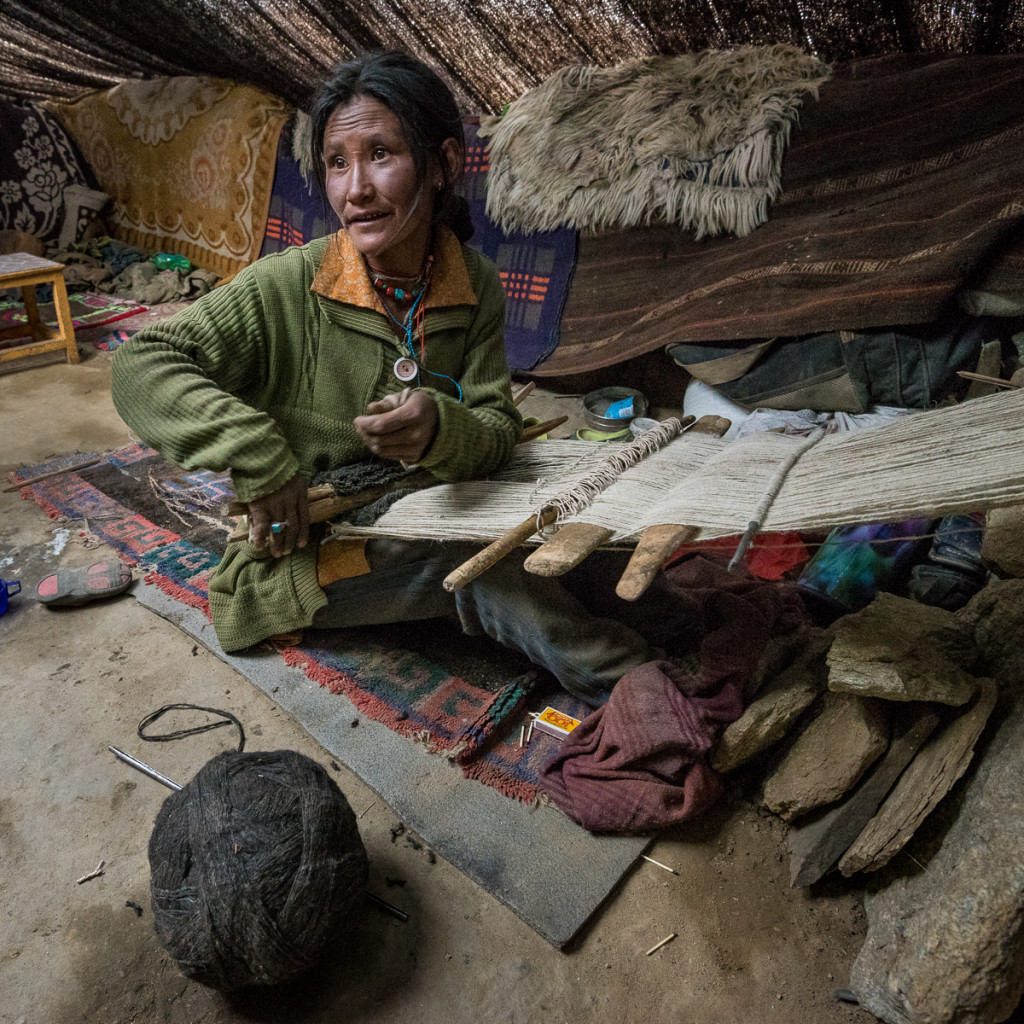 Those pictures of the young mother and her kids around their tent make me think of the Dorothea Lange iconic depression-era photograph of the "Migrant Mother," Florence Thompson. Lange's work was famous for showing the world the startling struggles of 1930s American nomads. The living conditions of these Ladakhis may appear to be surprisingly similar, but that's probably deceptive. Lange photographed people in a crisis, but this is a way of life for the Ladakhi nomads, and they seem very capable of providing food and shelter much as their ancestors have for centuries.