Most of my September trip to India was in the Ladakh region of Jammu & Kashmir, in far north India near the Pakistan border.  Everything there — the people, the terrain, and the religion — looks more like Tibet than India.
Hinduism was a primary defining feature of modern India as it was partitioned from Muslim Pakistan in 1947. The names "India" and "Hindu" both come from the same Sanskrit word for the Indus River, which runs through the Ladakh region of far northern India. Somewhat ironically, though, Ladakh is unique in India: most everyone is Buddhist – except for a few Muslims near the Pakistani border.
The Buddhism practiced here bears little resemblance to the Buddhism I saw last year in Myanmar (Burma). As I described last year, Myanmar's Theravada Buddhism is a simple philosophy and barely a religion at all. They learn to think good, peaceful thoughts and try to do good things. To the Theravadas, neither Buddha nor anyone else is divine, immortal, or supernatural. They don't really pray; they meditate. The Burmese monks are humble and quiet, and their monasteries are modest community meeting halls. But everything Buddhist looks very different in Ladakh.
India's Buddhism is mostly a form of Mahayana Buddhism – sometimes called Tantric, Tibetan, or Vajrayana. The rituals are elaborate (think chants, horns, drums, and bells). The monasteries are often castle-like (indeed, some are actual former castles), their temples decked with colorful and elaborate tapestries and paintings. Worshipers prostrate themselves as they arrive. There's a hierarchical pecking order among the cloistered monks and lamas (up to and sometimes including the powerful Dalai Llama). Prayer wheels and prayer flags are everywhere. There are idol-like statues or paintings on the temple walls of various "tantric deities" or "protector gods" – some with multiple heads, a dozen arms, horns, swords and blue skin, wearing voodoo-like human-skull-decorated hats. And that's not even the strangest part (let's just say there's a good deal of unsubtle sexual symbolism). They believe in reincarnation generally, and believe that their high priests are literal reincarnations of their ancient priests. We even heard their version of an end-of-the-world apocalypse.
To most Americans and westerners, the complicated tales of how they scour the region's villages to locate a 3-yr-old reincarnation of the supreme religious leader are hard to fathom — much less accept and believe — as are the seemingly convoluted explanations of those statues, symbols and rituals. But of course, all the themes of Christianity and Judaism that are familiar to us surely sound bizarre and ridiculous to them. As is so often true in international travel, learning about other cultures can teach you as much about your own culture as it does about the foreign one.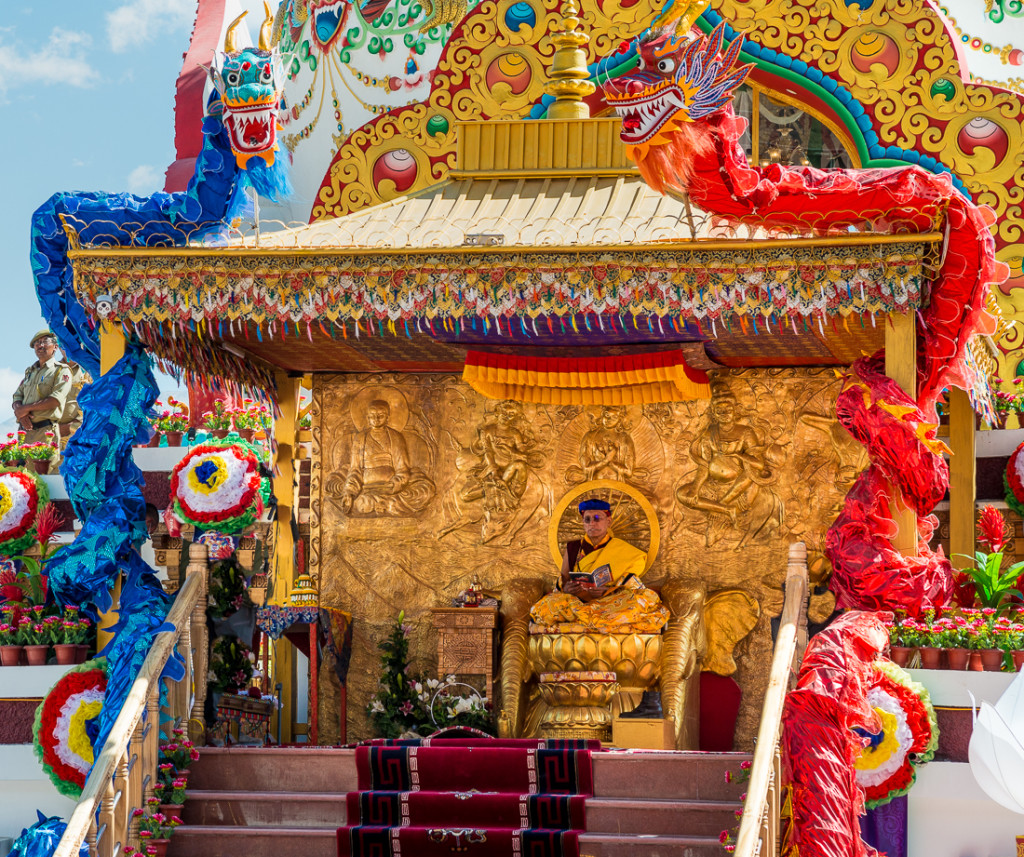 NAROPA 1000: Once every 12 years, the Drukpa Order (a sect or denomination of Buddhism) celebrates its Naropa Festival in Hemis, just south of the small city of Leh in Ladakh.  By coincidence, I was there during part of the festival.  I missed the highlight — when His Holiness Gyalwang Drupka (this sect's equivalent of the Dalai Lama) dons the 1000-year-old crown and jewelry of the sect's founder, but did get to watch His Holiness receive gifts from pilgrims and deliver a long, monotone sermon. That's him sitting on the golden throne, atop that pyramid temple.  No kidding. Somehow I stumbled into a front row position for a few minutes (with thousands of monks and worshippers up the hill behind me). It was definitely one of those moments when I pause, laugh, shake my head, and marvel at the wacky situations I've been getting myself in the middle of.