If you get up early in Agra, skip the most popular viewpoints near the reflecting pools, and hurry around to the west side by the Yamuna River, you can find yourself mostly alone, watching the sun rise over the Taj Mahal, with the world's most famously beautiful building seemingly all to yourself.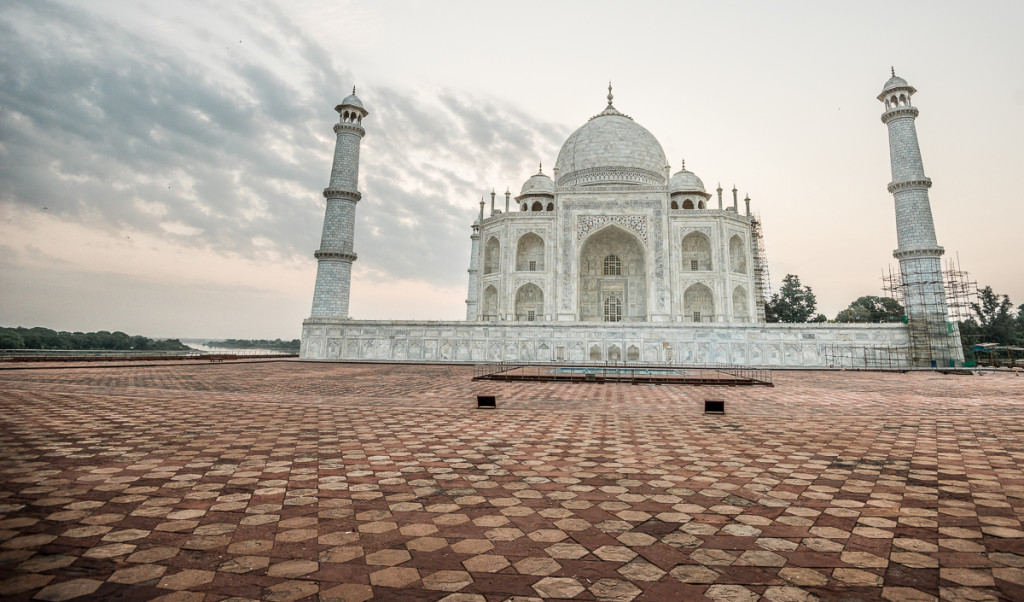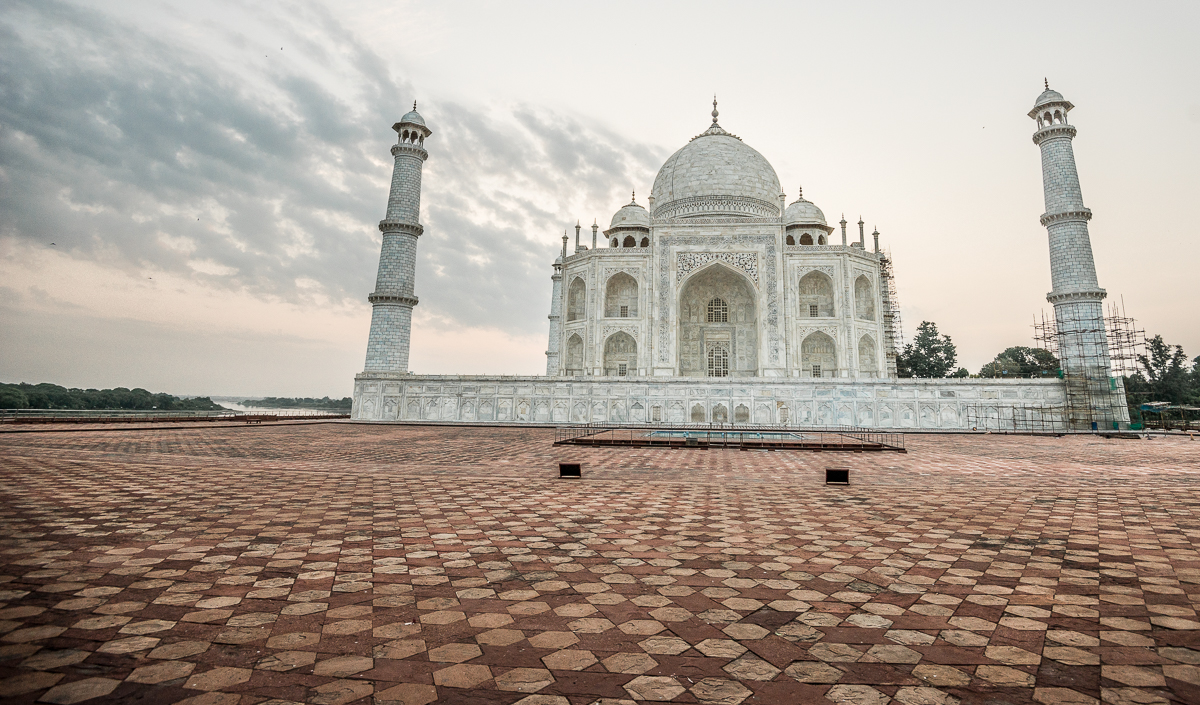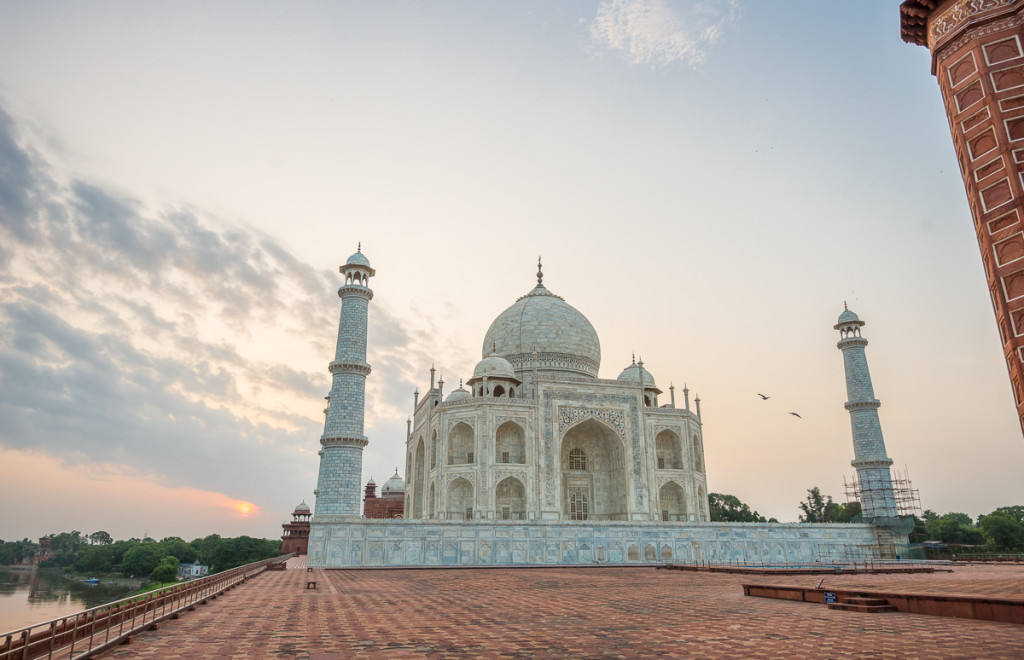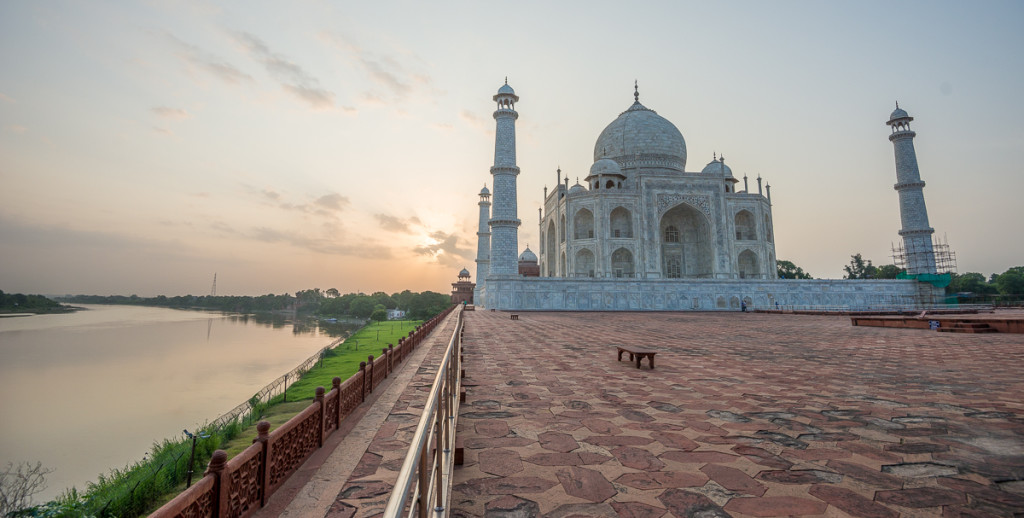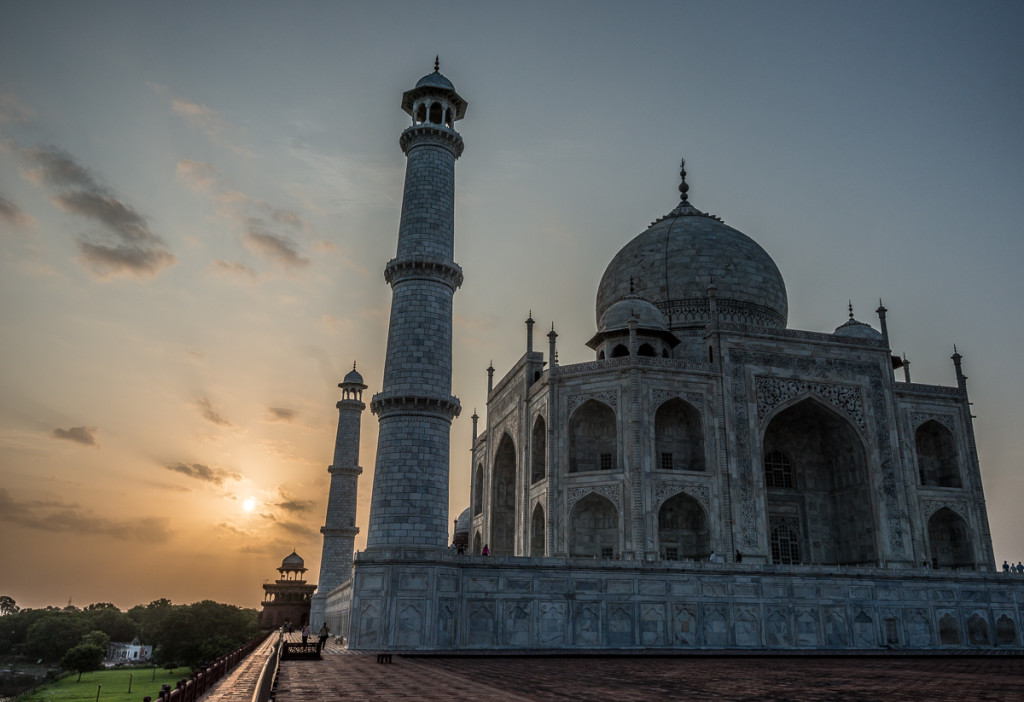 Muslim Mughal emperor Shah Jahan built the white marble "Taj" in the 1600s as a mausoleum and memorial for his favorite wife (and mother of 14 of his kids).  A probably-apocryphal legend says Shah Jahan planned to build a similar black marble Taj directly across the river as his own eternal resting place. But it's tough being a Mughal emperor, and one of his sons took over and sent Jahan to a far less glorious prison cell for his final days.  The Shah's final tomb is wedged into the Taj beside his wife, the only thing asymmetrical in the whole place.
"Taj Mahal" means "crown of palaces," reflecting Jahan's intent to make it the fanciest place in the world. The signs say he spent around a billion inflation-adjusted U.S. dollars on it, and from the perspective of a visitor 400 years hence, that was a billion bucks well spent.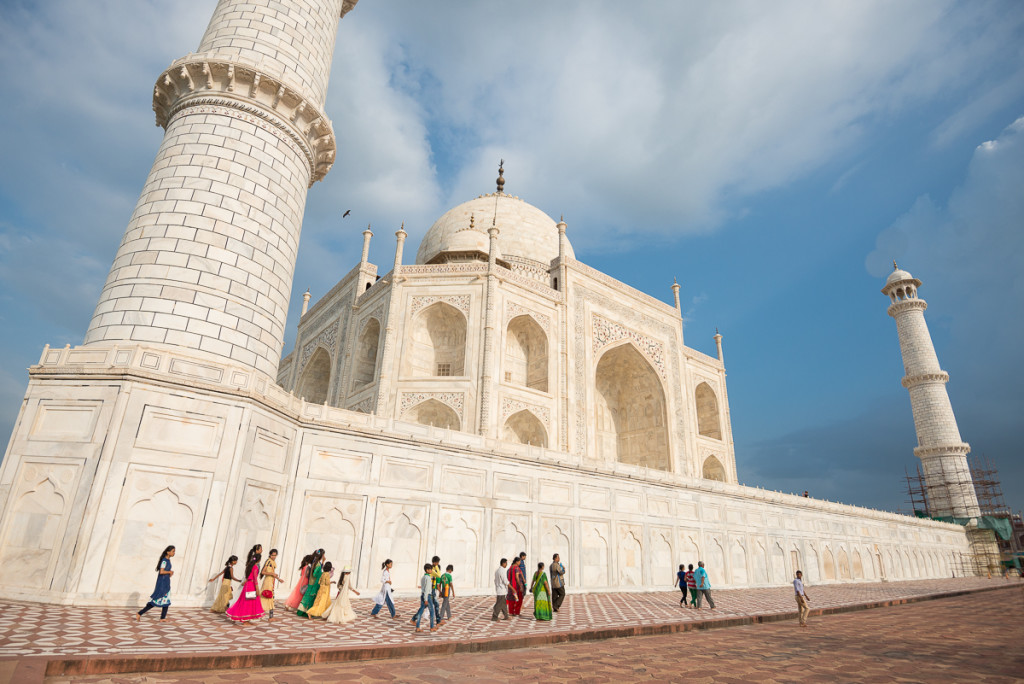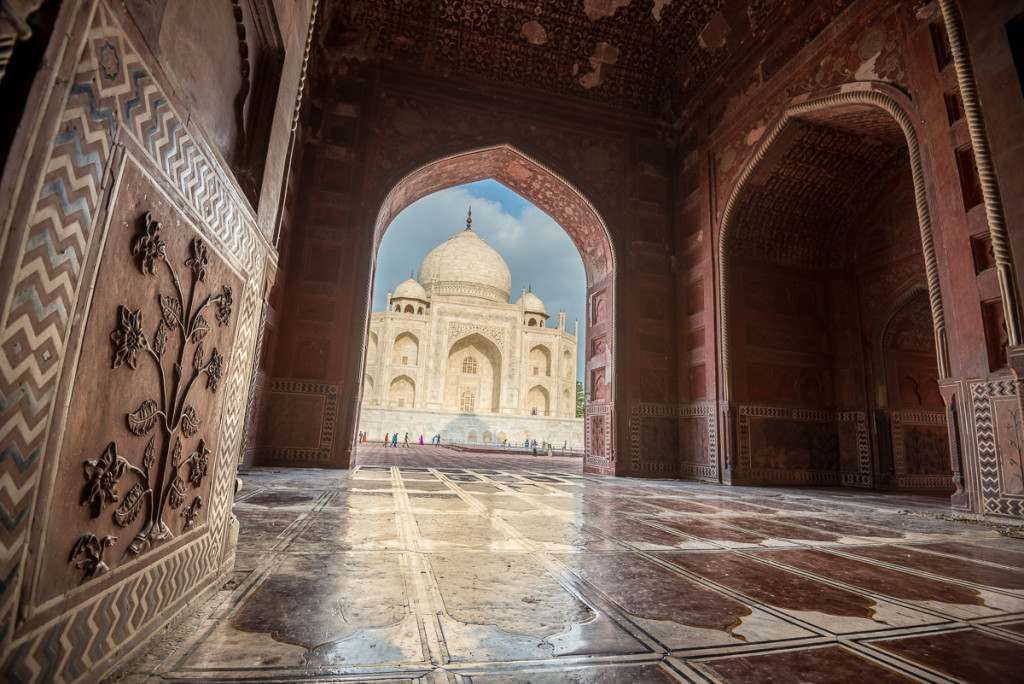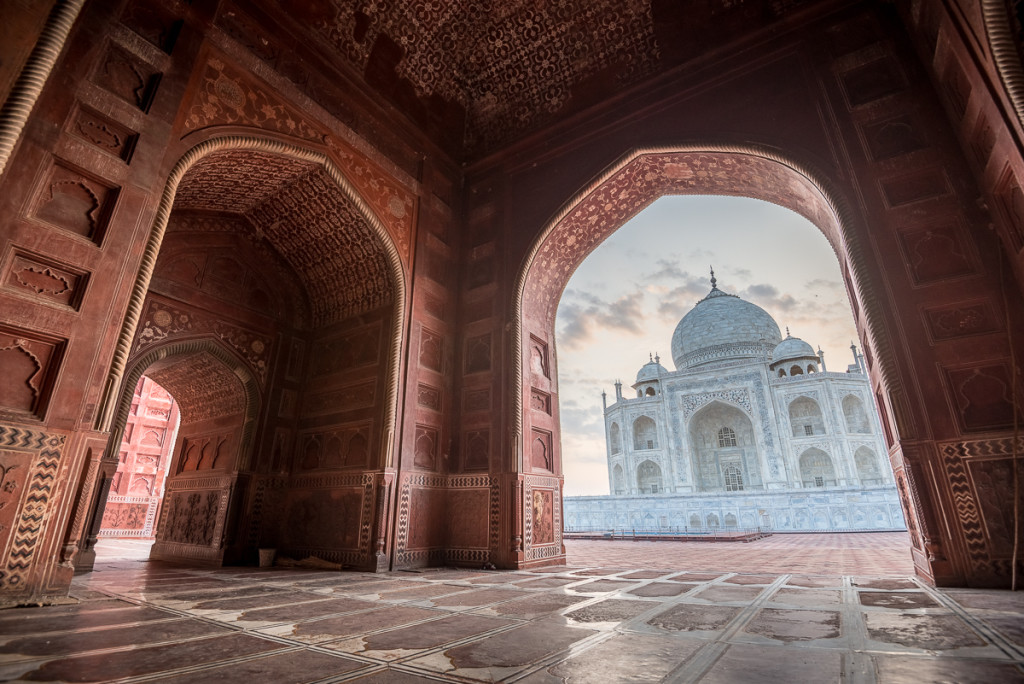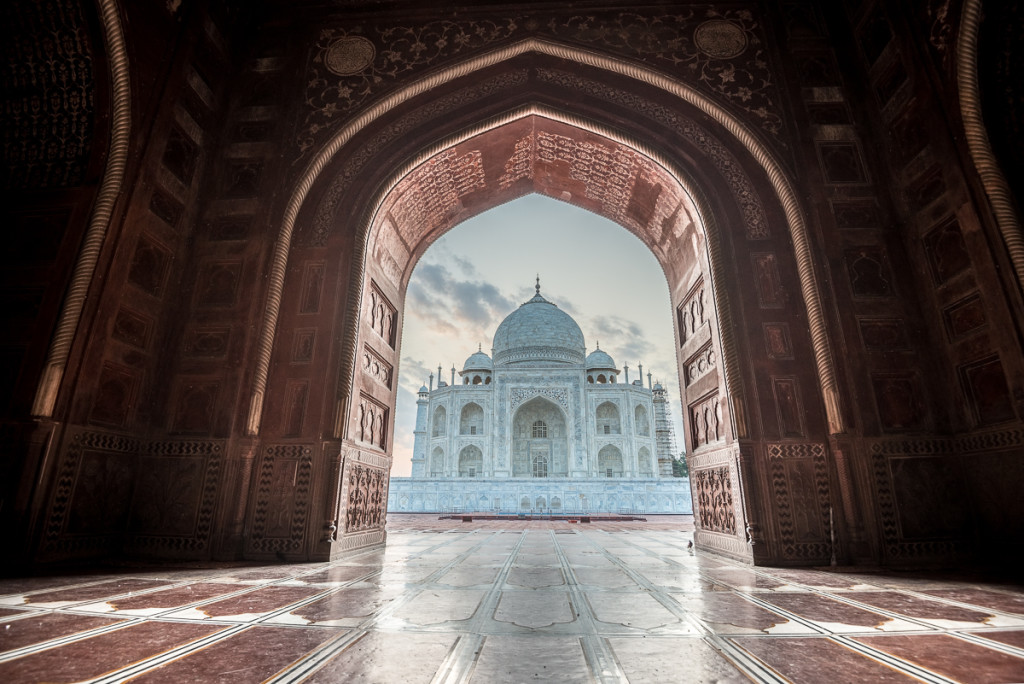 The red out-building to the west — from which some of these pictures were taken — is still treated as a mosque (no shoes allowed), though the identical red building to the east is not.   If you put booties over your shoes, you can go up on the balconies of the Taj itself, which is a fine spot, but the best views are "of" the Taj, not "from" it. Unfortunately, there was some maintenance work going on when I was there – thus the scaffolding on the east side and on two of the minarets.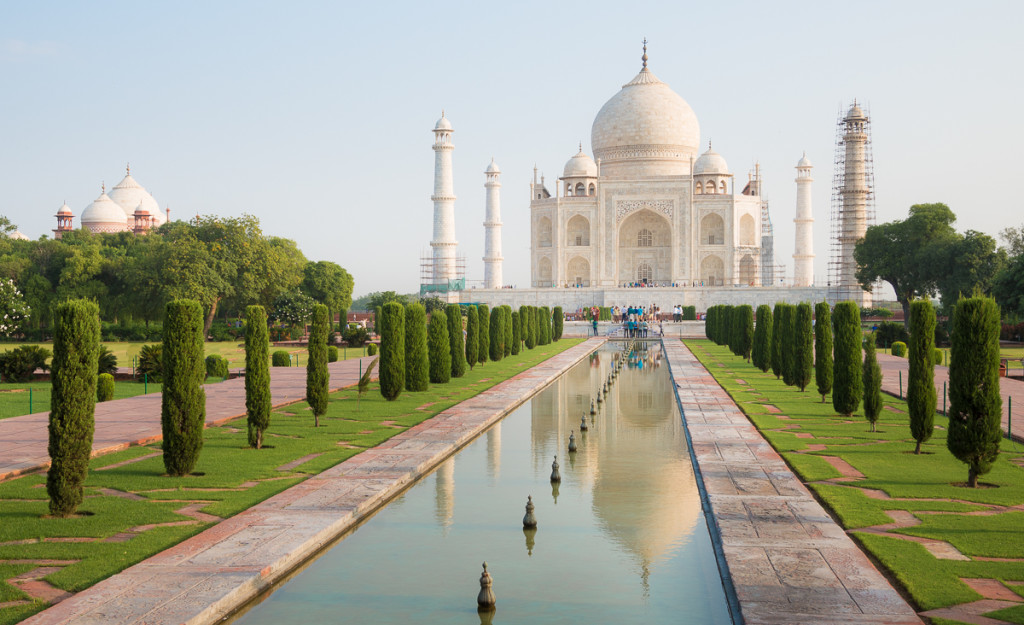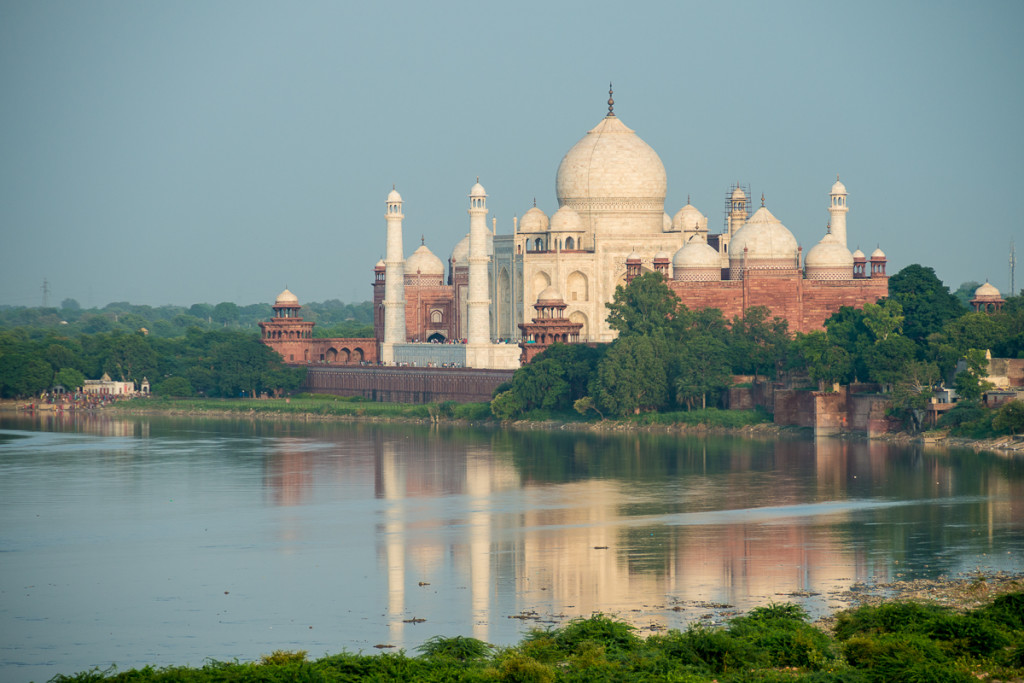 I also visited the Agra Fort across town. It's an interesting complex, but the only real photo opportunities there were its hazy views of the Taj Mahal.
+ + + + + + + +
A final Agra amusement: I knew the days ahead in northern India would include more than a few nights in cold tents and without showers, so I'd decided to spring for an unusually nice room for the two nights in Agra, with a balcony that overlooked the Taj Mahal complex. The place must've been nearly full (or nearly empty?) because they instead upgraded me to a ridiculously lavish top-floor suite with two big balconies, seating for 18, and Taj views even from its glass shower and bath tub. A further amusement was that most of the hotel staff had no idea that I was in Suite 512 only through a flukish free upgrade, so they treated me like a Maharaja! They also let me know that Prince William and Kate Middleton had been in the same suite in April when they were in town.  Pictures of the hotel, and of or from my snazzy suite at the Oberois Amarvilas Agra: