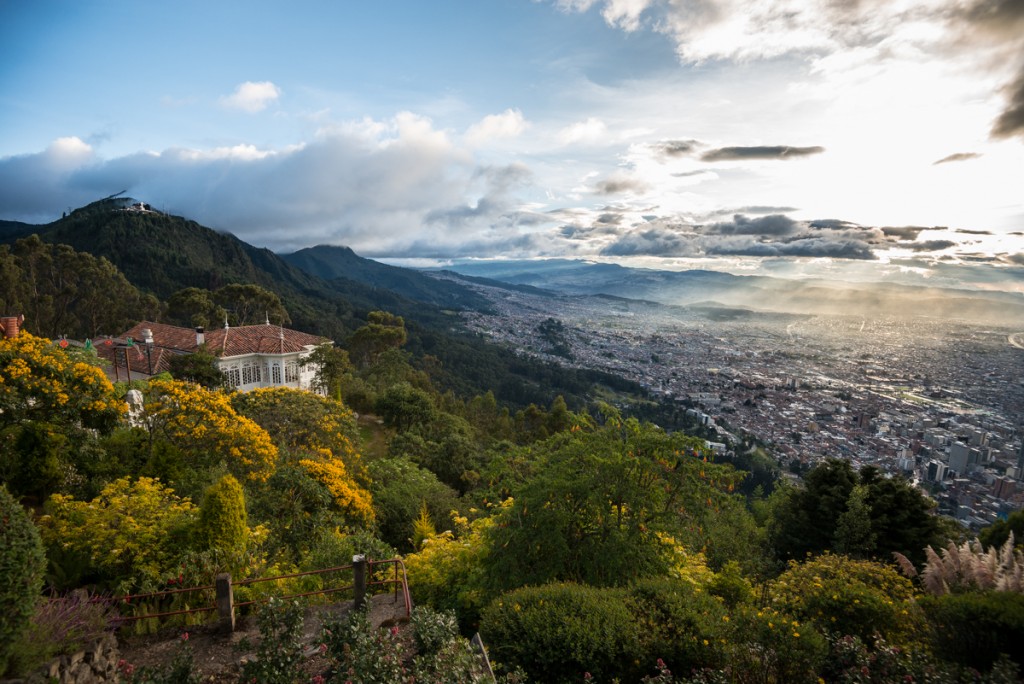 I spent just 36 hours or so in Bogota before heading west through the Andes. It's Colombia's biggest and capital city — with a metro population bigger than Chicago and an elevation higher than Aspen. Bogota has plenty to offer. If you go, plan to stay longer than I did.
In the grid above are views from Monserrate, around Plaza Bolivar and the Catedral Nacional, inside Museo de Oro (Gold); and outside the presidential Palacio Narino.
The central government square in Bogota is "Plaza Bolivar" — named for 19th Century Latin American hero, Simon Bolivar. He's credited with liberating from Spain the region of "New Granada" — now Venezuela, Colombia, Peru, Ecuador and Bolivia.  Maybe obvious: "Bolivia" was named after him. Depending on who you believe and how you look at it, it may be a little unclear whether he was benevolently liberating, or if he was attempting his own Napoleon-style conquest. In any case, history has been kind to Bolivar: seemingly every town or city we visited had its own Plaza Bolivar and its own big statue of "El Libertador" himself. (Americans may overlook him, but there are actually prominent Bolivar statues in downtown Paris, in Washington DC, and in New York's Central Park.) If you see a statue in Colombia and wonder who it is, you can probably win a bet by guessing Bolivar.
A few of the other Plazas (and "estatuas") Bolivar we encountered, in Salento, Medellin, and Cartegena: