My Ironman trip around the world — with Scott Humphries and Shane Merz.  Imagine getting the chance to spend almost three weeks circling the globe with a couple of your best friends — yukking it up, exploring two continents, and — oh yes — doing two Ironman triathlons without coming home in between.
IRONMAN PANGEA: SIX CONTINENTS. Some years ago, after finishing our first Ironman (in Brazil), my friends (Scott Humphries, Shane Merz) and I got the bright idea to complete an Ironman triathlon on every continent. The quest required a couple of trips to Europe, retreated briefly to Ironman Texas, and made a trek to Scott's native Australia. There isn't actually such an event in Antarctica, so we were down to two remaining continents — Africa and Asia.   Someone (me, I fear) got the further bright idea that we should finish off those two continents with two back-to-back races, in a single two-week period without coming home in between: Ironman South Africa (in Port Elizabeth), then the inaugural Ironman Taiwan (in Kenting, the tropical southern tip of Taiwan).
COLUMBUS WAS RIGHT – OR WAS IT GALILEO? OR…PYTHAGORAS?:  I knew this already, but for the first time I was able to verify for myself that the Earth is round. We left Houston headed eastbound toward South Africa, then eventually got home via Hong Kong, and Taipei from the west.   There were nine flight legs in all, plus a bus, a couple of ferries, a handful of trains, five hotels, and more taxis and shuttle vans than I could count. The logistical absurdity of the adventure required schlepping 100 pounds each of triathlon gear (bicycles, cases, wetsuits, etc.) literally around the world.
IRON AGE MATH: L = M50-54. Competitions like this are done in age and gender groupings – usually five-year gaps like M (Men) 30-34 (years old), M35-39, and so on. So sixty-year-old females (F60-64) compete against one another – not really against 25-year-old (M25-29) men — although we're all on the same course at the same time.   For this purpose, you are considered to be whatever age you BECOME during the calendar year. So even if you don't turn 30 until November, you're treated as being 30 all year long.
August 2015 will bring a very round-numbered birthday for me, so I was in the "M50-54" age group. Gulp. Seeing "The Big 5-0" associated with my name for the first time was a little startling, but seeing it in this context took some of the sting off.  In fact I'd be more proud of those race finishes if I were, for example, M70-74. (I sometimes claim to be 82 years old because – modesty aside – I look pretty good for an 82-year-old.) Besides, the 50-year old group is often just as fast as even much younger men; the patience and wisdom to pace one's self is a strong virtue in such events.
I think I'm going to use the more elegant Roman numeral, "L" to denote my age (Come August, that is. I'm still XLIX for another couple of months, thankyouverymuch).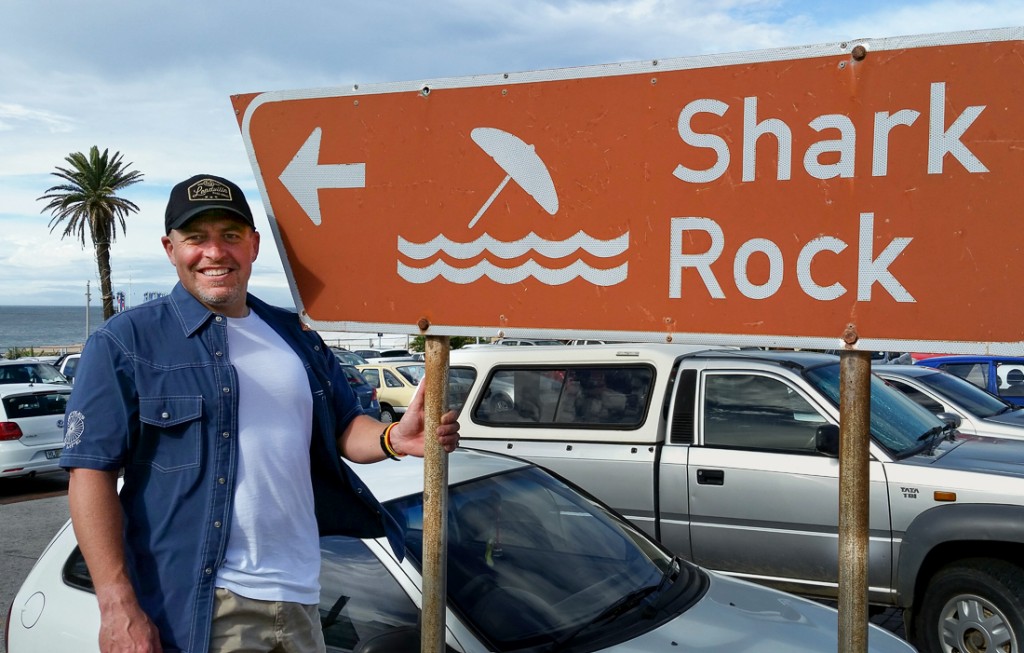 WHO CAN GO THE DISTANCE? WE'LL FIND OUT, IN THE LONG RUN: The races themselves? An Ironman event is a 2.4 mile offshore ocean swim, a 112 mile bike race, then a 26.2 mile (marathon distance) run – all in one day with just 5 minutes or so in between to change your shoes. It usually takes us around 13 hours – starting at sunrise and usually finishing in the dark. The hilly South African bike course was especially brutal (imagine mixing 5,000 feet of vertical climb and nasty winds into those mileages), but at least the area's much-discussed great white sharks resisted the allure of the nearly 2,000 black-wetsuit-clad swimmers out in Nelson Mandela Bay. (Before the start, the race announcer told us we might be "lucky" enough to see dolphins swimming near us in the bay, so we should look for their dorsal fins. I had a mild suspicion that this was an ingenious fib to prevent widespread panic should anyone spot a shark out there making an otherwise-harmless appearance.)
Taiwan was hot but less windy, and the water was crystal clear for our South China Sea swim. Most important, we all finished both events in good health and even better spirits. The Continental Ironman Quest is complete!
GOOD FRIENDS, GOOD HEALTH,  AND GOOD FORTUNE: There's no way any of this intercontinental athletic foolishness would ever be happening (for me) without my two very close friends Scott Humphries and Shane Merz. (You've surely heard these names before, e.g., here and here and here . . . ). It does not escape my notice that Scott and Shane have jobs, wives, and kids. How they pull this off, I do not know.  We did a lot of philosophizing during the trek — maybe we were influenced by the those big meditating Buddhas?  One overarching observation:  we were extraordinarily fortunate to have good health and good friends, together with the ability, the means and the freedom to roam and see the world in a way only a tiny fraction of earth's inhabitants have done through all of its history.
JIMMY BUFFETT GETS INVOLVED:  Our Ironman-related travels had already taken us to some amazing places:  Zurich, Rio, Sydney, Germany, the Caribbean, Hawaii and more. This time, we had a week to mostly "kill" between the two races – mixing some sightseeing in among short workouts to stay in shape. We spent four days in Hong Kong and two in Macau, China (a former Portuguese colony with Las Vegas-sized casinos where we watched a guy playing US$100,000 hands of Baccarat).
We rode from Hong Kong island to Macau (on the Chinese mainland) via the high-speed express ferry; we chuckled that it was a "fast boat to China."  That phrase is a line from Jimmy Buffett song, "Last Mango in Paris."   In the song, a man reminisces to Buffett about his life of international adventures, then finishes, "But Jimmy, there's still so much to be done." I adopted the phrase as a motto of the trip.
This is the year I turn L years old. The six-continents Ironman quest is complete — but there's still so much to be done.