Minutes after the Oklahoma 4A Girls Championship game, I got to hear my niece introduced as "State Champion Grace Parker" for the second year in a row.  Don't let those pretty blue eyes fool you:  she's a warrior out there.  The "Lady Tigers" had to win four games in eight days to be the first back-to-back champs since Oklahoma girls started playing five-on-five basketball.
If you want to see some disciplined, composed 17-year-old girls, head for Fort Gibson.  The Lady Tigers were down by as much as 16 late in the third quarter.  Moms and dads (and uncles) in the crowd were quietly starting to remind themselves that second place is still something to be proud of.  But the girls had different plans.
They whittled the lead very gradually, but with about three minutes to play, Anadarko still had a 7-point lead and the ball.  In what one newspaper called the "key play of the comeback," my niece, Grace steals the ball from one of the Anadarko star players, drives the length of the court, makes the layup and draws a foul for a three-point play that made it a four-point game with lots of time left.  Suddenly, they were back in the game.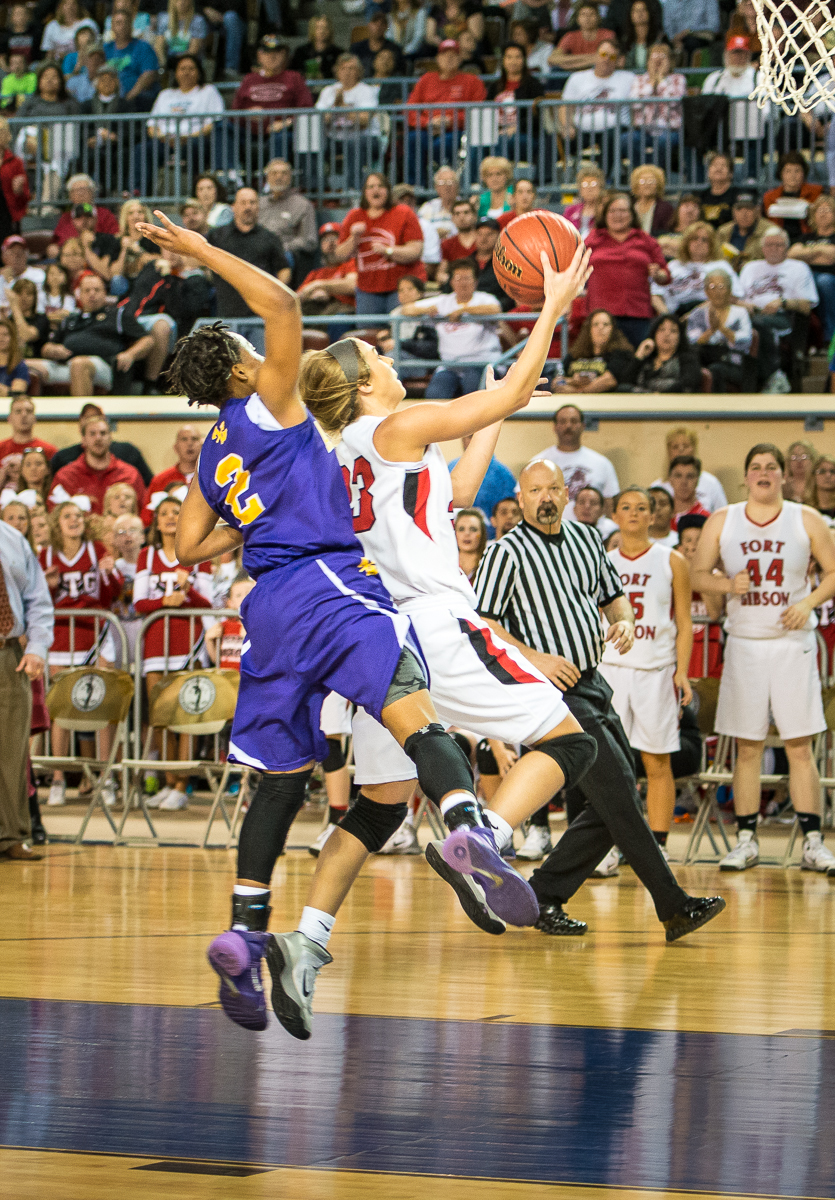 A couple of minutes later, some great play by teammates Desiree Phipps and Savanah Gray had tied the game with about ten seconds left.  Grace's lifelong best friend Allie Glover catches a pass just over the midcourt stripe, dribbles up a few steps, and launches a nothing-but-net 30-foot dagger that brought the house down and the gold hardware back to Fort Gibson for another year.  (That's Allie smooching the trophy in the picture below).
Fort Gibson has been to the finals 7 of the last 9 years; they've won three of the last four.  One tradition they've developed is that after a Championship win, the Seniors hop aboard the large bronze horse statue in front of the State Fair Arena.  That may have been an ominous sight for Fort Gibson's competition:  the back-to-back defending State Champs had just one senior (Savanah Gray) on the team.  Grace and Allie and Des and Jaymie and Cheyenne and Susie will all be back next year.  Get ready for the Three-peat in March 2015.  I'll be there.
As always, I hope the rest of the team will forgive me for 'focusing' on my niece, Grace.  The team has plenty of stars and is loaded with great girls.  As I said last year, I hope each of them has an uncle just as proud of her as Grace's.  In that vein, the picture at bottom may be my favorite from the whole trip.