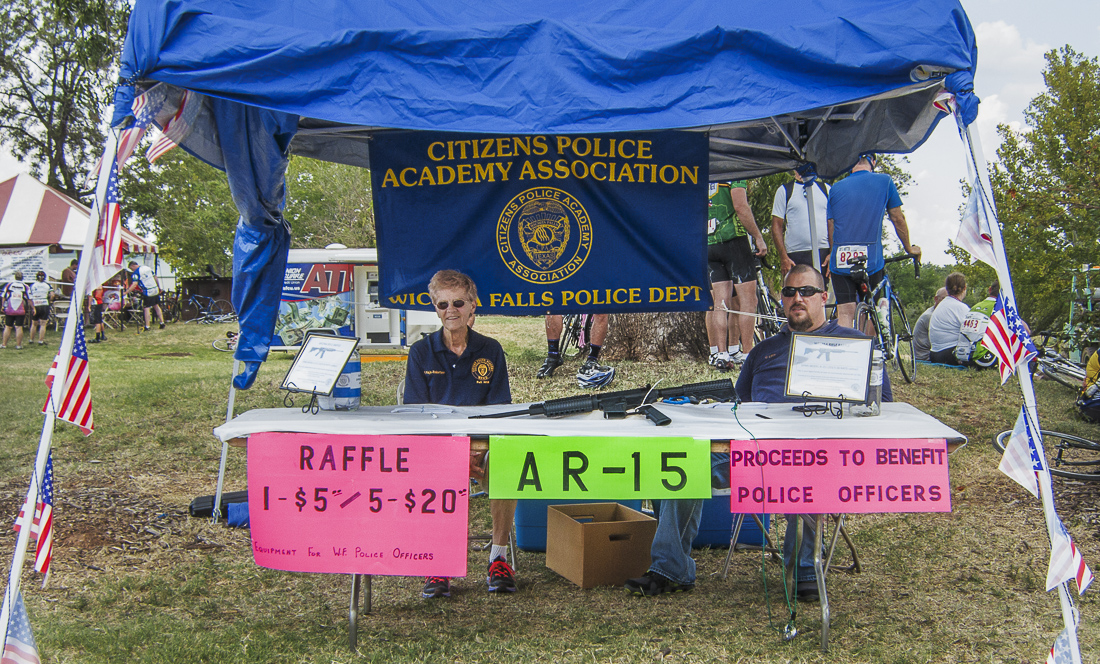 A company in Wichita Falls sells T-shirts reading :  "We're Not In Kansas.  We Never Were."  Apparently, a good chunk of the U.S. population doesn't know which state they should look in (Answer:  "Texas") to find the place.
For the tenth year in a row, some good friends and I were among the 14,000 or so riders in town for the Hottern' Hell Hundred bike ride – the biggest 100-mile bike event in the country.  In the spirit of Hottern' Hell Weekend, I was even more amused by another T-shirt option:  "Wichita Falls – A City in Heat," but Dorothy's "Not in Kansas" line from The Wizard of Oz won out as the more-fitting title here:  It doesn't much resemble the Land of Oz, but Wichita Falls can feel like a very unusual place.
Near the finish line of the race, the local Wichita Falls Police auxiliary was holding a fundraiser — raffling off an AR-15 semi-automatic assault-style rifle.  Five bucks a ticket.  Need not be present to win.*  Proceeds benefit the Wichita Falls Police Department.  You won't see THAT in your big fancy cities.
A few hundred yards away, on the side of the race course itself, was a nightclub (not open during the race) called Texas Playgirls, whose claim to fame is apparently that it is "now … the cheapest topless bar in Texas."  I guess they know their target market.  This reminded me of a conversation with the desk clerk at our LaQuinta a few years ago:  Someone commented that Hottern' Hell weekend (when 14,000 road bikers converge on the town from all over the country) must surely be the craziest, busiest time of the year in smallish Wichita Falls.  She disagreed, insisting that the 'swingers' convention earlier that month had been just as busy.  Who knew?!
A couple of years back, a Wichita Falls cab driver told us about her "Puke Fee" (charged mostly to intoxicated airmen from the local Air Force base):  "Fifty bucks; seventy-five if you get any on me."  When I asked if she got much argument when people learned about the fee, she responded (emphatically), "Oh, they all know the Puke Fee!"  Of course they do.
This year's race was pretty run-of-the-mill for a Hottern Hell.  No mosquito attacks; no wrecks; no delusional riders.  It was hot (sometimes it isn't!) but not crazy hot (sometimes it is!).  The biggest innovation this year was the addition of Bjorn Hegelman to our team.  Bjorn is a 6'7" German (now U.S. citizen).  Lest there be any doubt, that's him in the middle of the picture below.  Bjorn is a former German pro basketball player.  It can be tough for  big guys to adapt in the cycling world, and Bjorn has only been riding for a year or so.  But apparently being strong as an ox has at least some advantages and gave him a pretty decent head start.  Our group had one of the fastest, strongest, most solid rides we've ever done – at least for the first 90 miles or so when the (metaphorical) wheels did start to come off just a little.  Funny how it's always that last 10 miles or so that are the toughest.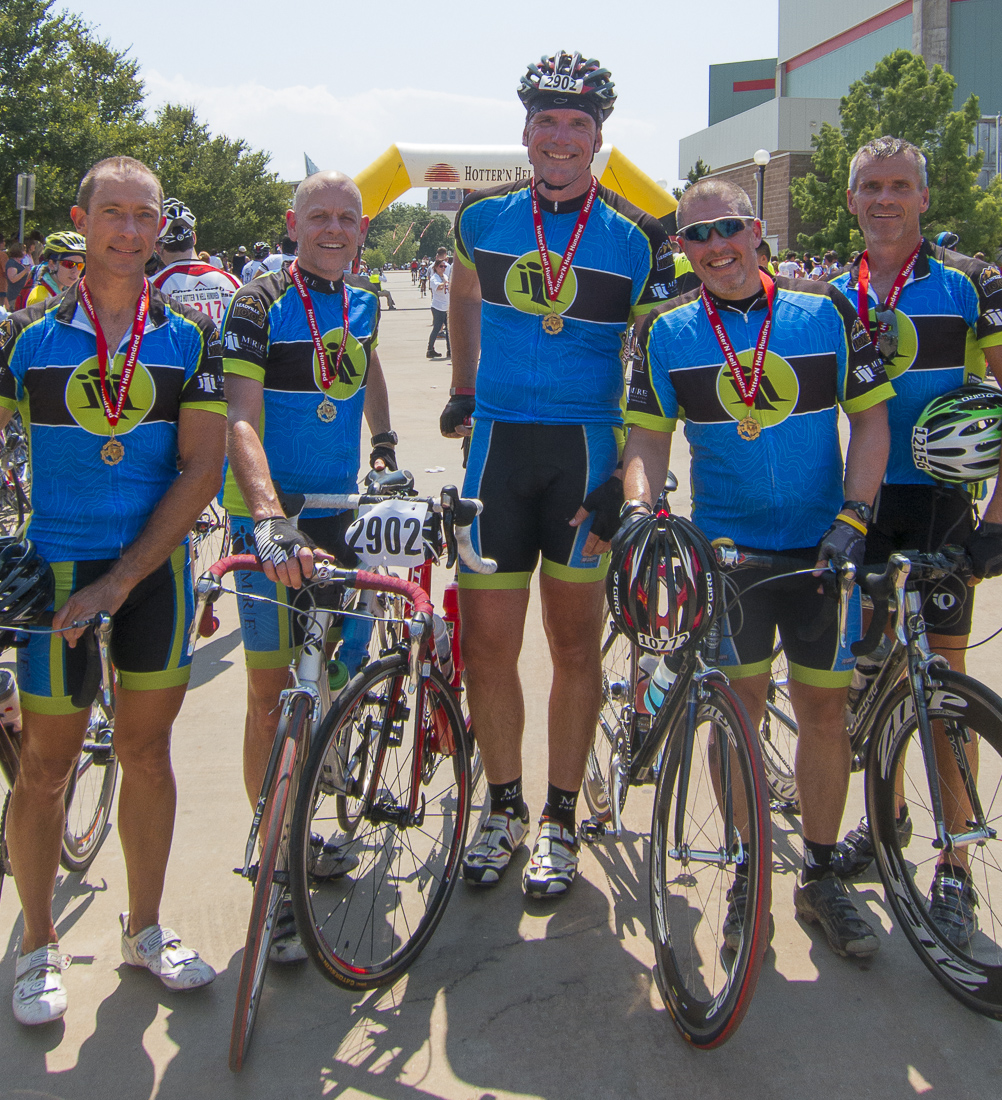 Prior posts from Wichita Falls are here (2012) and here (2011).
*Yes, of course I bought a ticket.  The guy explained that I'd definitely want to get a scope for it if I won.  I really hope I do not win.