More pictures from the "Jungfrau" region of Switzerland.  The area — south of Interlaken — is named for its tallest, snowiest peak.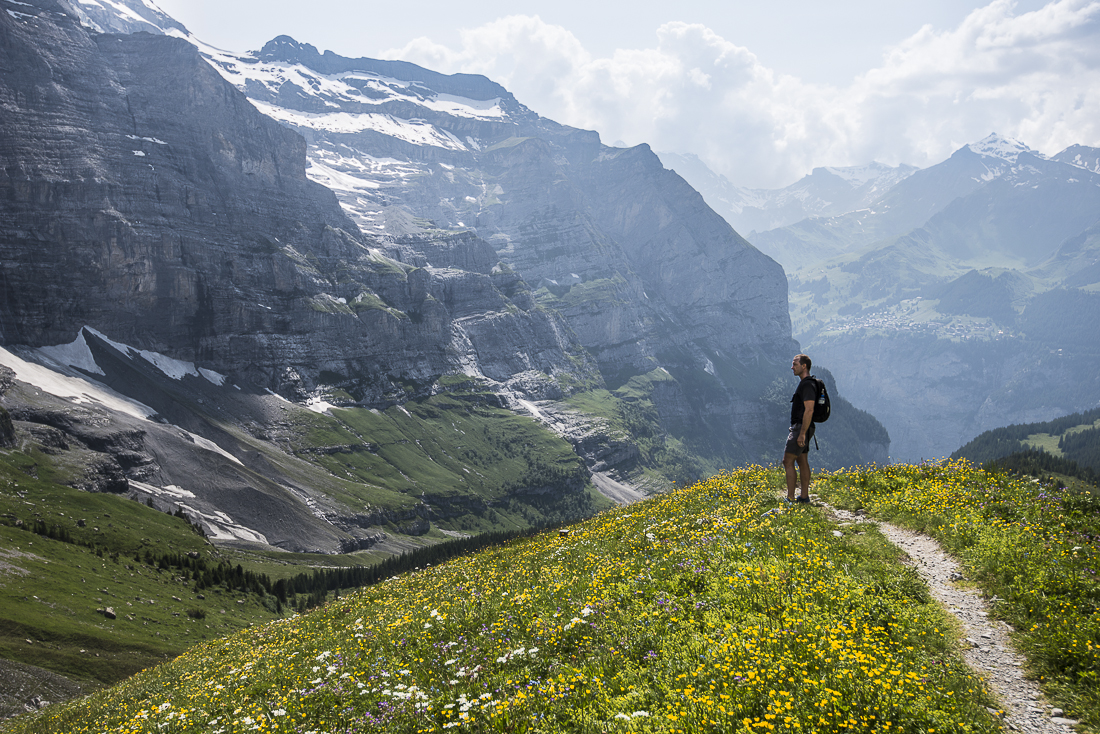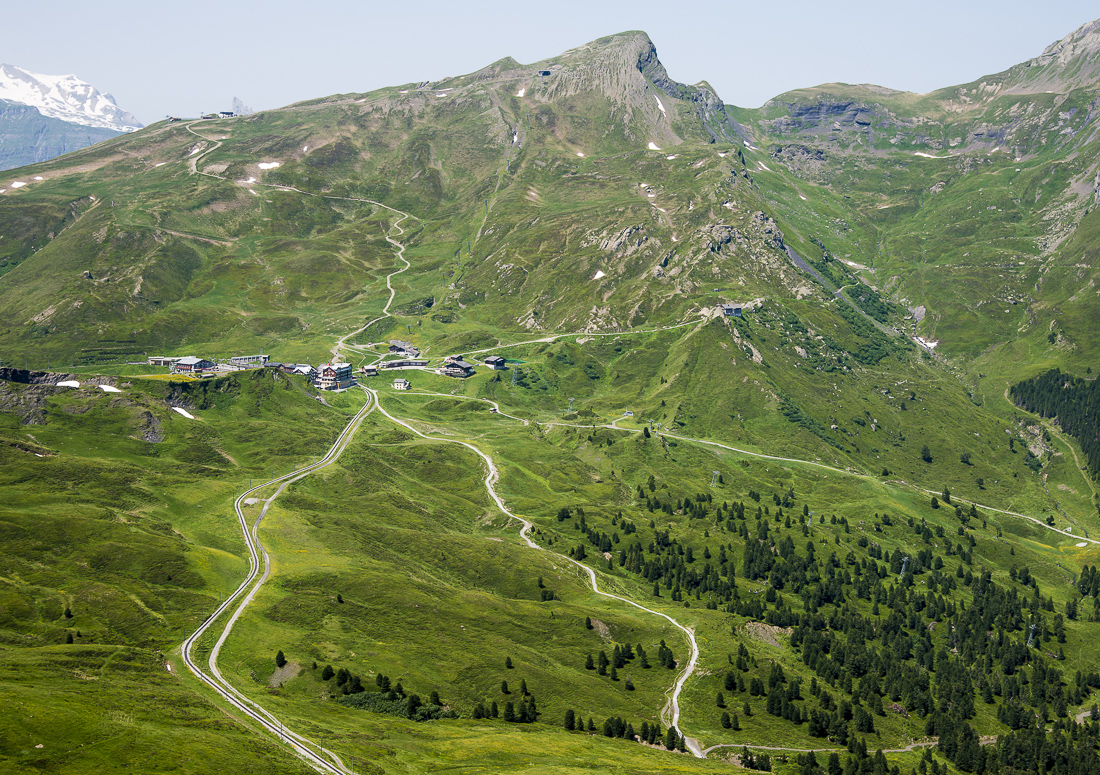 A few times during the past couple of weeks, I was on a bike, just laughing aloud – seemingly for no good reason.  I think it sometimes just struck me how ridiculously great it was that I'd somehow found my way onto some of the most beautiful hillsides in the world, coasting my bike in zigzags down the path like a 12-year-old.
My friend (and riding buddy on this week's rides), Scott Humphries, reported that he'd heard me singing a couple of times as we descended.  I'm sure he did.  Much like normal people do in the shower, on a bike I often sing whatever song pops into (or sticks in) my head.  So this time "Edelweiss" (the Sound of Music song about alpine flowers), and 38 Special's "Hold on Loosely" were in my repertoire – the latter being a pretty decent '80s Rock primer on how to manage the handlebars of a mountainbike during a bumpy, difficult descent ("hold on loosely; don't let go; if you cling too tightly, you're going to lose control").
Admittedly, the long, steep uphill climbs are not nearly as lighthearted.  Those usually involve me monitoring my heart rate and trying to manage my breathing in synch with my pedal strokes.  But the already-stunning views from the mountaintops are twice as satisfying when you know you earned it by getting up there under your own power.
Scott's and my last (very long) Swiss bike ride involved a couple of significant navigational errors and a steady afternoon rain, the combination of which resulted in our decision to call it a day and load ourselves and our bikes up for a train ride back to Grindelwald.  A very sweet, very talkative 70-year-old lady – a native of the area — asked to sit with us.  The train car was practically empty; she sat with us because she wanted to talk.  Her monologue brushed on weather, geology, politics, sports…you name it.
At one point, she lamented the tour groups that come through her town for a one-day, prescribed visit to the single most famous tourist sight in each region, then pile back on their bus to do that again in the next city.  She thought they short-changed themselves – and her country:  "They don't even see it."  Having spent the prior two weeks covering just about every trail and path in the area, I was delighted and contented to know that I had avoided that mistake.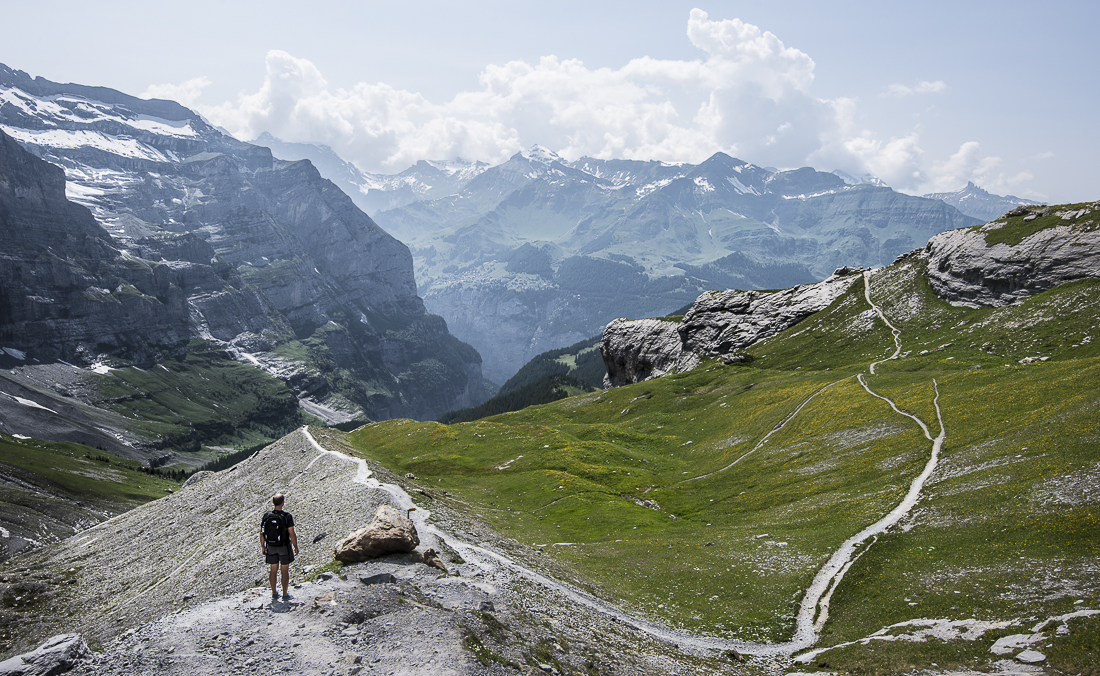 * * * * *
Lest anyone think I've totally lost my mind (or that I lost it in ways that were not previously obvious), rest assured that the craziest-looking trails in these pictures were from HIKES – not bike rides.  Neither my nerve or my bike-handling skill is sufficient to attempt those paths on wheels.  Many of the destinations can be reached by train, gondola, hike or bike.  Most of the hikers (not us) take a train to the top and then just walk down.
And our treks on foot were hikes — not real mountain climbing (e.g., with ropes or picks).  Scott and I wondered why we didn't see any climbers attempting the impressive rocky north face of Mt. Eiger — the one that looms directly over Grindelwald.  It's been done, apparently, but the statistics on the number of folks that had died trying explained why we didn't spot any brave souls up there last week.
In the grid of pictures above, the ferry boat is on Brienzersee, one of the lakes surrounding Interlaken.  The flowery bridge is the famous, ancient one in Lucerne (halfway to the Zurich airport).  In the second big picture from the top, that little clump of buildings on the green hillside with all those roads going to it is Klein Sheidig – at the top of a 3,000 foot climb I did three times on the bike and once on foot.  The snowiest pictures are of the Eiger glacier – part of the UNESCO World Heritage site that covers much of this area.  That's Scott Humphries in several of the pictures.  Believe it or not, he swung by Grindelwald on his way home from Croatia – where he'd been on a biking trip with his wife, Stacy.  He was a reluctant but cooperative model:  mountain pictures can be a little 'blah' without something in the foreground, and often he was the only choice available!