One of several posts from Patagonia.  The first one is here.  The best pics are here.  The coolest experience was here.  More to come.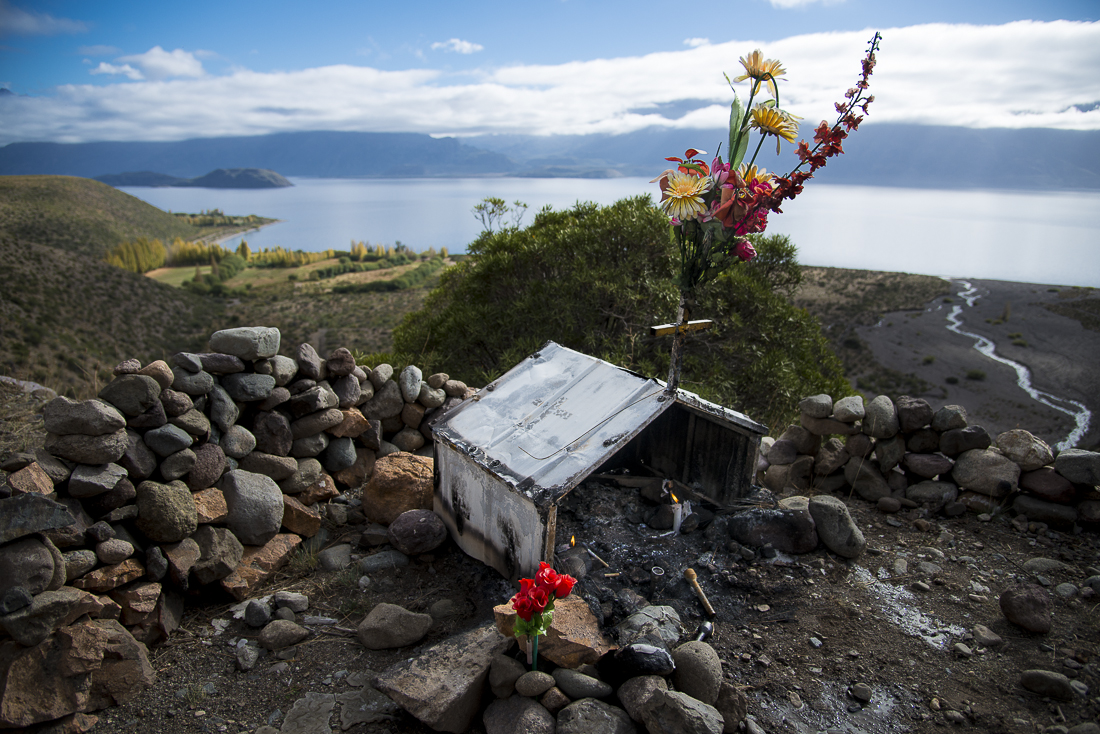 Along the roadsides of southern Chile and Argentina, you'll see smallish "shrines" honoring national folk heroes, favorite or patron saints, and highway fatality victims.  Some of these shrines are tiny, like a birdhouse.  Some are big enough to walk inside.  As cars drive by, they often honk their horns, apparently in honor of the saint, hero or loved one for whom the shrine was built.
The doghouse-sized shrine above is on a tiny turnout from a winding road on the hill above Lag0 Gen. Carerra, near the Chile/Argentina border.  It appears that this one honors a dead "loved one."  Notice the two candles — burning mid-day on a Tuesday.  The garage-sized shrine below honors San Sebastian, one of Chile's patron saints.  Notice how many people had left candles!!  The dog seemed to live there (alongside a major highway), in his own guardian shack next to the shrine.  He was friendly when we arrived, but barked when we left without giving him a snack.
It really is true that Chilean men wear berets — especially when they're working outdoors or with animals.  It's the Chilean equivalent of a cowboy hat.  Chile was quite "modern" in many respects (we had WIFI everywhere except the actual "wilderness" of a National Park), but even so, you're likely to encounter a small group of cattle, sheep or horses being herded right down the middle of a major road.  Occasionally there were road signs prohibiting such herding of animals on the highway.

Notwithstanding Chile and Argentina's famous beef, lamb and wines, Mike Short's favorite restaurant consisted of two former city buses (sans wheels) stuck next to one another.  Big sandwiches.  My favorite part of La Cocina de Sole (I can't figure out the translation?) was the moment when its two Chilean proprietor/cooks were in the kitchen singing "Don't Cry for me Argentina."  I suspect it means something different to them than it did to me (or to Andrew Lloyd Webber) — they were about 15 miles from the Argentine border.  Mike got the mesa next to the window.