In a small town like Vian, Oklahoma, no tradition is stronger.  Nothing brings the community together – and nothing brings the community to life – like a high school football game.
I've never worn a pair of shoulder pads or a pair of cleats.  Even so, Friday night football was a big focus of my high school experience long ago in Vian (just like Saturday football was a centerpiece of college life at OU).  I got to see a Vian football game last Friday night.  I was glad to see that very little had changed in the past 30 years.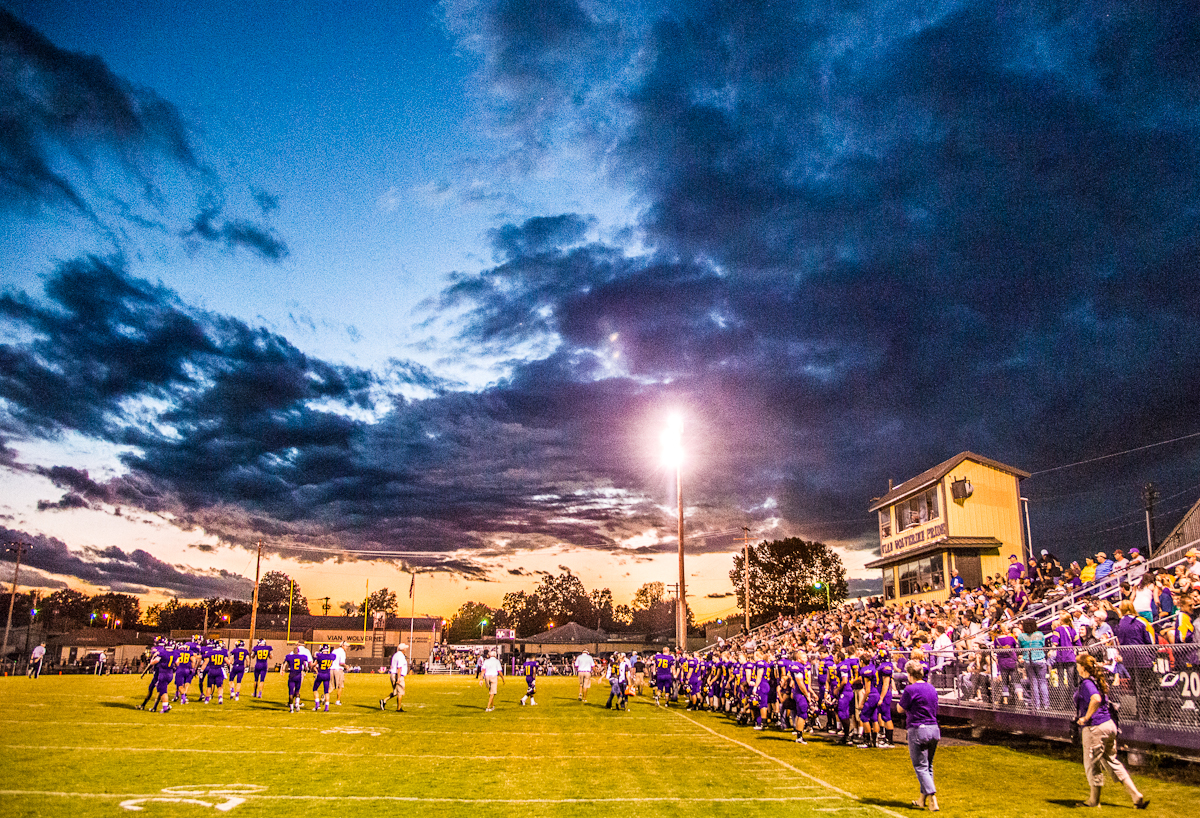 I went to Friday's game to watch #40 Rowdy Simon (Sr., FB/LB) and #5 Rylee Simon (Soph., LB/QB).  Their dad, my cousin Joe Paul Simon, was a Vian football hero back in the 1980s (much like his dad had been in the 1960s).  It's no surprise that Rowdy and Rylee are following in those cleated footsteps.
As the pictures show, Senior fullback Rowdy had some big runs (one TD scored and a second TD called back).  Sophomore Rylee is the backup quarterback.  But both of them are also starting linebackers (Rylee in the middle; Rowdy outside):  Imagine what a great experience it must be to stand out there shoulder-to-shoulder with your brother.  Then try to imagine how excited their Dad gets.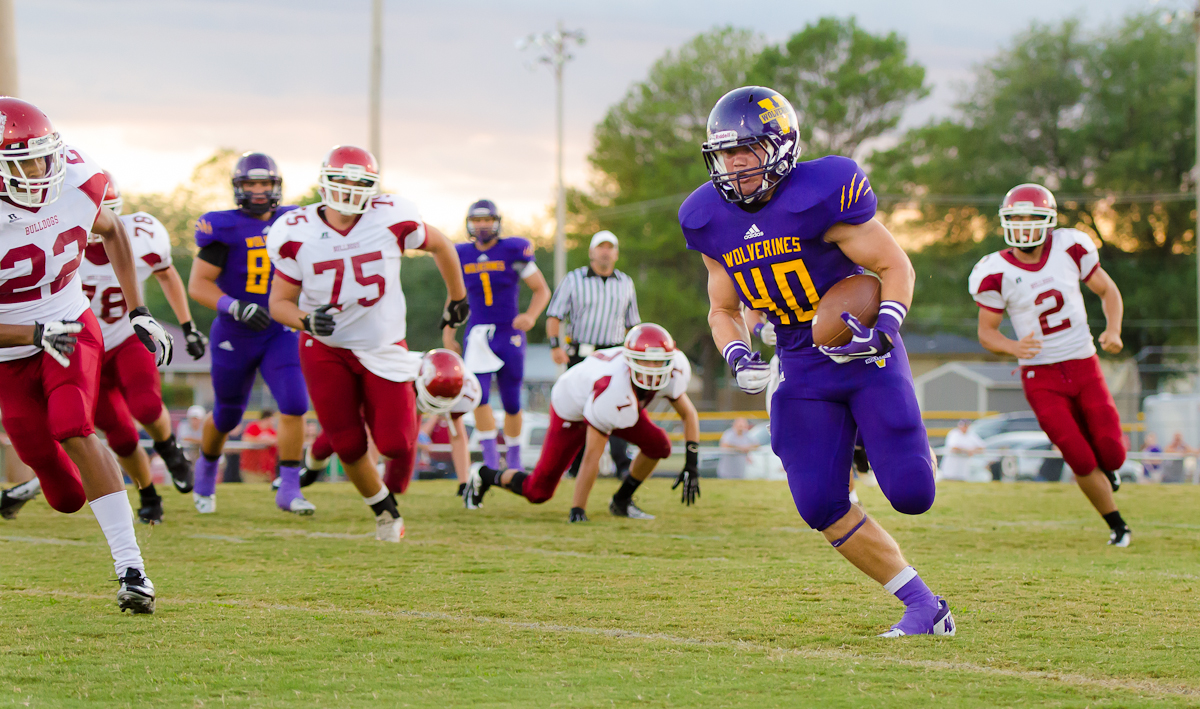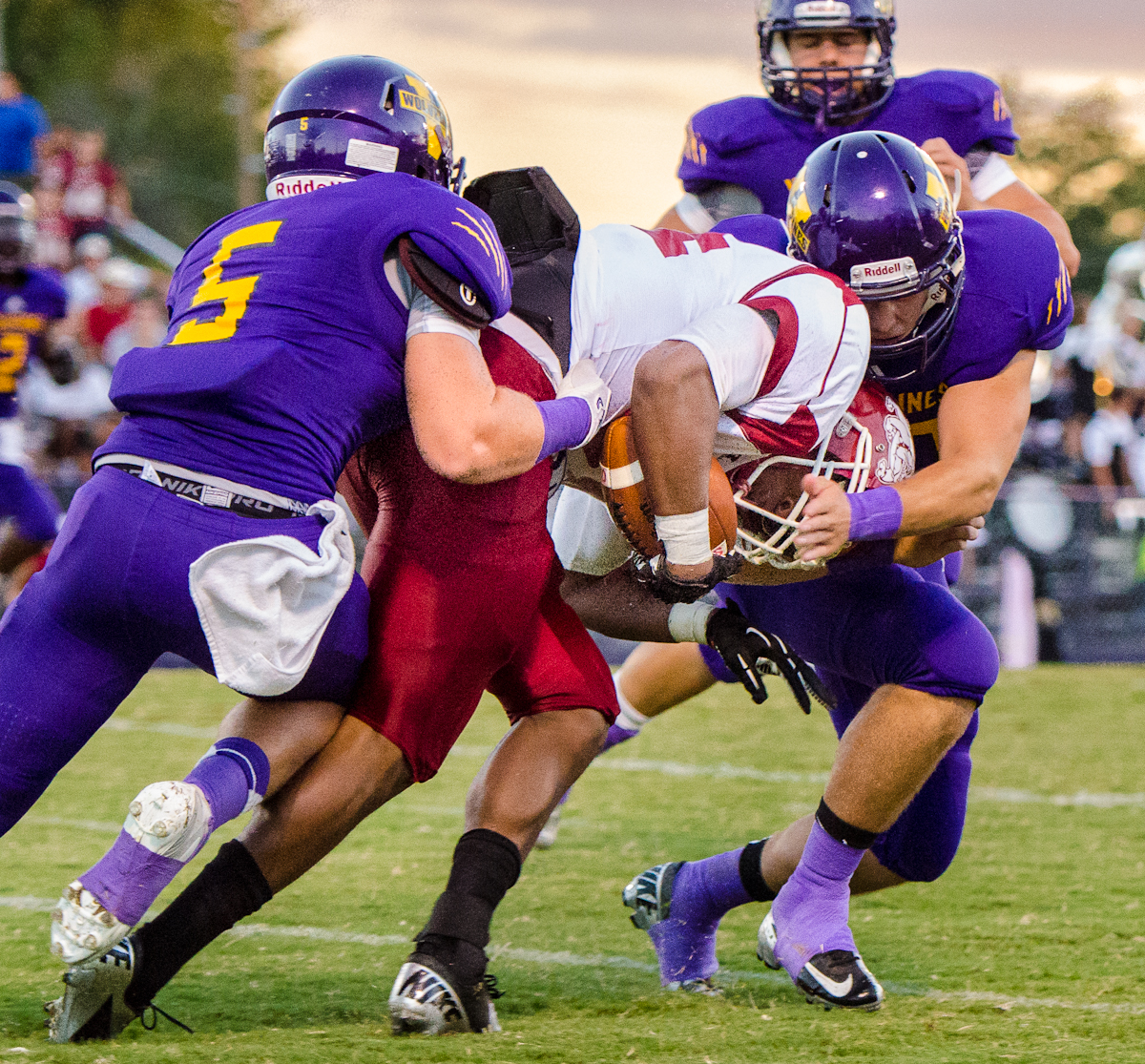 The 2012 Vian Wolverines are (again) ranked in the top handful of teams in Oklahoma in 2A football.  Friday night they made short work of Class 3A Spiro — scoring 55 points while holding Spiro scoreless until the last seconds of the game.  Keep an eye on the Wolverines this season.
In high school in the 1980s, I took football pictures for the yearbook and newspaper — standing on the sidelines in my band uniform and trading the camera for a trumpet at halftime.  But that was 30 years ago, so my football photography skills are now a little rusty.  Friday night, I could barely get my camera to my eye before a young Wolverine would dash right past me on the way to the goal line.  And I'd forgotten how to shoot with both eyes open, so I was nearly flattened more than once by players barreling across the sideline while I had my eye in the viewfinder (one diving Spiro tackler actually kicked me in the shin). 
That mischievous-looking ballboy (below) in the black #1 jersey is River Simon — Rowdy and Rylee's younger brother.  Rest assured that River will be taking the field for Vian High in the years ahead.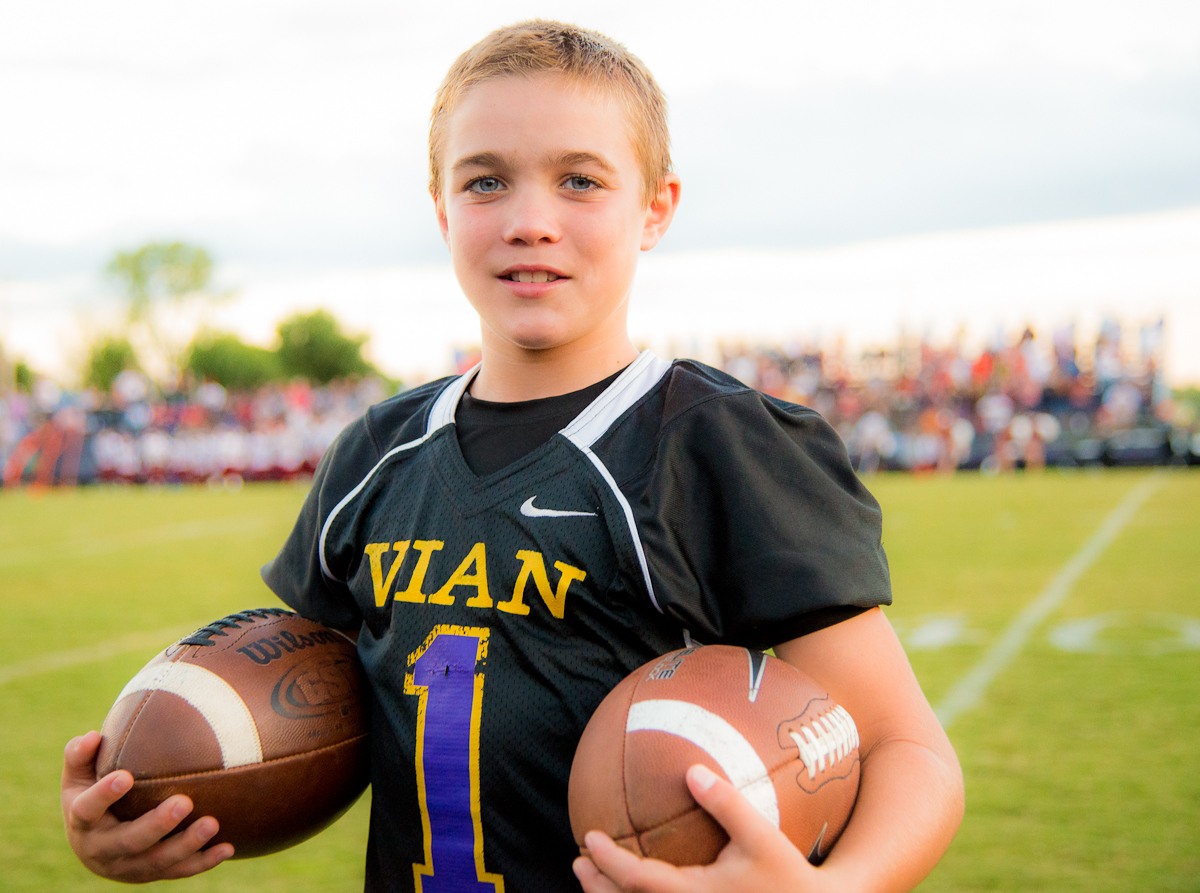 One more thing:  I researched it, and it turns out that Rowdy, Rylee, River and their little sister Rebel are not actually my "second cousins," as I'd always thought.  They're my "first cousins once removed" because our connection is via my grandparents and they're from a different generation.  But in Sequoyah County, no one says "first cousin once removed," so I'll pretend they're second cousins.